ANDYBROUWER.CO.UK
---
AFRICAN HOLOCAUST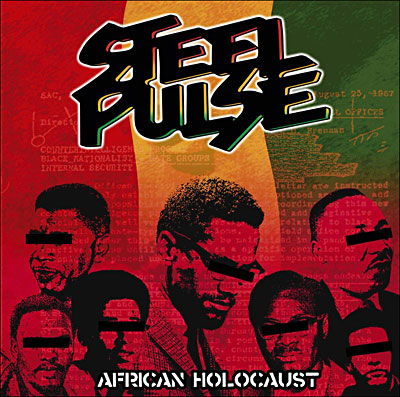 Track List: Global Warning 4:54; Blazing Fire 3:36 featuring Capleton; Must Be A Way 4:14; Make Us A Nation 4:15; Dem A Wolf 3:35; No More Weapons 4:36 featuring Damian Marley; Tyrant 4:51; Door Of No Return 4:49; Born Fe Rebel 4:42 featuring Jukie Ranks; Darker Than Blue 4:36; George Jackson 3:54; African Holocaust 4:27 featuring Tiken Jah Fakoly; Uncle George 4:13
"African Holocaust is a summary of the state of the world today from our perspective - which is a perspective of the black diaspora. Subject matters range from exposing the negative impact, politically and environmentally of super powers, to the nostalgia for our African heritage." - David Hinds
The album was released in June 2004 in France on the Nocturne label, to coincide with Steel Pulse's European Tour, which began on 16 June. Sanctuary Group released the album in England and the United States release, on RAS Records, was on 14 July. The band's own Wise Man Doctrine label in the UK released the album on 5 September 2005. Guest vocalists on the album include Capleton, Damian Marley, Jukie Ranks and Tiken Jah Fakoly. Guest musicians include Wayne Clarke (drums), Adam Drake (lead guitar), Jacko Peake (sax), Simon Wilcox (trumpet) and Chris Petter (trombone). The track George Jackson was written by Bob Dylan in 1971.
More information on African Holocaust HERE
---
Reviews of African Holocaust
Without doubt, a sublime masterclass in musical invention that you simply cannot fail to love, dance and singalong to. Did I favour some tracks over the rest - no, not yet. Gimme a break, I've only played the cd about a dozen times since it arrived yesterday, so I'm still relishing the first 'all new' set of tracks since Rage and still getting my head into the message-laiden lyrics. Each song has its own 'hook' whether it be the catchy chorus, tight harmonies, the guitar, keys or horn work in isolation or all of them together. I'm not musically adept enough to dissect each song but my own 'hook' on each track bounces from the prominent horns on Must Be A Way, to the harmonica on Rebel, to the beautiful but simple opening sequence of Door Of No Return and even managing to squeeze the name Nebacchadnezzar into a verse of Blazing Fire (brilliant!). David's voice throughout is exquisite and remains the biggest 'hook' of all. The support he gets from Selwyn and a wide array of backing vocalists is awesome and the harmonies throughout are powerful and soothing at the same time. A true Pulse trademark since time began. The use of the guest deejays works very well in that they don't take over the song, rather they add a different dimension, with the plaintive wailing of Tiken Jah Fakoly and Damian Marley simply stunning. The cd booklet focuses on global black genocide and oppression and carries graphic imagery throughout...It's been a long wait but I love it and its certainly matched my expectations (which were very high). Thank you David, Selwyn and the rest of the contributors to this masterpiece. Maximum respect. I've gotta go, there's some music playing that demands my undivided attention...feeling the pulse, AndyB.

"African Holocaust encompasses all dimensions of the plight of the black Diaspora ranging from slavery right up to this present time of physical and psychological genocide." - David Hinds, who also comments on a few of the tracks:- "Global Warning: A few years ago, we were asked by the Spirit Of Unity tour to put together a song for a compilation that involved saving a region of redwood forest in northern California. It commemorated the efforts of Julia Butterfly, who spent 18 months living in a tree. Make Us A Nation: After 9/11, I imagined a perfect world of peace and harmony, and the ingredients needed to make it work. No More Weapons: A play on words, and there ain't no time to beat around the bush. It's just a voice from the voiceless saying we've had enough of nuclear weapons and the so-called new world order. Uncle George: A commemoration to George Jackson, who was incarcerated nearly forty-five years ago. The original version came out on 'Tribute To The Martyrs', and it represents the youths that been imprisoned for trivial offences and will never get the chance to turn their lives around. African Holocaust: The title of the album, as a concept, came long before we decided to write a song to go with it. It summarises all the other titles on the album, and we thought it was in our interests to have it more African oriented. Hence the featuring of Tiken Jah Fakoly."

I have listened to the new album enough times to have a personal opinion...i think it is much better than Rage and Fury. It has a good genuine sound, and a good pulse to it (obviously). There's only one song i'm not that into, and that's Door of No Return...but maybe after a few more listenings i'll change my mind. Blazing Fire with Capleton is a good surprise, and a completely new sound to steel pulse...the first few seconds are kinda like bogle!! Dem A Wolf is a good tune, it's got tis own style. African Holocaust is the massive track though, with Tiken Jah Fakoly singing in the ivory coast dialect, and even Selwyn sings!!... oh yeah, Tyrant is a good one as well, and Global Warning...Natty Will (Paris, France).

I got a copy of SP new CD from my brother who sent it to me from France...My take on the new album is that it is a great piece of work. The band really made an effort to ' go back to their roots' although the album is different from the band's earlier materials (Tribute, Handsworth, True Democracy). It has a new sound which, I think is great. So far, my favorite songs are: Make us a Nation (David's voice on this song is just incredible...the man is above 40 years old but sings just like he is 25), Tyrant (fantastic song with heavy bass and all the ingredients of a good, deep reggae song...the lyrics are thoughtful and warn the "bad rulers to watch out !!!), Darker than Blue (this is a master piece and my favorite song so far..."we people who are darker than blue"), and African Holocaust (the African language used is, depending on where you are in West Africa, Dioula, Malinke, Bamana...I speak all of these languages...a quick translation of the passage at the beginning of Global Warning and in African Holocaust: "they took us from our home, and they put us to slavery work..." Thank you Pulse for this new album and thank you for including an artist from the continent in your work...Pisco (Washington DC).

Raking through the internet with a fine-toothed tractor-plow, i found some more comments on the new album on a French reggae fan website. The person said the album opens with a chant in Dioula language by Tiken Jah (or something like that.. i guess he's an African artist), who later appears as a guest on the title track of the album (African Holocaust). The song Born fi Rebel is a tribute to black civil rights leaders, and Door of No Return is a song about Goree Island in Senegal, where kidnapped Africans were shipped out from to the 'new world' as slaves. The site also said the album was "SPLENDID!" with emphasis on it being worth the wait...Maka Iki (Hawaii).

Steel Pulse releases African Holocaust - legendary reggae group's first studio outing in seven years: Grammy award-winning reggae supergroup Steel Pulse have inked a deal with Sanctuary/Ras Records in New York for the July 13, 2004 release of African Holocaust (89931-2), their first studio album in seven years. Ras label chief Gary Himelfarb shared his personal enthusiasm for the long-anticipated arrival, explaining: "As huge Steel Pulse fans, we knew this album would be great. But as a label, when you hear a finished product this musically tight and this relevant from a group with Steel Pulse's track record you just want to jump for joy!" The relevance of African Holocaust due in no small part to the fact that Steel Pulse writer and lead singer David Hinds is also an avid historian. In Darker Than Blue, Hinds lends his authority to the original words of musical hero Curtis Mayfield: "Pardon me brother, as you stand in your glory I hope you don't mind if I tell the whole story." African Holocaust is the whole story: a tightly-wound, highly-charged celebration of the struggles of Black people over the past 700 years brought to life by Steel Pulse's legendary uplifting music. "Black history is not just some tale told by the victors," explains Hinds, "because there are still too many victims and you can't reinvent what's still going on. But we look for ourselves first-hand at places like the Door of No Return and give thanks," he says, referring to the Senegalese port from which slaves were forced aboard ships," because the Black people are no longer spiritually out in the cold." In keeping with their Rastafarian spiritual beliefs, Steel Pulse deliver powerful messages of positive motivation throughout African Holocaust. "Our music is always stimulating - no way can you ever sit still to it - but our focus is serious and true. We deal with environmental issues, political issues and religious issues - difficult issues all over the border," says co-founder Selwyn Brown. The environmentally stormy Global Warning urges activism with a pop-sounding hook: "Stand up and be counted, never let them chop us down." The members of Steel Pulse are: David Hinds (writer, lead vocals, rhythm guitar and percussion), Selwyn Brown (keyboards and vocals), Alvin Ewen (bass) and Clifford "Moonie" Pusey (lead guitar) …backed by a kickin' 8 piece band. Mutual admiration society members/fellow reggae stars Damian Marley and Capleton both make guest appearances on African Holocaust, which was recorded at Steel Pulse's studios in the group's home town of Birmingham, England... www.reggaemovement.com.
The classic British protest reggae band is back with a new slate of songs that reinforces its move back to the rhythms and instrumentation of the Caribbean genre. Though the group is short two of its founding members, Steel Pulse still plays a smoking set. The Band: The anti-racist, anti-establishment message of Steel Pulse, so radical in the Britain in 1978, was deemed centrist enough for the first Clinton inaugural. They've come full-circle musically as well, moving from the jazz and pop fusion that characterized their work in the 1980s back to the roots music that rocked Birmingham in the punk age. The Songs: Their new album African Holocaust pairs the hard vocals of David Hinds with a heavy bass attack and a counterpoint of rhythm guitar and organ. The title track features chanting in the Dioula language of Africa. The tune George Jackson is a 1971 Bob Dylan composition lamenting the death of an Attica inmate. Fare is Fair: Singer-lyricist David Hinds puts his money where his mouth his. On the heels of his 1991 single Taxi Driver, Hinds filed a $1 million class-action lawsuit against New York City's Taxi and Limousine Commission on the grounds that drivers discriminated against African-Americans...Adam Mazmanian.
You are so so right. I just can't let go off that circular object with african holocaust written on it. Man oh man! what can i say..I give thanks to Jah-jah for giving me the hearing capabilities to enjoy such uplifting music. Anyway, one thing for sure...respec' to Mr Alvin " he can make you see life" Ewen..what a basist he is. As for the album, Maka, each song has its own magic to it, but Make Us a Nation (listening to it right now) and Tyrant just keeps me going. As for Darker than Blue and There Must Be A Way...real real classic ridim. Not forgetting the perfect choruses in Born Fi Rebel, George Jackson and Uncle George...I have been wondering why we were starved of such enjoyment for 2 full decades...Welcome back home to where you belong.. Steel Pulse..Easy Skankin' y'all...Papa Dibite.
And now there's Steel Pulse's conscientious new cd entitled African Holocaust, luckily a return of sorts to the band's rugged roots. And it pays because this album is really good, actually it's their best since True Democracy. Right from the start - Global Warning - it's obvious that they have chosen to treat their fans to a fresh roots sound (with wicked horns), which turns out to be great. The sound in combination with the band's political beliefs, expressed through thoughtful lyrics, makes that this cd brings us 'rebel music' par excellence. Vocally David Hinds is in very good shape and all of the songs included here are good to excellent efforts. Even the rendition of Curtis Mayfield's wonderful song Darker Than Blue - with additional lyrics that make a lot of sense - makes a good impression. It's one of our favourite tracks along with the dancehall flavored Blazing Fire, the combination song with Capleton, Make Us A Nation, No More Weapons (featuring Damian Jr. Gong Marley), Tyrant (a deep reggae song with a heavy bass line), the afro-reggae tune African Holocaust and George Jackson. African Holocaust is a great album that will please many long time Steel Pulse fans as well as reggae fans in general... www.reggae-vibes.com
Not only does African Holocaust represent the band's return to the forefront to advance the relevant themes of our times, this CD in my humble opinion arguably ranks among their best work. The title itself reveals the import of Steel Pulse's current mission: the oft-ignored crisis on the African continent. Not since the mid-1980s when Bob Geldof called attention to famine on the continent through Live Aid did a band through its music attempt to direct popular attention to Africa's misery. Steel Pulse accomplishes this and more. Politics aside, African Holocaust is not only relevant but great from a purely musical standpoint. Global Warning, the first track on the CD, kicks it off with a powerful, highly danceable beat and a classic bassline reminiscent of Sly and Robbies' best work. The rest of the tracks follow suit, with contours of mood and tempo, while not departing from the CD's over-all mission. If you are a fan of Steel Pulse, you will not be disappointed by this CD. If you are not a fan, or are looking for an introduction to their music, African Holocaust is an excellent starting point. Five stars...EJS.
It was a very long wait for this album, seven years, but is was really worth it! Finally the group went back to the 'real' reggae music. No more poppy syntheziser songs, though Blazing Fire made me think of a song from the album Rage and Fury, but good reggae music that takes a hold on you. Songs like Global Warning, There Must Be a Way, No More Weapons (with guest rap from Damian Marley) and Door of No Return are brilliant. Uncle George, a classic song, is very nice in this modern new jacket. Buy this album because it's their best work in years and go see the group live, it gives you a lot of energy!...Mart.
I've spent a lot of time listening to Reggae - Roots is my favorite.. Historical Roots is even better.. I've checked most of what Pulse has to offer from their start.I love all of it.. Steel Pulse music pleases me easily.. But, I'll be totally honest about this one. This thing we've waited so long for? It's African Holocaust, and it has to be the best of the best of Steel Pulse. Sometimes the longer you wait for something the more you appreciate it. I think it sums up all of their musical experiences from beginning to the present. Professionally done Reggae Music is the one of the most beautiful things, I believe, and African Holocaust brings it to you.. Nuff "Woo oohs and Yeeaa ahs" outta Mr. Hinds for my liking, lots of passion and hard work in this one. Well done, Steel Pulse!!! Grammy Award for Best Reggae Album 2004 Anyone??? This is definitely the Reggae Album of Summer 2004! All of you who have been fans from the start or started being fans yesterday, this album is where we all come together in agreement. I haven't been more than thirty feet away from it since I picked it up Wednesday morning. It's the only thing that's been in my system at home and it's making this year's summer vacation my best! Here's an idea of what I'm talking about.. Nothing moves me more than some great Reggae. For each song I'll rank my soul connection levels. 0 Stars = Not feeling it : 5 Stars = Total Soul Connection (You get the idea): 1. Global Warning ***** 2. Blazing Fire ***** 3. There Must be a Way ***** 4. Make Us a Nation ***** 5. Dem A Wolf 0 (Don't know what it is, this one just didn't hit me) 6. No More Weapons ***** 7. Tyrant ***** 8. Door of No Return ***** 9. Born Fe Rebel **** 10. Darker Than Blue ***** 11. George Jackson **** 12. African Holocaust ***** 13. Uncle George *****. Go get this disk - it's available everywhere. It's unheard of to get this much great music from a group on one album. This piece of work puts a Big Shiny Star on the Steel Pulse discography and will likely be something that makes history. It's definitely worth twice what it costs. And Finally, Wicked Liner Notes!!! Complete Lyrics, a very well written Story - and a guide to the pictures on Album Art. Mr. Hinds thanks for sharing and caring on this one! You are a true humanitarian! Special Mention to all the band - you guys are wonderful, I tell you that all the time, but, really well done. It's Lovely!...MsMelinda.
I'm very happy with the album...must admit it took me a few plays to really get the feeling for the songs...But my hat is off to you David....Its a hit my friend...I would say the best overall since Earth Crisis...I still feel Tyrant is the outstanding groove but I am now gaining serious appreciation for Darker than Blue...Global Warning and No more Weapons (I am blown away by Jr Gong, brilliant flow and delivery!).....I like the rest of the trax but right there I believe you've got 4 serious classics which could be added to any greatest Pulse collection...Love the bass lines Alvin and thanx David for using the real thing! Selwyn as always can pick out a simple set of notes that just get stuck in your head....I love the piece on Tyrant....Oh and the best harmonies since the departure of Phonso...could almost swear I hear his voice in some of the vocals...Anyway just the personal opinion of someone who after many years feels he can tell when Steel Pulse are at their best....Get ready for some long overdue respect Steel Pulse...Original Pulser.
The album, African Holocaust, is their best since True Democracy. That's how good it is. Just not a bad song, even better, all of the songs are good to excellent. Even the cover of Curtis Mayfiled's 'People Darker than Blue' is done tastefully. When I reached that song in the album, I thought, OK it's going to be the tacky part of the album. But hell no, it's very well done, with additional lyrics that make a lot of sense. The tune with Capleton is very good. Some might object that there is no creativity involved in this album, that Steel Pulse is imitating itself... I'd say, they go to the essentials of their music, let go of the prestigious, but useless, guest star (no more Stevie Wonder on harmonica), focus on what Steel Pulse means: a pulse of steel. In addition, the singer's voice sounds like he's 19 again... amazing, heavy heavy rotation. Long time I did not enjoy a Reggae album from A to Z like this!...Guillaume B.
A long seven years since their previous album, Rage and Fury, reggae legends Steel Pulse return yet again, this time with African Holocaust, and yet again have their ranks dwindled. Core members David Hinds (vocals, rhythm guitar) and Selwyn Brown (keyboards, backing vocals) are the only ones to remain from the band's glory years, but they more than hold their own and they're joined by a deep roster of supporting musicians, a list too long to list. As always, the music is what's most important, and on that count, this Steel Pulse lineup indeed makes the mark. The sound here is superglossy for such grassroots-level reggae, sure, and that may indeed irk some listeners who still yearn for the lo-fi golden age of roots reggae. Even so, the songwriting and musicianship here are also super -- as super as anything bearing the Steel Pulse banner in a decade or two (standouts include "Global Warning," "Blazing Fire," and the title track). The thing is, this is largely a Hinds solo album; he writes all the songs in addition to singing and lending guitar to them, so if there's anything lacking it's a sense of unison among the bandmembers. You have to wonder if this guy ever tires of Steel Pulse. After all, it's been decades now, and here again he shows no sign of slowing down. Granted, it did take him seven years to get the album out, but still. There's really not too much else to say about African Holocaust. Longtime fans will know what to expect. Newcomers should know a few things: above all, Steel Pulse are known for performing well-written, Afrocentric songs that are rebellious without being negative or inflammatory, and though the band membership has changed over the years, the type of songs hasn't, nor has the steady move away from dancehall that was apparent on the band's previous album. This is very well done contemporary reggae, and even the rhetoric-laden liner notes and iconographic outer packaging are well done. Overall, yes, it's well done. ~ Jason Birchmeier, All Music Guide.
As a Steel Pulse fan I can say without hesitation that this is the best Steel-Pulse album ever! It is an absolute masterpiece and I have not listened to anything else since I purchased it. The song Tyrant is especially catchy and I find myself playing it over and over. The lyrical message is deep; intellectual, political, cultural, historical and spiritual. The music is hypnotic; the beats, bass, melody all mesh together with David Hinds beautiful melodic voice. The music sounds new and fresh. These talented musicians have given us a gift of incredible divinely inspired music which will no doubt become a classic. After listening to this album I feel blessed...A Joseph.
After seven long years, Steel Pulse had delivered a new CD 'African Holocaust' - a thematic extension of the band's historic 25 years of innovative Reggae, unapologetic support of Rastafari and human rights, conscious lyrics and excellent musicianship. For the band and their music, the album is definitely a step in the right direction for many reasons and the listener, once again, can experience some of the classic unparalleled trademark 'Pulse sound' that the band delivered from 1979 to 1984... David Hinds has the most impressive, silkiest voice in Reggae that just gets better with time and he continues to write tunes based on familiar, important subject matter - global problems, politics, historical Black figures and unabashed praise of Rastafari. I was very pleased to see a real live drummer incorporated on the majority of the 13 tracks, long overdue, so proper Raspect to Wayne 'C Sharp' Clarke, as I feel there is no substitute for the sound of an excellent recording of great drummer playing at his best in an proper studio. An abundance of rich brass embellishes all the songs and the background vocals are perhaps the best I have ever heard on a Pulse release. Solid brass throughout, as usual, combines with impressive keyboards and guitar to result in an enjoyable listening experience for those seeking the vibe of classic Steel Pulse. Overall recording and production is top notch....I like African Holocaust and look forward ever, backward never to the next release....which will hopefully only take 2 or 3 years. Jah willing! The written text in the CD insert sleeve should be read and reasoned upon by all interested in Black culture, African + Global history and those people interested in a genuine perspective on why, as Marley would say, 'man to man is so unjust.'...peace to all and Jah Bless, Matte Dread.
"This album was cut right up to the wire in some late night/early start sessions. David didn't sleep for days but the album is sensational! 1/2" tapes, last minute remixes, missed trains and dodgy Belgian Karate references...A great session."... Loud Mastering.
It's no big secret that some Steel Pulse fans became disillusioned by the increasingly crossover pop direction the band took in the late '80s and throughout the '90s, culminating in the "return to roots" that wasn't, 1997's Rage and Fury. Seven years have passed without a studio album, and some might've been wondering if the band was down for the count. Well, just like in Rocky II, they pull themselves off the mat and come out swinging (it remains to be seen if they end up fighting Mr. T and Dolph Lungren). African Holocaust is the real return to roots that Rage and Fury purported to be. Sure, there are still some flourishes that seem to aim at a wider audience – the dancehall beats of Blazing Fire and the title track, and the rock guitar garnish on Door of No Return – but overall, African Holocaust regains Steel Pulse's anti-establishment bite in large part by presenting tunes that are well-written and reggae-focused so that listeners actually listen to the lyrics instead of hitting fast forward. Now, I don't want to imply that this is hardcore roots; there is certainly a slick veneer peppered by bubbly harmonies, but Steel Pulse fans should be used to that by now. A song like Ku Klux Klan, for instance, featured a bouncy sound yet had a deadly serious message. Of course, nothing on this album is as great as Ku Klux Klan, but Global Warning is a funky, spunky jam, and Door of No Return is a magnetic ode to resilience, with ample support from tunes like Tyrant, Born fi Rebel, There Must Be a Way, No More Weapons, and the title cut. A couple of remakes are included – Curtis Mayfield's Darker Than Blue and Bob Dylan's George Jackson – but neither are as evocative as the originals penned by David Hines, who has taken even more of a leadership role in the group since all of the original members have left, except for Selwyn Brown. While not an outright classic, African Holocaust is definitely head and shoulders above anything I've heard from Steel Pulse in over a decade... www.reggae-reviews.com
It's been almost 30 years since reggae group Steel Pulse burst upon the scene in the U.K., lighting a spark on a reggae revitalization that would take off in the 1980s. That time has only helped secure the band's stature as one of the world's most recognized reggae posses. The group's latest release, African Holocaust, is evidence of their continued fight against injustice, education of the masses and promotion of both political and social messages through the flair of spirit-lifting music. The Grammy-award winning group became the only reggae band ever to perform during the 1993 inaugural festivities in Washington DC, at the request of newly-elected President Bill Clinton who had admitted trying marijuana a time or two, didn't like it and never used it again. Inhaling or not, it's cool to see a high official enjoying reggae. This is not to say that all people who enjoy reggae have previously or do engage in illegally smoking a plant, but the odds are more favorable than a 50/50 roulette bet. An artistic cover features images of Martin Luther King, Jr., Malcolm X, Medgar Evers and Patrice Lumumba, their eyes blacked out, imparting the extreme political overtones that graze the substance of this record. The architect behind Steel Pulse and their 30-year climb to the members-only club of 'best reggae bands' is David Hinds, long-time vocalist and rhythm guitarist. Besides Hinds, the 26 other musicians contributing to this production further enhance the diversity and character of each and every track. The opening track, Global Warning, is a battle cry to the masses in the face of mankind's ills. The song's musical flare is combined with the message that real change can only be brought about by standing up and voicing your opinion, as one verse echoes: "Give me a reaction/ For some satisfaction/ Not into submission/ Dis ya revolution/ You're just as guilty standing there/ Come show me that you care." The album's seventh track, Tyrant, is classic Steel Pulse creation, with music reminiscent of some of the group's 18 other records dating back to 1978. The song combines a melodious current while Hinds launches a vociferous attack upon politicians. "Power to the people say we find you guilty In the name of democracy we burn the city/ No more hypocrisy says we have no mercy/ So much oppression and repression leads to poverty." Some of the other great tracks lacing the inside of African Holocaust include No More Weapons, George Jackson and African Holocaust. In short, this record kicks ass. Any reggae fan's musical collection will be incomplete until a copy of African Holocaust adorns their shelf or CD booklet....Adam Ruseling

Here's a safe bet. If President Bush is re-elected, he will not invite Steel Pulse to perform during his inauguration ceremonies. That's not just because the duo played for Bill Clinton in 1993. It's because the British reggae group's first studio album in seven years, African Holocaust, includes some tracks that might get under the president's skin. The opening track, Global Warning, sounds like "global warming" and sounds a cry for environmental activism. There Must Be a Way points a finger at the 'Illuminati' for deceiving people about what's really going on in the world. No More Weapons refuses to "beat around the BUSH" about the disastrous consequences of wars caused by power-craving, ego-tripping heads of state who don't care about future generations. Tyrant chides political leaders for stealing votes and suggests a remedy: "If Dem a Tyrant, kick dem out/ Halle- lujah, jump and shout." Admittedly, these lyrics could apply to a lot of political leaders, black as well as white. And they could all benefit from listening to the new Steel Pulse album, because every track on it expresses cynicism, skepticism and anger about a long history of pale-skinned people exploiting and oppressing "we people who are darker than blue." Founded by David Hinds and Selwyn Brown, Steel Pulse has preached social and political revolution through music - "Downtrodden masses get up off your asses" is the most direct way they proclaim it in the new album - for more than a quarter of a century. "We're never gonna be the aristocracy's favorite band," Brown says. But Steel Pulse has Rasta- farian roots, and the band's calls for revolutionary change are tempered and leavened by a broader vision. In Darker Than Blue - a song that mentions Zimbabwe, Mozambique, South Africa, Sierra Leone, Ivory Coast and Liberia - the group urges those seeking restoration of black Africans' rights to, "Keep your eyes upon prize/ Jah Jah is the power and glory giving us a brand new story/ No mek tribal war destroys we/ Let's bring about some unity." Blazing Fire - inspired by biblical account of Shadrach, Meshach and Abednigo in a Babylonian king's fiery furnace - has these lines: "In dis ya wicked and perilous time/ Persecutors fight against I/ Dem a try to take my life/ I survive all war and strife/ Blazing fire can't touch Rasta/ Blazing fire can't touch Rasta." Such lyrics don't sound all that rousing on the printed page, but they have real power when Hinds sings them with the backing of one of the world's best reggae groups. Along with Hinds and Brown, the core of Steel Pulse also includes Alvin Ewin and Clifford Moonie Pusey. Hinds is the writer and lead vocalist; he also plays rhythm guitar and percussion. Brown is the keyboardist and also sings backing vocals. Ewin plays bass, and Pusey is the lead guitarist. Put a seven-piece band behind these four, as on African Holocaust, and you get, for want of a better word, power reggae. Or, better yet, power-to-the-people reggae...Paul Denison.
When Bob Marley died in 1981, Yellow Man revamped Jamaica's music scene for less politically/socially-conscious dancehall-beat purposes. In the same year, Britain's Steel Pulse introduced their rocking-roots reggae (more uptempo rhythms and meatier harmonies than roots is usually known for) to the island in their first visit with a resounding, "Hell no, reggae doesn't have to come from Jamaicans." Conscious lyrics have never been a problem for sole lyricist/lead vocalist/rhythm guitarist David Hinds. Backing vocalist/keyman Selwyn Brown is the only other lasting member besides Hinds, recently losing core drummer Steve "Grizzly" Nesbitt's sticks over health issues. Reggae purists frowned on Steel Pulse's late '80s and '90s attempts at success for their too listener-friendly pop sound. African Holocaust comes closer to Pulse's roots (still noticeably British reggae in tempo; the influence of their local, also highly rebellious, local punk scene as children is not denied) than anything recent, obviously urged by the times for another powerful message. No one can pass the buck. "Stand up and be counted / Never let them chop us down," orders Hinds from track one (Global Warning); you've gotta fight for your own rights. Wayne 'C Sharp' Clark's drop beat is countered by his own rock 'n' roll ride cymbal and rock tom tumbles; Brown's lazy hop is the true roots keywork. "You're just as guilty standing there," Hinds charges, "Come show me that you care... It takes you and me to make a change." This album is intended as a slap. African people have been victim of, as the liner notes state, "this obnoxious scattering of Africa's people around the world." Of course reggae has always held the notion that black people are oppressed, but Steel Pulse's lens on the world is a little wider. The past is set, of course, but they put it best in their liner notes, "Irrespective of the means of reckoning, Africa and Africans remain at the bottom of the socio-economic ladder. Thus the African holocaust continues!" Slavery is in the past, but you can't ignore the reaction. "There Must be a Way" (truly lazy) trods in, like The Little Engine That Could. Alvin Ewin's bass steps down a few and hauls itself back up with one tug into silence and repeat with Jacko Peake (sax), Simon Wilcox (trumpet) and Chris Petter (trombone) pep-squading the tugs. Again, Hinds' chorus is worth note (I'd print all of the lyrics if I had room). Hinds repeats a plea that reverberates throughout reggae and circles of oppressed peoples, "Find some way, there must be a way, let's do it today." In answer, a chorus of men and women on the verge of change, if not in action at least in thought, echo through "Make us a Nation"; "Yes we are, we gonna make us a nation / that's based on truth and rights over one groundation." The tracks with guest DJs are blessed. Capleton's gruff vocal delivery layers "Blazing Fire," much in the way "No More Weapons" (the best slice here) finds Damien "Jr. Gong" Marley. Hinds is speaking to the world when he says, "We no want no weapons of mass destruction." His thought evolves into, "No no lethal weapons / No weapons, no weapons." While the music can't touch the easy swagger of their less-studio earlier albums, it probably never will again, the message hasn't faded; time though has proven that the powerful probably aren't listening. Sometimes all you can do is rant, and Hinds does it so clearly. Guest DJ Jukie Ranks comes more laidback for "Born Fe Rebel." The sound is smooth and suits the line "I was born a country rebel;" Don't let anyone's country pace fool ya. Tiken Jah Fakoly guest DJs on the title track, a song that should be heard for its lessons ("You think what you've got is your freedom / But, all it means is to be free and dumb," Hines quips) and James Renford's choice alto-saxophone frosting. The album's liner notes credits Haiti's 200th year of independence as inspiration. Hear African Holocaust; You'll yourself either fighting harder for universal freedom or opting quickly for some other more musically amazing album, probably a less meaningful one too. Hopefully you'll listen a few times and then share Steel Pulse with friends...Jeremy Sanchez at www.jambands.com
Steel Pulse needs no introduction after all these years. But just in case you've somehow missed them: SP is perhaps the most important British reggae group ever (despite releasing only a dozen or so full albums in 25 years). Featuring a big, bubbly, layered sound and David Hinds' sweet but serious vocals, they make nods to current trends but stay true to their base combination of political roots and soul. This is their first album of new material in seven years, and it's solid. Play it! All good! 1. fade-out intro, then uptempo with environmental message, soulful breaks. 2. dancehall energy & breaks, lots of guitar & horns, Rasta lyrics. 3. conspiracy-minded plea to find true religion; perky beat & horn riffs. 4. upbeat roots anthem in a classic style: 'gonna make us a nation'. 5. bouncy, cute, almost like a children's song... listen for blues harmonica! 6. strong roots-dub groove: down with 'WMD's everywhere. 7. midtempo revolutionary anthem with an r&b touch. 8. uptempo 70s/80s-style roots: a story of slavery w/rock guitar in the mix. 9. extra-bouncy beat, in honor of history's rebel leaders; dancehall breaks. 10. midtempo soul-reggae, about racism; smooth sax in the mix. 11. a Bob Dylan cover! surprisingly upbeat, touches of acoustic guitar. 12. bubbly beat, strong roots with African instruments/vocals mixed in. 13. another tribute to black revolutionary George Jackson (see track 11). Fo's picks: 1, 2, 4, 6, 8, 12, 13....Fo at KZSU Zookeeper online.
The reggae stalwarts' first album in seven years finds them brandishing their strengths: driving old-school riddims and passionate, socially conscious lyrics sung by David Hinds. Musically, the band has pulled back from the slick crossover efforts of years past, instead hewing to the whacka-whacka rhythm guitar, call-to-action horns and strong melodies of its late-'70s and '80s work. There's a touch of hip-hop or dancehall here and there, but the music is organic enough to accommodate harmonica ('Dem a Wolf') and old-time dub flavorings ('No More Weapons'). Lyrically, the band has almost always remained true to its socially conscious, Rastafarian outlook. Subjects range from the African diaspora (on the title track) to weapons of mass destruction and the death of black radical George Jackson. Bad news, in this case, turns into good reggae...Joel Brown (Boston Herald)
The protest-minded Rastafarian group Steel Pulse has been making rebel music for 25 years. Now almost a solo project of founding member David Hinds, their new record is a commercial roots reggae affair, with a classic Afrocentric, deeply humanitarian approach to the worldwide struggle. On African Holocaust, the songs address current events, like in "No More Weapons", which laments "There's no time to beat around the Bush / Now all the world is living in fear / The consequence a great disaster zone / The thought alone I cannot bear / And now that war has raised its ugly head / All I can predict is woe yeah!"...Art Gets Political, Activate Newsletter.
To celebrate one's 30th anniversay as a band of conscious Reggae musicians with a message and strong Roots in the "punky reggae party", one must be called Steel Pulse. This UK based Reggae Band has delivered a document of true consciousness with African Holocaust. Recorded in the Band's home studio in Birmingham (UK), they've produced an album that strikes one in many ways. First, the music. Versatile. The band has maintained their specific sound but obviously, the sound is very mature. Very well worked out, good effects and a lot of dubby elements. Guest appearances from ones like Capleton adds to the contemporary vibe that Steel Pulse has managed to put in their music without leaving their specific sound. A lot of tracks are a bit "poppy", a bit "soft". This means, the album will definitely cater to a wider audience that is more into the lighter forms of Reggae. But there are enough stronger and more militant Roots tracks on the album to keep a Rootsman interested. Musically, that is. Because African Holocaust is everything but a catering to the propaganda that usually comes with more commercial music. There is no compromise whatsoever in the lyrics. Even stronger: If you think that the movement of Rastafari is unaware of what's going on, think again. Ever heard of the New World Order? The Illuminati? Well, you're going to hear about them on this album. African Holocaust will definitely wake up a lot of people to the horrible truth of the world today, but not without hope. For Steel Pulse doesn't only chant down Babylon, the band also gives praises to the Holy One of Creation, Jah Rastafari. This is definitely an album that you want to hear. The music is contemporary and will cater to many people. The message is undeniable and will wake up the sleeprs in a gentle way. Yes, definitely. When you celebrate 30 years of consciousness with such a document, we can only give thanks for the vibes...www.dubroom.org
Thanks to the reviewers
More information on African Holocaust HERE
---
Home :: Steel Pulse :: E-mail
The contents of this website cannot be reproduced or copied without permission of the site author. © Andy Brouwer 2005