ANDYBROUWER.CO.UK
---
AFRICAN HOLOCAUST
part 2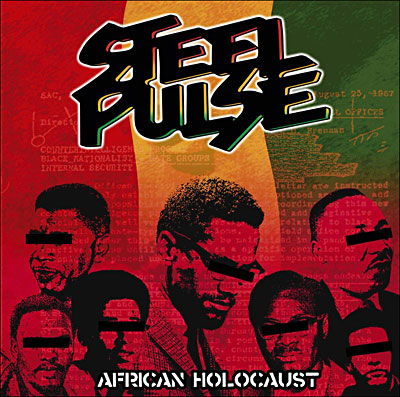 Track List: Global Warning 4:54; Blazing Fire 3:36 featuring Capleton; Must Be A Way 4:14; Make Us A Nation 4:15; Dem A Wolf 3:35; No More Weapons 4:36 featuring Damian Marley; Tyrant 4:51; Door Of No Return 4:49; Born Fe Rebel 4:42 featuring Jukie Ranks; Darker Than Blue 4:36; George Jackson 3:54; African Holocaust 4:27 featuring Tiken Jah Fakoly; Uncle George 4:13
"African Holocaust is a summary of the state of the world today from our perspective - which is a perspective of the black diaspora. Subject matters range from exposing the negative impact, politically and environmentally of super powers, to the nostalgia for our African heritage." - David Hinds
---
African Holocaust, the first studio album from Steel Pulse for seven years, was released in June 2004 in France on the Nocturne label and on 14 July 2004 in the United States on RAS Records. The album quickly received rave reviews from the media and fans alike, as the band toured both continents to promote their new release.
The recording of the album took place over a lengthy period with the majority taking place at The Dub Factory in Birmingham under the supervison of David, Selwyn and co-producer Mike Henry. Graham Dickson, a long-time friend of the group, was responsible for mixing, whilst the final mastering was completed by John Dent at Loud Mastering, who also did the same task with Rage & Fury and much earlier Steel Pulse material. The contributors to the album, accompanying the lead vocals and rhythm guitar of David Hinds and Selwyn Brown's keyboards and backing vocals, are many including regular band members Alvin Ewen (bass on all tracks), lead guitarist Moonie Pusey on five of the tracks and Sid Mills' organ and drum programming on four tracks.
A valuable contribution to four of the tracks were made by guest deejays with Capleton's fierce vocals on Blazing Fire, UK-based Jukie Ranks on Born Fe Rebel and the majestic Damian 'Jr Gong' Marley on No More Weapons. The Ivory Coast singer Tiken Jah Fakoly opens the album with a brief intro and then joins Hinds and Brown on the album's title track, African Holocaust, with his plaintive wailing in his native Dioula tongue.
The remaining contributors are:
Jacko Peake (saxophone), Simon Wilcox (trumpet) and Chris Petter (trombone) on ten of the tracks. An accomplished jazz musician, Peake was Paul Weller's sax player for many years and also guested on Rage & Fury, Wilcox is the regular horn player with ska aces Pama International, whilst Petter has worked with Sly & Robbie, Stereo MC's, Morcheeba, Asian Dub Foundation and Mad Professor, as well as starting up the Conscious Sounds Studio. Birmingham-duo and long-time members of Pato Banton's backing band, Reggae Revolution, Steve Morrison (trombone) and James Renford (alto sax), guest on the African Holocaust title track only. Read more about Morrison and Renford here.
Whilst regular band member Moonie Pusey takes lead guitar on a handful of songs, Adam Drake plays lead guitar on seven of the tracks whilst Focett Gray is on lead on George Jackson only.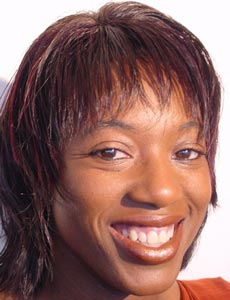 The backing vocalists are Donna Sterling, Sandra Francis, Jackie Dean and Mike Williams on various tracks, with Raheemah and Hamedah Hunter providing additional vocals on three tracks. Donna of course, was an integral member of Steel Pulse's live performances for the past six years before taking a break to have a baby. You can read all about Donna here. Sandra Francis (right) hails from the group's birthplace, Handsworth and has been a member of the female acappella group Black Voices for the past sixteen years, covering a variety of musical styles, recording six cd's and performing around the globe. Jackie Dean has worked with the Groove Corporation and Noiseshaper.
Noel 'Asher' Barnes, Raymond 'Charge' Walker and Nana on percussions. Walker is a regular member of the Reggae Revolution, touring worldwide with Pato Banton for many years, whilst Nana Tsiboe is a multi-instrumentalist from Ghana, now settled in the UK. Climax Blues Band legend Colin Cooper plays the prominent harmonica on Dem A Wolf and Born Fe Rebel. Better known for his vocals and saxophone with CBB, he founded the group in 1967 and is still going strong today as they regularly tour Europe. Former Alpha Blondy drummer Wayne 'C-Sharp' Clarke guests on Global Warning, Must Be A Way, Make Us A Nation, Door Of No Return, Born Fe Rebel, George Jackson and Uncle George.
The album is dedicated to David Hinds' father, Charles Percival Hinds, who passed away in November 2003. The CD booklet contains lyrics and a brief dissertation on the 'Global Black Genocide' complete with graphic and provocative imagery, courtesy of designer Lee Jeffcoate at Backstreet.
It's well documented that the album took almost four years to come to fruition though it's less well-known that Pulse brought a producer over from Jamaica for three months to work on African Holocaust, but it didn't pan out as expected. Instead, the band decided to produce it themselves alongside Birmingham-based producer and dub artist Michael Henry (aka Dubnine), who runs his own label and studio in their home city (www.transmissions.net). Capleton, who appears on the Blazing Fire track, recorded his part when Pulse were in Jamaica, with producer Computer Paul also involved in the studio session. Damian Marley, who lends his considerable talent to No More Weapons, recorded his contribution in Miami and sent it into Pulse for inclusion, whilst they had to choose between Alpha Blondy and Tiken Jah Fakoly for an infusion of African sound into the album, with the latter being in the right place at the right time. David Hinds, who has played with Fakoly in Paris, called the result "perfect." Two songs on the CD reflect Hinds' fascination with the George Jackson story since his adolescence. They re-recorded their own 1979 track Uncle George and also included a reggae rendition of Bob Dylan's 1971 song George Jackson. The final track to be written was the title song, African Holocaust, admits Selwyn Brown, who confirmed that tracks like Door of No Return, Darker Than Blue, Uncle George and Global Warning were amongst the earliest songs worked on when recording initially began at the end of 2001. In addition, Hinds has promised that a long-awaited dub album will be forthcoming soon enough, something which will please die-hard Pulse fans enormously.
---
An interview with...
COLIN COOPER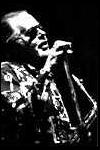 There's an eclectic mix of musicians contributing to the latest Steel Pulse offering, African Holocaust, an album that is receiving such enthusiastic reviews, and that includes the prominent blues harmonica of Colin Cooper on two tracks, Dem A Wolf and Born Fe Rebel. Colin is already a legendary figure in the blues world, having formed the Climax Blues Band in 1967 and he still fronts that band, some thirty-six years later, as they continue their live work acros Europe. I got in touch with Colin and he was very pleased to answer my questions when I asked him about his part in African Holocaust.
Q. How did your association with Steel Pulse occur?
I had no previous connection with the band, although I was obviously aware of their work. The session was the first time we met, which is rather strange, since both bands are from the Midlands area, and have both been around for quite a while. I got a call from a guy named Roy Davies who was one of our crew awhile ago, and who now has a rehearsal room in Birmingham. He told me that Selwyn had asked him if he knew a good blues harmonica player to do something on their new CD. When I spoke to Selwyn, I said what I always say when asked about sessions, that if I could hear the tracks I would say if I thought I could make a positive contribution to the music. I have never been into doing sessions just for the money. When I heard the tracks, Dem A Wolf being the one they were most interested in, I was excited because I loved them, and rang straight back and made the arrangements for the session.
Q. Can you tell me more about the session and your interaction with the band?
It was Thursday, 15th of April, I think, at their studio in Birmingham, but it was really embarrassing for me because originally we had scheduled it for the day before. Dem A Wolf is in B-flat, which is quite unusual for harmonica, so I had to order a new harmonica, which failed to arrive on the Wednesday morning as promised, so I had to call and re-schedule the session. It was really embarrassing, but Selwyn was great about it. I think we started around 2.00pm, and were through by around 4.30pm. When I got there none of the band were there, but as soon as Selwyn arrived we got started, and David arrived a little later. I have to say that it was one of the most enjoyable recording sessions I have ever been involved in. All the input was positive from the guys. Sometimes sessions can get quite difficult, with everyone pushing their own idea of what they want to hear, but there was none of that. It was, as I say, a sheer pleasure. It was interesting that Selwyn and David were both aware of Climax's stuff, particularly the old live album, FM Live, from the early Seventies, and asked if that was actually me on that record, which of course it was!
Q. You played harmonica on Dem A Wolf and Born Fe Rebel. Is that correct?
That's right. Dem A Wolf was the one they were most interested in, and that was pretty straightforward because I had a good idea of what I wanted to do, and the guys seemed to like it. Born Fe Rebel was a little trickier, being in a minor key, with some clever chords in the middle, which is tough for blues harmonica, but we managed it. I haven't heard it yet. I'm really looking forward to it, because if the songs I heard are anything to go by, it's a great record.
Q. Do you work with other groups or artists in addition to the Climax Blues Band?
I do quite a lot of acoustic blues these days, with various people, and although I have had a few projects with other bands, in the past, one incidentally with Pick Withers, Dire Straits old drummer, the involvement with Climax Blues Band is pretty much a full time commitment, since we now have our own label. Having said that, I am always up for session work, especially if it is as enjoyable as the Steel Pulse project.
---
Mastering with...
JOHN DENT

Have you spotted the word JONZ etched into the run-out groove of early Steel Pulse vinyl releases and wondered what it meant? The tag JONZ and later SOUND CLINIC first became associated with Steel Pulse for their Nyah Luv single in 1977 and remained ever-present throughout their Island Records and Wise Man Doctrine periods. Check out the band's early vinyl for yourself. So what does it means? Well, its the 'fingerprint' of John 'The Don' Dent, who has been responsible for mastering records for a who's who of the music industry's greatest artists ranging from Bob Marley, U2 and the Police through to Kylie.
John now runs Loud Mastering in Taunton and has mastered the last two Steel Pulse studio albums, Rage & Fury and African Holocaust. So what is mastering? I'm no expert but its the creative stage between the mixing and the manufacturing of the final product (vinyl or CD). Its about making decisions on how the music is presented to the listener and done well, it will greatly enhance what we hear...for example, basic things like cd volume, relative levels between tracks, the tone of the sound (termed the Eq), whether to compress or limit the peakier sounds, the fades & the gaps. Its very much a 'taken for granted' part of the process by most of the cd-buying public, but without David Hinds and John spending many hours to come up with the final master for African Holocaust, we wouldn't have the fantastic CD we all have in our collection today. An important piece of the jigsaw and one which shouldn't be forgotten or underestimated. This is a quote from the Loud website regarding the African Holocaust experience..."This album was cut right up to the wire in some late night/early start sessions. David didn't sleep for days but the album is sensational! 1/2" tapes, last minute remixes, missed trains and dodgy Belgian Karate references...A great session." An interview with John Dent will be posted here in due course.
Reviews of African Holocaust HERE
Listen to samples from African Holocaust HERE
---
Home :: Steel Pulse :: E-mail
The contents of this website cannot be reproduced or copied without permission of the site author. © Andy Brouwer 2004