ANDYBROUWER.CO.UK
---
THE BASIL GABBIDON STORY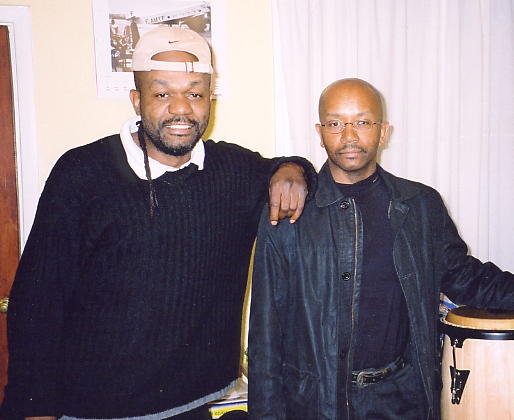 Basil (left) and Colin Gabbidon
The story begins, albeit briefly, in the small rural town of Buff Bay, Jamaica. Basil Glendon Gabbidon was born on 29 October 1955, the eldest of four talented Gabbidon brothers, Colin, O'Neil and Ian and a sister, Beryl. Soon after the family moved to Kingston, where his father Joseph, a carpenter by trade, built the family home, when he wasn't on the stage as an amateur entertainer, actor and comedian. Basil also spent a few years of his childhood in the nearby coastal parish of St Mary's at the home of his grandmother with his brothers and cousins. His father and his mother Dorothy, a nurse, were no different to many of their fellow Jamaicans in believing that The Mother Country (England) held a better life. Many Jamaicans had fought for Britain in the Second World War and Basil's father came over in the late fifties to seek a new life for his young family, followed a couple of years later by Dorothy. Soon after Jamaican independence, in 1963, Basil alongwith Colin, followed their parents to Britain, just before his ninth birthday. "My dad picked us up at the airport with a bowler hat on. I thought, oh, we must be in England, as he's wearing a bowler hat," he recalls. Initially his parents had lived in Cardiff but when the boys joined them, they moved to become part of a thriving Afro-Caribbean community in the Birmingham inner city area of Handsworth.
It took Basil a while to adjust to his new surroundings including the freezing weather after the carefree lifestyle he'd known in the Caribbean. For example, school was so different to what he'd been used to. The teaching methods and the whole concept was totally alien to him and it took a year or so to settle into the rhythm of life in England. His secondary school education began at Handsworth Wood Boys school and that's where Basil began to prosper and blossom. He was fortunate that in his words, "all the bright kids went to that school at the same time, it was just pure energy" and included amongst his schoolfriends was David Hinds, who would feature a great deal in Basil's formative years. "Handsworth Wood was a good school. One of the first things they did was to find out what you could do, what you were good at. I wanted to play the trumpet but couldn't blow it, so took up the trombone instead. In a way its the nicest brass instrument to play and it gave me a vibe for electric guitar, a sort of natural progression." John Surtees, his school music teacher and a folk club held at the school were additional influences at that time and helped him to read music and gain a better appreciation of what he was hearing and playing.
In addition to playing the trombone in the school's brass band, Basil had become interested in the guitar at the same time. His desire to play music was all consuming. His father had an old guitar with broken strings and Basil took up the challenge. He repaired the strings, bought himself a book of guitar chords and learnt to play the guitar from scratch. "Its not like today, we made things happen ourselves," as he recalls teaching himself to play. Initially, Basil wasn't interested in reggae. It was still a relatively new form of music coming over from Jamaica and instead, the music mad youngster preferred heavier tunes from the Rolling Stones, Jimmy Hendrix, Mandrill and the Isley Brothers. "We turned on the radio and listened to pop music and the Stones, I liked the way they performed their songs. I didn't like the Beatles 'cause everyone else liked them." One of the first reggae tunes to catch his ear was a reggae version of Blue Moon, the old Rogers & Hart classic. Another tune that had a bigger impact on him was Blood & Fire. Released in 1970 by Niney The Observer (aka Winston Holness, but called Niney when he lost a thumb in a workshop accident), it was amongst the avalanche of sound system pre-releases that found their way to Britain and were eagerly snapped up by the flourishing Carribean communities. However, it wasn't until Bob Marley's classic 1973 album, Catch A Fire was released that Basil was finally hooked after he heard it played in a local park during a festival, and his desire to play reggae music became a serious aim.
Music wasn't the only interest that Basil enjoyed at Handsworth Wood. He was sports mad. He represented the school at table tennis and football and loved basketball. He was even better at cricket, both as a batsman and a bowler, and went onto represent the East Midlands against their West Midlands rivals in a schools championship game at Edgbaston. However his will to win, that desire to succeed was never more evident than when he was running. "I picked the hurdles 'cause everyone could sprint but the hurdles required a certain technique, discipline, commitment and a bit of bravery. The 110 metres hurdles wasn't as glamorous as the 100 metre dash but I enjoyed it." He ran for the school, he ran for his district, Aston, he then went onto run for Birmingham in the Warwickshire games and then for Warwickshire in the English Schools Championships. He was on a roll and he didn't stop until he achieved his aim, to be the best. In the 1973 Championship finals held at Bebington, Basil ran the 110 metres high hurdles in 15.2 seconds to win the title of Schools Champion of England, a considerable feat in anyone's book. He was 17 years old at the time, he trained two nights a week with his local athletics club Birchfield Harriers and took part in track meetings but it wasn't his first love. "Training was quite hard. If I could've made a living at it I would've continued but I loved music too much. And I knew that we'd make it."
Basil had reached the sixth form at Handsworth Wood. One of his best friends was David Hinds and they both had Saturday jobs at the Co-op supermarket in Winson Green. They loved music and they loved art. So much so that they left Handsworth Wood and went to the Bournville College of Art to continue their studies. Basil took a one year vocational course in graphics with a plan to go into television advertising, although "it wasn't as easy as I thought it would be" he remembers. He left after his course finished and worked for a year at the Co-op as a full-time shop assistant. David, who joined Basil in the supermarket on Saturday's only, took a foundation course and moved onto the Art College at Margaret Street after a while to continue his studies. When they weren't working or studying, the two friends were consumed by their real passion, music. With the cash from his job, Basil bought his first electric guitar, a bright red Top Twenty, for the princely sum of £20. "My second guitar was black and looked like a Gibson but sounded nothing like it," he smiled, "and later I bought a WEM amp for £60 and a head box for £45. That was a lot of money in those days. Everybody used to plug into my amp and rehearse."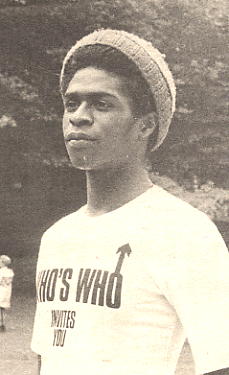 The jamming and rehearsing sessions had begun in the kitchen of the Gabbidon's terraced household at 69 Headingley Road, Handsworth when the two friends were in the sixth form. Colin, Basil's younger brother by two years, joined in on a wooden box pending the purchase of his first drumkit, when he wasn't practicising his martial arts. Initially, Basil, with visions of a family dynasty to rival the Jacksons, had asked his two other brothers, who'd arrived from Jamaica, to form a band but they weren't keen. Self-taught, Basil passed on his guitar-playing knowledge to David and as they improved, they involved another school friend, Ronnie McQueen, who played bass. Rehearsals moved to Ronnie's attic bedroom in Sandwell Road where they co-opted two more recruits, Selwyn Brown and his keyboards and Michael Riley, on backing vocals and percussion, into the sessions. Both Selwyn and Michael were former Handsworth Wood school pals, as was Trevor Christie, who played percussion for a while before moving away. More equipment was bought with Basil's amp now forming a fulcrum for the burgeoning group, "I've always believed that if you invest you always get a return on it," and so it proved as they began to believe in themselves. The cellar of the Hinds' household at 16 Linwood Road in Handsworth was now the band's home. They covered tunes by Bob Marley and Peter Tosh, Burning Spear, The Abyssinians, The Gladiators and many more and began writing their own music too. The name of the band posed a problem, which was solved by McQueen, who had a passion for horse-racing. He liked the name of one horse in particular, the 1972 Irish Derby winner called Steel Pulse and suggested to the rest of the band that they take the name as their own. Everyone agreed. Encouraged by friends and feeling confident enough to show themselves in public for the first time, they were booked into a small working-class pub called the Crompton Arms, on the Crompton Road in the Lozells district, in January 1975 for their first gig under their new name. Basil, who was nineteen at the time, recalls, "Selwyn did most of the vocals, we played a mix of cover versions and dub numbers and it went down really well." They became the pub's resident Friday night band for a few months.
The success of their first public appearances inspired the band to greater heights. "The money from our gigs went back into the pot, back into the band, to pay for more equipment and travel." They got gigs locally at clubs like Barbarellas, Santa Rosa, Ridgeway and the Tower Ballroom as well as further afield, in black working men's clubs and reggae venues in places like Huddersfield, Bristol, Sheffield, Leeds, Bradford and Nottingham as well as London. To begin with they used Basil's dad's old mini to transport their equipment but that was replaced by a series of vans that they bought from their labours as the travelling increased. David's cousin Keith Ebanks was the usual driver and as with all fledgling bands on the road they broke down a few times and had to miss the odd gig. One appearance they did make, in Birmingham, was as the backing band for popular Jamaican singer Ken Boothe, who'd had a number one hit two years before with Everything I Own.
It was now 1976 and with enough money in the kitty, the band decided to record their first single. Up to this point they were covering pre-releases coming from Jamaica, mainly dub, with a few tunes of their own, whilst also listening to British bands like Matumbi and Aswad, who'd just released their first album. They were playing a host of gigs, both locally and nationally and had even given their distinctive style of music its own name, Taffri. The band's first single, Kibudu, Mansetta & Abuku, was centered around three slaves from the west coast of Africa and the lyrics were penned by McQueen, with Brown singing lead vocals at the recording, which took place in a studio in Bristol Street, Birmingham. A small reggae label in London called Dip distributed the 1,000 copies and it helped the group move onto the next stage of their development as more and more people heard them. Earlier in the year, the band won a prestigious albeit local talent competition at the Santa Rosa club in Handsworth. Artists and bands playing all sorts of music took part over a six-week period but Steel Pulse were adjudged the winners by a panel that included three members of the band Matumbi, including their leader Dennis Bovell. The prize for winning was a recording session with Bovell at Grove Studios in Birmingham. Their winning entry was a tune that Hinds wrote called Nyah Luv, which was to be their second single release a few months later.
Their introduction to Dennis Bovell was also an introduction to his management company, called TJM. They liked the sound of the band and took them to London to record a live version of Nyah Luv at Strawberry Studios with Bovell in charge of production. 5,000 copies were pressed, the single was released in September 1977 on the Anchor label by Tempus Records and quickly went to the top of the UK's reggae chart. That success was followed up by a series of gigs in key London venues, like the 100 Club, Nashville Rooms and the Marquee. They appeared on the same bill as Generation X at the Vortex club and that opened the floodgates with the band sharing the stage with a number of punk acts like The Clash, The Slits and others. This punk-reggae collaboration subsequently became part of the Rock Against Racism campaign that swept the country for the next few years, whilst the band continued to perform independently in student union halls and clubs up and down the country. It was a hectic time for Steel Pulse and they were invited to back Burning Spear, the legendary roots singer, at The Rainbow in London in October 1977. They declined, but did agree to appear as a support act, with Aswad taking over the backing band duties (the live performance by Burning Spear was later released on album). That concert proved to be their next stepping stone to success.
By this time, the band numbers had swelled with the addition of vocalist Phonso Martin and drummer Steve 'Grizzly' Nisbett. Both were introduced to the group by Hinds and had been involved in the recording of Nyah Luv. Phonso had joined in the Summer of 1976 and Grizzly took over the drums early in 1977 after the departure of Colin Gabbidon and a brief stint by another schoolfriend Donovan Shaw, and arrived with experience in a few soul bands including Force. Basil recalls "we'd done a lot of gigs, we enjoyed lots of influences and turned them into our own songs with a ska kinda feel to them. I was into heavy bass-lines, David put lyrics to the tunes and Selwyn would add the melodies. We were different from bands like Matumbi and Aswad, we were harder and more cheeky. We had a few songs at that time like Handsworth Revolution, Soldiers, Bad Man and Sound Check." They'd also developed their own highly original visual stage persona. "Michael (Riley) got the idea for our costumes, he was big on presentation, a show-man. When we appeared on stage at the Rainbow, the whole place went crazy. I wore African robes, Ronnie dressed up as a sultan, David wore a convict costume with arrows and everything and Michael looked like a preacher with a wide-rimmed quaker hat. We looked very different and that helped."
The Rainbow gig with Burning Spear, one of the band's earliest influences, was a major turning point and they followed that by accompanying Winston Rodney on his British tour with further dates in Bristol, Birmingham, Manchester and Nottingham. However, the night of the Rainbow performance was the night that they signed to Chris Blackwell's Island Records. Blackwell's executive assistant, the late Denise Mills was so impressed she offered the band a contract on the spot, which they accepted. They were happy to sign with Island, home to bands like Bob Marley & The Wailers, Black Uhuru, Third World and fellow British reggae pioneers Aswad, as they believed they would retain some artistic control, which they felt they wouldn't with other labels. Initially they'd been turned down by Island, as well as by Virgin and others when Ronnie and David had taken the band's demo tapes around the various record companies without success. The demo tapes had been produced from rehearsals in Hinds' cellar at Linwood Road and it was Pete King, a popular disc-jockey from Birmingham who later became the band's manager, that broke the deadlock when his powers of persuasion convinced Island to give the group the chance to support Burning Spear. As 1977 drew to a close, the band's momentum was gathering pace.
The following year proved to be a phenomenal success for the band. Island Records were keen to get their first single out and in February 1978, Ku Klux Klan, a hard-hitting tune calling for resistance against the evil forces of racism, with lyrics penned by Hinds, was released. It was up against Bob Marley's Is This Love (complete with video of Marley at a children's party) and Althea & Donna's Uptown Top Ranking for the top spot in the reggae singles chart and reached the UK Top 50. The band were pleased, so were the record label and work began on their first album. Island brought in one of their heavyweight producers, Karl Pitterson, who'd previously worked with top Jamaican acts like Bob Marley on the album Exodus, Bunny Wailer and Peter Tosh and it proved a master-stroke. The chemistry between Pitterson and the band was electric, as Basil enthuses, "He was fantastic. Karl was like another member of the band and just a few years older. He brought clarity, precision, more arrangement, a tighter, professional feel and enhanced our sound by drawing it out of us. He improved the lead and backing vocals in particular." The result was their seminal debut album, Handsworth Revolution, released in July 1978 to great critical acclaim, even though Island supremo Chris Blackwell was a little uncomfortable with the inflammatory title. Its worth noting that the original illustration concept for the album cover was put together by the former art students, Basil and David.
The album reached ninth spot in the British LP charts in just ten days following its release and the band had struck gold with eventual sales of over a quarter of a million. "We recorded the album at St Peter's Square, Island's HQ in London," recalls Basil. "If we'd put the album out three weeks earlier, I'm sure we'd have got to number one or at least the top three. People were waiting for it, we were gigging all the time and had a large fanbase." Additional support came in the form of Radio 1 DJ John Peel, who helped them get noticed when they became one of the few black bands to perform on his legendary live sessions. The band attracted both white and black audiences in droves. "We were talking about truth and rights, Handsworth, KKK, Prodigal Son. Our early black audience wanted to hear cover versions of Ken Boothe and stuff like that, but we were different. We drew white educated people, students in particular, who tended to like music that was different. Once the music press picked us up with the punk connection, the white interest increased. We had both a black and white following, not necessarily in the same way as Bob Marley did, as Bob attracted everyone, but we drew more students and conscious black people. Particularly in America, we had people coming out of the woodwork. They had to love the lyrics, the honesty within the lyrics, the story, the consciousness."
The band's new-found fame was secured when they supported their inspiration, Bob Marley & The Wailers, on the European leg of their 'Kaya' world tour in June and July 1978. The eight date tour kicked off with an incredible outdoor festival at the New Bingley Hall in Stafford and included three sold-out concerts in Paris and others in Ibiza, Rotterdam, Amsterdam and Brussels. Basil smiled broadly as he recalled the period. "It was a dream. We'd just finished the album and we had to pay £2000 to get on the tour. It was absolutely brilliant. I've always been a focused person so I didn't take in the glamour aspect. When we played at Bingley Hall it was amazing. My other memories were the crowd roar in Paris, the lighters in the audience and that the weed was incredibly strong." David Hinds remembers, "we learned a lot of discipline on that tour that rubbed off - rehearsal, execution on stage, how to tour, stability. That's when the doors really started to open for us. To play as part of that package exposed Steel Pulse to audiences that literally were in awe of our message."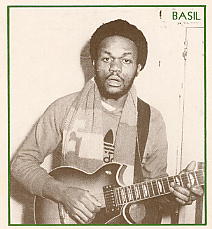 Their success also attracted the music media with regular articles in NME, Sounds and Melody Maker whilst television appearances on mainstream shows like Top of the Pops and Rock Goes to College, added to their popularity. At one of their frequent 'Rock Against Racism' appearances, in Victoria Park, London in April 1978, more than 80,000 people watched an open-air gig that also included The Clash, Tom Robinson Band and X-Ray Spex. It proved to be a hectic year, as the band supported The Stranglers and The Clash, were themselves supported by The Police in London, headlined two tours of their own and released two more singles from the album, Prodigal Son, which got to number 35 in the singles chart, and Prediction. But it came at a considerable price, when Michael Riley left the band in acrimonious circumstances, towards the end of the year. The negative press whipped up by The Daily Mirror's account of the band's alleged racial prejudice towards Riley and his French girlfriend at the time took its toll and many of their British fanbase turned against their former heroes. "At the time, it ruined the band in Britain. It affected us terribly. People believed what they read, they believed the hype. I don't think its been forgotten to this day." The cloud generated by the tabloid press reports and the consequential drop in record sales in the UK went a long way to convincing the band that their future market lay outside their homeland shores.
Their second album, Tribute to the Martyrs, again with Pitterson at the helm, contained an increased African spiritual awareness and songs with a strong political message, and was released in 1979. Basil's heart wasn't totally in it, "it was nowhere near as successful as Handsworth Revolution. It was self-indulgent, we didn't all fully partake in it, we weren't a team. I thought we should've done something more commercial, more straightforward rhythmically, similar to Handsworth but more precise, less fussy." The band continued to play frequent 'Rock Against Racism' gigs - aimed at promoting racial harmony through music - around the country and were extremely popular in France, Holland and Scandinavia. In June and July 1979 they supported Peter Tosh on a European tour, including dates in Holland, Sweden, Denmark, Italy and Switzerland. "Peter was totally different to Marley. He was more intellectual and sophisticated, his approach was quite dark. Bob was more raucous and I preferred his musicians," recalls Basil. A third album, Caught You, though known as Reggae Fever in the US, where Island weren't convinced that it was right for the American market, was released in 1980. It was to be their last for the record label. Pitterson wasn't available so Del Newman was brought in to produce it, although he was replaced at the eleventh hour by Geoffrey Chung with Godwin Logie mixing. "They were very different types of producers, much more stand back than Karl. They weren't as good as him or as enthusiastic. He was a musicians' producer, he'd go into everything, the notes, the sound, what chord, what note you play, all those little things," states Basil.
In October of that year, they crossed the Atlantic for the first time to kick off their debut US tour with a gig at New York's Mud club. Basil celebrated his twenty-fifth birthday that same month. However, poor record sales for their second and third albums, especially in Britain, convinced Island Records that enough was enough and Steel Pulse were dropped from the pay-roll. Whilst on tour in Toronto on May 11th, 1981, the band heard the tragic news of Bob Marley's untimely death, an event that had a profound effect on the band members particularly Basil. A second successful tour of the States later that Summer, mainly playing small venues and clubs, was concluded with a triumphant first appearance by a British band at Jamaica's Reggae Sunsplash in Montego Bay. The concert spawned a successful live album in tribute to the late Bob Marley and included two of the band's tracks, Sound System and Handsworth Revolution, alongside other acts like Third World, Black Uhuru and Gregory Isaacs. "That was absolutely brilliant," reminisces Basil. "We spent one week in Jamaica, it was my first time back and the band's first time as well. We went down great at Sunsplash, had a little too much to smoke though I was really excited to be back and went all over the place. I went back to St Mary's, climbed the tree, everything, it was fantastic."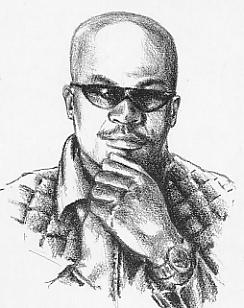 Towards the end of 1981 they were offered free recording time at studios in Aarhus, Denmark by Genlyd, a black musician's co-operative at a time when David Hinds insists, "we were on the verge of being kicked while we were down. We had no record company, we had no management and we were flat broke. We pursued the venture, executed the album within 25 days, and came out with a record that is still a force to be reckoned with." For Steel Pulse, True Democracy was album number four, again re-united with producer Karl Pitterson. Before the release of the album, Basil, who'd been a key component in the formation and direction of the band over the previous eight years, finally decided he'd had enough and left the band. "I had this vision of us being very long term, massive, but unfortunately we were being abused by others, who were very wasteful. It started to break down the band. I saw a lot of this before the other guys saw it. But it was too late for me, I couldn't handle it. I had lost my strength, I was tired and worn out, angry and depressed. I woke up one morning and that was it. I couldn't take it anymore. I dreamt that I shouldn't be in the band and had to get out. I was ready to do something different, the vibe was right to create something new but not under that regime. For me, Steel Pulse stood for reggae with a serious edge and this was beginning to get watered down. I get really angry when I think about it now. I should've been stronger, harder and sharper. I was too quiet. With hindsight I should've stayed, made changes and history would've been different."
As a final act before leaving, Basil illustrated the sleeve cover of their latest album with drawings of the band members listening to the teachings of Marcus Garvey. It was a prophetic end to his tenure in the spotlight with Steel Pulse. He took time away from the serious side of the music business for almost five years. "I rested for a few years. I just didn't want to do anything. I was exhausted. I didn't want to hear music again for a long while. A couple of years later I picked up the guitar again and started to write some songs, got Colin and his bass player, William Minto, together to rehearse for a while, built up a sound, slowly got other people involved and played one or two gigs here and there. That band became Bass Dance around 1987." The idea behind the band was to introduce more rock guitar into the music, whilst still maintaining the heavy bass and drum. Their first album release was entitled Loud in 1990 with the band already a familiar sound around the college and university circuit in Britain. They also became established favourites in clubs and festivals around Europe and in particular, Holland, by the time they'd released an EP, Everybody Plays the Fool and their second album, Louder, in 1995, though Europe became too expensive to tour and the band fizzled out towards the end of 1997.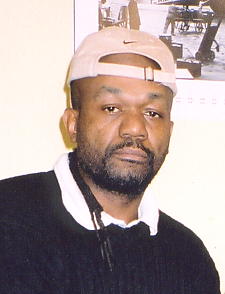 Aside from a nine-week stint on the road as lead guitarist for Buju Banton in the States in 1999 - "it was fantastic but it reminded me of why I decided to call it a day as far as touring was concerned," - he's been far more choosy about his live performances since. With Bass Dance diminishing, Basil has appeared in the guise of the more occasional Gabbidon Worldwide, or Gabbidon International or just plain Gabbidon with irregular gigs and helped out by friends and family, taking place in clubs around the Midlands and at festivals like the Birmingham ArtsFest and the recent Black History Month concert at the Birmingham Symphony Hall where he gave his own potted version of the history of reggae. He's also helped out the best-selling Bhangra combo, The Sahotas on their Revolution album, playing guitar, and the group, Lupa She-Wolf, both local Birmingham bands. I'm also reminded that he appeared on The Stranglers & Friends Live in Concert album, when he guested for them in a 1980 concert at the Rainbow Theatre whilst Hugh Cornwell was serving a spell in prison.
At the same time, Basil has spent a lot of his time making real efforts to encourage the schoolchildren and youth of Birmingham and the Midlands to enjoy and participate in music through a series of community music programmes. His real aim is to set up a music academy for under-privileged youngsters in Birmingham, with the aid of government money and help from sponsors. "There are other ways to keep music alive apart from constant gigging and replaying your old stuff. I'm now trying to put back what I got out of it. To try and motivate local people and promote music to the youngsters in schools in particular. I will never stop making music. I'm enjoying it more now over the last few years. Seeing how hard Buju Banton worked made me realise how lazy I was before. Hence why lots of things are moving now. The energy is back, I can play any music I want to, not just reggae. My confidence is bubbling again." When he's not encouraging the next crop of musical talent to blossom, Basil is still making music himself, and has plans to release a single in the near future. He already has an album's worth of concept material in the can and waiting to be released. And he's got a lot more irons in the fire, so watch out for the next absorbing chapter on Basil Gabbidon - the story continues...
"There is music of the mind and there is music of the body. For me, reggae fulfils mind, body and spirit." - Basil Gabbidon
click on photos to enlarge
---
Basil Gabbidon - the story continues...
---
Home :: Steel Pulse :: E-mail
The contents of this website cannot be reproduced or copied without permission of the site author. (c) Andy Brouwer 2006
Basil Gabbidon interviews conducted in August and October 2002. All quotes are Basil's unless stated.