ANDYBROUWER.CO.UK
---
BASIL GABBIDON
THE STORY CONTINUES...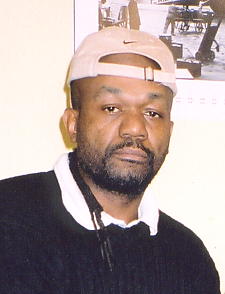 For the full story behind Basil Gabbidon, a founder member of Steel Pulse and a hugely talented and widely respected guitarist, click here.
Since leaving Steel Pulse and the dissolution of Bass Dance, Basil has been far more choosy about his live performances. He's appeared with friends in the guise of the more occasional Gabbidon Worldwide, or Gabbidon International or just plain Gabbidon with irregular gigs taking place in clubs and venues across the Midlands and at festivals like 'Black History Month' or the 'Making Friends with Music' day of world music and dance at the Birmingham Symphony Hall where he gave his own potted version of the history of reggae backed by a collection of family and friends in September 2002.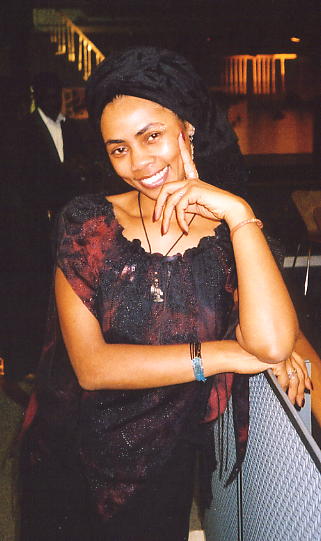 Kicking off 2003, I witnessed a great show at The Drum in Aston, Birmingham on 15 February. Basil laid on a jamming session with his band and a few guests including the Jamaican legend, saxophonist Papa Saxa, to an appreciative audience. With Basil's guitar leading from the front, Saxa, famed for his ska sax solos joined him for the second half and brought his own inimitable flamboyance to the evening's proceedings. Amongst the other invited guests, Yaz Alexander (pictured left), who's recorded with Pato Banton and on three albums with Steel Pulse (Victims, Vex, Rage & Fury), guested superbly with a suitably powerful rendition of Bob Marley's Forever Loving Jah. Birmingham-based Yaz, who's worked with Pato Banton for twelve years, Steel Pulse, Mighty Diamonds, Eddy Grant and Andy Hamilton and has recently taught with Banton as a vocal tutor, sang as beautifully as she looks. Papa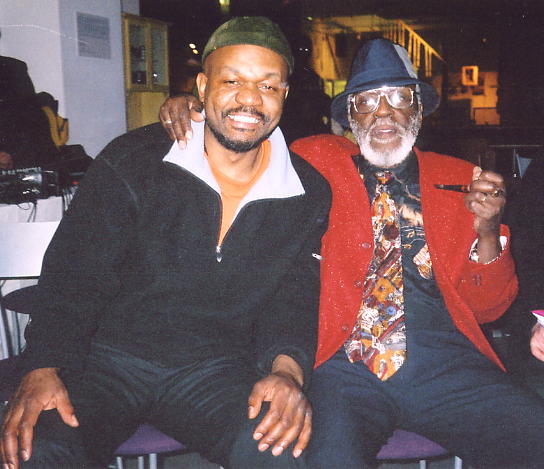 Saxa, who joined The Beat in 1979 after a life's worth of experiences with Prince Buster and The Beatles amongst others, reminded us just how he gave The Beat the edge over the other Two Tone bands at the time with a rich display of horn work. Now in his eighties, he was joined on the sax by his son Lionel for one of the numbers. Basil and his band, which included his younger brother Colin (also a former member of Steel Pulse) on drums, Jason (keyboards), Craig Spence (bass), Matt Taylor (sax) and Lee Alexander and Laura Ige sharing the lead vocals with Basil himself, blazed a series of tunes with highlights including their own versions of Steel Pulse's Handsworth Revolution and Rally Round and an impressive vocal from Laura on Changes. Also guesting was Milton Godfrey who offered a unique performance of Homecoming. Nearly three hours of great music in a mixture of styles ranging between reggae, ska, jazz and African.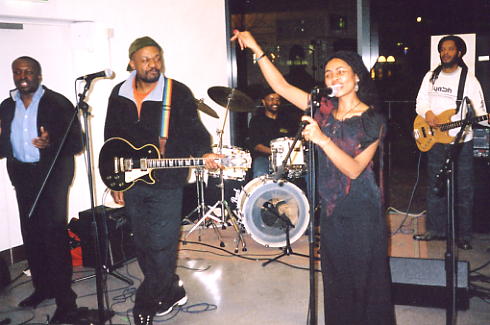 In recent years, Basil has spent a lot of his time making real efforts to encourage the schoolchildren and youth of Birmingham and the Midlands to enjoy and participate in music through a series of community music programmes. His real aim is to set up a music academy for under-privileged youngsters in Birmingham, with the aid of government money and help from sponsors. "There are other ways to keep music alive apart from constant gigging and replaying your old stuff. I'm now trying to put back what I got out of it. To try and motivate local people and promote music to the youngsters in schools in particular. I will never stop making music. I'm enjoying it more now over the last few years. Seeing how hard Buju Banton worked made me realise how lazy I was before. Hence why lots of things are moving now. The energy is back, I can play any music I want to, not just reggae. My confidence is bubbling again." When he's not encouraging the next crop of musical talent to blossom, Basil is still making music himself, and he has plans to release a single in the near future. He already has an album's worth of concept material in the can and waiting to be released. And with other projects in the melting pot, including his own music company and talent agency, watch this space for the next absorbing chapter in the Basil Gabbidon story.
The Gabbidon webpage
---
UPDATE...UPDATE...UPDATE...
Basil's launch party for his brand new EP, a bouncy and fun ska track called Love & Affection took place on 26 June 2003 at the Hard Rock Cafe in Birmingham. Basil and his band, Gabbidon took to the stage for a few numbers as did other aspiring artists, who are all involved with his new music company, Runcum. On stage with Basil were Colin on drums, Craig on bass, Faizal on keyboards, Lee on vocals and the horn section of Alvin (trumpet), Matt (sax and flute) and Erroll (trombone). Basil's daughter Candice sang one number and also danced as part of the duo Addictive. Other artists were rappers, Urban Dwellers and Amethyst, African dancer Nikki and the wonderful Laura Ige and her band. A great time was had by all.
A month earlier, Gabbidon took to the stage at The Old Railway in Digbeth, Birmingham on 25 May to perform a strong, tight and powerful set to an appreciative audience. They included a great version of their new single as well as other tracks like Burnin' Up, Brain Food, Jah Promise, Here I Come, Jammin' Reggae Party, The Key and covers of Rally Round and Bad Man, two Steel Pulse numbers. Basil shared lead vocals with Lee Alexander and Laura Ige joined them on stage.
Gabbidon helped launch Black History Month at The Drum in Aston, Birmingham on Wednesday 1 October. Their late night show was short and sweet, playing just four songs and finishing their slot with a powerful rendition of the Pulse classic, Handsworth Revolution. A little earlier, the charismatic Yaz Alexander and her band Urban Elementz had delivered a fine set including two compositions of her own, Hold On and her single, Freedom, and a powerful version of Forever Loving Jah to close. The Drum was heaving with a large invited audience watching an eclectic mix of music and poetry.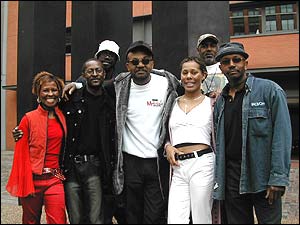 The last Gabbidon performance of 2003 took place at the refurbished Drum venue in Aston on Saturday 11October. Basil and his band delivered two sets, lasting 90 minutes in total and included a number of his own compositions, a trio of Steel Pulse tracks and a Bob Marley medley. His own songs included Burnin' Up, his bouncy single Love & Affection, The Key, Malcolm X and Don't Kick The I, whilst Handsworth Revolution, Bad Man and Rally Round recalled his Steel Pulse days. The Marley medley of Crazy Baldhead and Who The Cap Fits was rounded off by a rendition of One Love, with members of the audience taking the stage to sing the chorus. A great way to close a great show. For more info on events at The Drum, click here.
2004 kicked off with an appearance at The Drum, on 21 February, with an 11-piece band and Basil's tribute to the The History of Reggae. Two sets of an hour apiece took the audience through the music of some of the genre's greatest names including Bob Marley, Steel Pulse, Third World, Burning Spear, John Holt and Dennis Brown. Amongst the tunes offered up were Love & Affection, Natty Dread, Africa, Marcus Garvey, Killing Me Softly, The Key, Now That We've Found Love, My Boy Lollipop, Handsworth Revolution, Hurts So Good, Love & Hate. A great show performed by an eclectic mix of musicians including Nana Tsiboe on African drums, Paul Beckford on bass, Alvin Davis on sax and more of Basil's friends, not forgetting the vocal talents of Lee Alexander and Laura Ige. When Basil isn't gigging with his band, he is part of a vocal trio, alongside Lee and Laura, and they call themselves Simply Blu.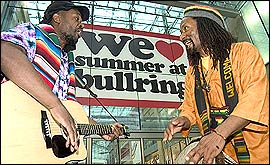 Basil acted as musical director for the Reggae Rockz event as part of the Birmingham ArtsFest 2004 in September. A day-long celebration of reggae at the Symphony Hall included two performances of Reggae - The Musical Journey, a specially commissioned history of reggae in words, music, images and dance and a star-studded showcase concert in Centenary Square that same evening. Alongside Pato Banton, Apache Indian and The Beat, Basil's band Gabbidon performed the finale with two special guests, David Hinds and Selwyn Brown, joining Basil on-stage for the first time in many years and performing the Steel Pulse classics, Prodigal Son, Bad Man, Ravers, Rally Round and Taxi Driver. A memorable occasion not to be missed. Birmingham's Jam House on 13 October was the venue for a ninety minute Gabbidon performance, with guest vocalists Chris, Cheryl and Basil's daughter Candice. Basil and Lee Alexander shared the main vocals on songs like Love & Affection, Now That We've Found Love and ended with a trio of Steel Pulse classics, Bad Man, Ravers and Rally Round. The band line-up was Basil (guitars & vocals), Colin Gabbidon (drums), Paul Beckford (bass), Faizal (keys), Matt Taylor (sax & flute), Alvin Davis (trumpet) with Lee Alexander and Leonie Smith (who sang her trademark Silly Games) on support vocals.
The main event for Basil in 2005 was the second Reggae Rockz festival, held as part of the Birmingham ArtsFest in September 2005. Reggae Rockz took place on Friday 9 September in Centenary Square and was a major success. A large audience turned up to witness the return to their home city of headliners Steel Pulse and other quality acts such as The Beat, Neville Staple and Dawn Penn, as well as Basil's own group, Gabbidon and their lover's rock persona, TuffLuv. A great night was had by all.
The Gabbidon webpage
Photos from the Birmingham ArtsFest 2004 concert. Left: Basil Gabbidon in full flow. Middle: Basil Gabbidon and Amlak Tafari, the show's compere. Right: Steel Pulse's David Hinds made a welcome appearance on stage. (Photos courtesy of BBC)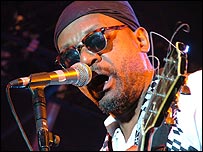 Basil Gabbidon on stage at the 2005 Reggae Rockz festival (Photo courtesy of BBC)
"There is music of the mind and there is music of the body. For me, reggae fulfils mind, body and spirit." - Basil Gabbidon
---
---
Home :: Gabbidon :: Steel Pulse :: E-mail
The contents of this website cannot be reproduced or copied without permission of the site author. (c) Andy Brouwer 2005