ANDYBROUWER.CO.UK
---
BIRMINGHAM/UK GIGS - SEP/OCT 2005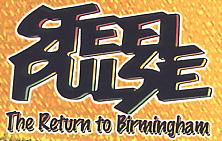 [Left] Wayne 'C-Sharp' Clarke, and [Right] Amlak Tafari (with the author)
[Left] Keysha McTaggart, [Middle] Amlak Tafari, and [Right] C-Sharp with Selwyn Brown.
[Left] The band are filmed during their soundcheck. [Right] Mel, Keysha & Moonie rehearse.
[Left] Keysha McTaggart and Melanie Lynch in harmony. [Middle] David Hinds on conga drum. [Right] Amlak Tafari in full regalia as compere for the evening. All photos above taken on 9 September 2005.
---
Steel Pulse returned to play live in their home city of Birmingham for the first time in many years by taking part in the city's Reggae Rockz festival, which kicked off the Birmingham ArtsFest on 9 September 2005. It was the perfect opportunity for the Birmingham public to celebrate an appearance by their favourite sons in a free open-air concert. Heralded as 'The Return to Birmingham,' Steel Pulse will celebrate the 30th anniversary of the band's formation with a second concert on 15 October at The Drum in Aston, Birmingham, which will be the highlight of the venue's Handsworth Evolution programme - a series of events marking the 20th anniversary of the Handsworth Riots. They also played two other UK concerts, in Shrewsbury and London.
9 September 2005: Reggae Rockz 2005, Centenary Square, Birmingham:
Centenary Square was ready and waiting for its annual Reggae Rockz festival later that evening. Two large stages had been prepared and styloform flooring had been laid to protect the grass underneath. A large video-screen was in place and banners promoting the city's ArtsFest weekend, for which Reggae Rockz was the opening event, were everywhere. As I arrived, early as usual, the first person I met was Basil Gabbidon, the organiser of Reggae Rockz and a founder member of Steel Pulse some thirty years ago. Basil was busy with preparations for that night's concert which would include no less than seven different acts squashed into 3½ hours of classic reggae, ska and 2-Tone, headlined by the return of Steel Pulse. I also spoke to the team filming documentary footage for the band's next DVD release when a little after 4pm, Selwyn Brown and 'C-Sharp' Clarke appeared and were interviewed. It was my first chance to meet C-Sharp, the Jamaican-born drummer who joined the band in April, and as we chatted, the band's other recent recruit, Amlak Tafari also appeared. Amlak, always effervescent, was combining playing bass with Steel Pulse alongside compering the evening's entertainment, no easy task but one for which Amlak is perfectly suited. At the same time, a face from the band's past emerged unexpectedly, Lee Allen, their first manager around the time they made their debut public performance, way back in January 1975.
On-stage, preparations were underway for the band's soundcheck with the sound crew a hive of activity including monitor and keyboard tech Marlene Frouin, sound engineer Sam Clayton and David Hinds' son Baruch, the drum technician. The rest of the band's members soon arrived including backing vocalist Keysha McTaggart, the third recent recruit, accompanied by Melanie Lynch, Sid Mills and Moonie Pusey. They tuned their instruments and voices and began their thirty minute soundcheck when David Hinds arrived, running through four songs, of which only one would make the evening set-list; Handsworth Revolution, Harassment, Bodyguard and African Holocaust, which unexpectedly included a rap from Baruch. I also chatted to Steve, a promoter and fan from Gibraltar, who I'd met for the first time in Eindhoven two years before and who hopes to get the band to play in the British colony sometime soon. Soundchecks continued for the other performers, as the sun disappeared behind cloud though the expected rain showers thankfully never materialised.
The evening's entertainment began at 7.30pm with a large audience in attendance, as comperes Amlak and Miss Pinky introduced the promising youngsters in the Reggae Rockz Young All-Stars on the right-hand stage. Next up were TuffLuv, singing a series of lovers rock songs and who contained all the members of the band Gabbidon plus three vocalists including Leonie Smith and her trademark song, Silly Games, delivered impeccably as usual. Former Specials and Fun Boy Three frontman Neville Staple and his band belted out their popular ska tracks, whipping the crowd up before Gabbidon re-appeared to play a rock and reggae fusion set, with Basil taking the lead vocals. Dawn Penn and her supporting band, The Indestructibles, who included Alvin Ewen on bass and Focett Gray on lead guitar - Alvin was until recently a long-time member of Steel Pulse whilst Focett played on their last album release - produced some classic Jamaican reggae including her popular 'No, No, No' song before 2-Tone arrived in the form of Ranking Roger and The Beat including most of the original line-up.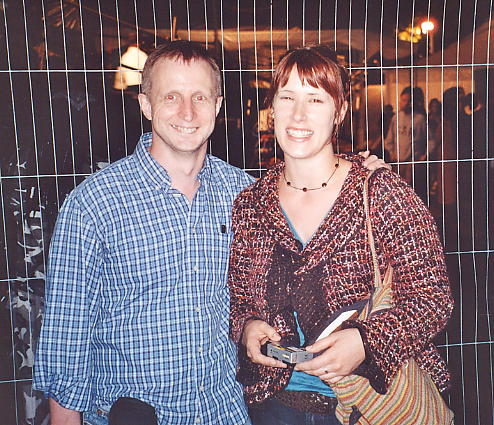 Joining Steve and myself at the front of the stage was another long-time Pulse fan, Jude who hails from Nottingham, as we waited expectantly for the headliners to appear. On cue, the audience erupted as Steel Pulse arrived on stage a little later than scheduled at 10.12pm, launching into the Intro Medley, with samples from Chant A Psalm, Bad Man, Macka Splaff and Nyahbinghi Voyage. I find these segments frustratingly short but an extended version of Rally Round gave me and the crowd the opportunity to join in a song we all knew well. Rollerskates followed before the Medley Medley section, where Soldiers, Taxi Driver (including Selwyn and David's rapping and dancing), Ravers, Blues Dance Raid and Reggae Fever received much longer airings than those in the first medley, fuelling the crowd's delight.
Throughout, Melanie and Keysha threw themselves into the performance with gorgeous harmonies and non-stop movement, Moonie and Sid were flawless as always whilst Amlak and C-Sharp laid down a strong drum and bass core rhythm, allowing David to woo the audience with his fabulous vocals, more than ably supported by Selwyn. No More Weapons was the sole track they played from their African Holocaust album with Selwyn taking on the Damian Marley vocals before a great Moonie guitar solo highlighted Bodyguard with David introducing each member of the band in turn. A rare live version of Pan Africans Unite followed before a rousing 'try, try' chorus was elicited from the crowd by David and Selwyn, alongside David's trademark 'spotty dog' walk, during their final offering, Don't Give In. The band exited the stage to a euphoric reception, with the audience anticipating an encore but the clock had struck 11pm and the concert came to a close. A great evening for the Birmingham public and a real mouth-watering precursor to the band's forthcoming, and full set-list of songs, on their mini-series of British concerts. I can't wait.
Steel Pulse line-up for all gigs: David Hinds (vocals, rhythm guitar), Selwyn Brown (keyboards, vocals), Moonie Pusey (lead guitar), Wayne 'C-Sharp' Clarke (drums), Sid Mills (keyboards), Amlak Tafari (bass guitar), Melanie Lynch and Keysha McTaggart (backing vocals), Baruch Hinds (rap).
Set-list for Reggae Rockz, Centenary Square, Birmingham, 9 September: Intro Medley (Chant A Psalm/Bad Man/Macka Splaff/Nyahbinghi Voyage) - Rally Round - Rollerskates - Medley Medley (Soldiers - Taxi Driver - Ravers - Blues Dance Raid - Reggae Fever) - No More Weapons - Bodyguard (with band intro's) - Pan Africans Unite - Don't Give In. Show began 10.12pm, ended 11.00pm.
14 October 2005: The Buttermarket, Shrewsbury:
Shrewsbury's Buttermarket venue is fast developing a reputation as a hotbed of roots reggae, so it was fitting that Steel Pulse chose it for the first concert of a trio of British dates. I arrived in Shrewsbury by mid-afternoon and found the venue after negotiating the town's confusing one-way system, sandwiched between the Railway Station and the Prison, parking in the convenient car park next door. With the crew setting up, I had a long chat with Selwyn in a nearby hostelry before a delayed 1½ hour soundcheck finally got underway at 8pm. As the band ran through No More Weapons, Door of No Return, Bodyguard, African Holocaust (three times), a sequence of songs called the KKK Medley, Handsworth Revolution and Chant A Psalm, the first of the impatient Pulsers arrived a little after 9pm and were treated to an impromptu public rehearsal.
With the crowd expectant, the band then returned on-stage at 11.12pm for the live show to begin and immediately launched into a brief Intro Medley and onto a full version of Rally Round (the flag). Rollerskates and Bodyguard followed before the first of four songs taken from their latest album, No More Weapons, the video for which I recently saw on MTV Base. This live rendition was superb and included a dubbed middle section. Soldiers, part song/part dub, kicked off the Medley Medley Medley segment and preceded Taxi Driver, with Selwyn and David bouncing across the stage with typical gusto and humour, ahead of Ravers, Blues Dance Raid and Reggae Fever.
With David in great voice, ably fortified by Selwyn, Melanie and Keysha on supporting vocals and harmonies, the audience were treated to a masterclass Steel Pulse vocal performance, whilst C-Sharp and Amlak kept the rhythm pumping and Sid and Moonie oozed class, the latter showing his gifted guitar work at various points in the show. The energy generated by David and Selwyn's on-stage high jinks and the girls' non-stop dance moves transferred to the crowd, who grew in voice as the band performed Pan Africans Unite and a roaring African Holocaust. David's son Baruch appeared briefly to join in the fun with a powerful rap during the latter, which he's performed just half a dozen times before.
Make Us A Nation paved the way for the KKK Medley, with the audience lapping up this selection of classic cuts that included Ku Klux Klan, Prediction, Macka Splaff, Sound Check, Jah Pickney, Biko's Kindred Lament and Harassment. This was my first hearing of this medley of abridged tracks from the band's earlier period. A full six-minute version of Handsworth Revolution gave the older members of the crowd further encouragement to exercise their lungs, which David and Selwyn topped off with their call and response 'try try' chorus during Don't Give In. And where David gets his stamina from for his now familiar trademark 'spotty dog ' walk, I don't know. The crowd loved it and called for more as the band left the stage.
Moments later, with the lights dimmed, Sid and Moonie returned for their keyboard and stunning lead guitar solo. The rest of the band joined them for the revamped and slower rendition of Chant A Psalm with David on congas providing a commentary on important anniversaries and dedications, Sid on bongos and Moonie on acoustic guitar. It worked for me. A dubbed version of Global Warning completed the quartet of songs from the African Holocaust album, followed by a glorious Emotional Prisoner and band introductions to round off a dynamic two-hour show.
My thanks to all the band for allowing me into the soundcheck and for being their customary accessible and friendly selves backstage, including Amlak who sang happy birthday to me in Portuguese! I eventually arrived home at 4am after a fantastic night and a wonderful precursor to the band's long-awaited Birmingham show the following evening.
Set -List for Shrewsbury, 14 September: Intro Medley - Rally Round - Rollerskates - Bodyguard - No More Weapons - Medley Medley Medley (Soldiers, Taxi Driver, Ravers, Blues Dance Raid, Reggae Fever) - Pan Africans Unite - African Holocaust - Make Us A Nation - KKK Medley (Ku Klux Klan, Prediction, Macka Splaff, Soundcheck, Jah Pickney RAR, Biko's Kindred Lament, Harassment) - Handsworth Revolution - Don't Give In. Encore: Moonie Guitar solo accompanied by Sidney on Keyboards - Chant A Psalm - Global Warning - Emotional Prisoner including band introductions with brief solos. Show began 11.12pm, ended 1am.
[Above] Selwyn raps on Taxi Driver; Melanie and Keysha, with Sid on keyboards and Moonie on guitar, add vibrancy, precise harmonies and glamour.
[Above] David up close; Baruch raps on African Holocaust; Moonie and David demo their guitar skills.
[Above] An autographed set-list, flyer and ticket from the Shrewsbury gig - click to enlarge.
15 October 2005: The Drum, Aston, Birmingham:
What a homecoming! The Drum witnessed the emotional return to Birmingham of its' favourite sons as Steel Pulse turned in a sensationally highly-charged performance in their first full gig in their home city for a decade. The sheer power of David Hinds' voice carried the Steel Pulse message to the converted as the audience danced and clapped their way through a two-hour set with the loudest cheer of the night reserved for the popular anthem, Handsworth Revolution, classic Pulse and a rallying cry for the band's faithful followers who'd turned up in their droves.
With my ears still ringing from the previous night's dynamic performance in Shrewsbury, I was lucky enough to catch most of the soundcheck a couple of hours before the live show as they ran through African Holocaust (twice), Door of No Return, Global Warning, Handsworth Revolution, Steppin' Out, and Chant A Psalm. Despite a few technical glitches, its abundantly clear that they go to great lengths to ensure their execution of each song is rehearsed until it's spot-on. Make no mistake, this is a band that take their profession and their commitment to their fans very seriously. Also present at the sound check were Pulse's original guitarist Basil Gabbidon as well as friends of the band, Ranking Roger and Yaz Alexander.
After a Chinese snack and a drink at The Bartons Arms across the road from The Drum with new-found friends, the doors opened at 9pm and Ras Rebel warmed the crowd up, as he'd done on the band's European tour last year, before the whole arena erupted as Steel Pulse arrived on stage at 11.20pm. The set-list almost mirrored the Shrewsbury concert but the performance itself had been turned up a notch as the hometown audience were treated to a breathtaking repertoire of classic and contemporary Pulse, liberally sprinkled with electrifying and passionate vocals, fabulous musicianship and roots reggae of the highest order. Steel Pulse were at their very best for their home crowd and no-one does it better.
Blessed Is The Man replaced Bodyguard in the early part of the show as the band powered their way through vintage songs such as Rally Round, Rollerskates, Taxi Driver and their KKK Medley, including the anthemic Ku Klux Klan, which the audience joined in with to a man. Their more recent work was well represented with No More Weapons, African Holocaust (including Baruch's rap) and Make Us A Nation before Don't Give In signalled the end of their main set, allowing David, Selwyn, Amlak, C-Sharp, Keysha and Melanie a well-merited chance to catch their breath. The band have always been highly regarded for their lively stage show and the dynamism and energy levels they put into their performance shows no sign of diminishing.
Meanwhile, remaining on-stage, Moonie accompanied by Sidney on keyboards gave a virtuoso lead guitar solo demonstration that left the audience open-mouthed. Whenever I see this man perform, he just gets better and better. The whole band returned to perform their Nyahbinghi-rhythm inspired version of Chant A Psalm before the first few bars of Handsworth Revolution literally brought the house down, as the audience burst into song. Steppin' Out, Door of No Return and Emotional Prisoner rounded off the set with the band members introductions including a surprise appearance on stage of their legendary drummer Grizzly Nisbett. A perfect way to end a wonderful night as Selwyn and Amlak took an age to leave the stage, shaking hands with many of the audience before finally departing at 1.20am.
Personally, it was a great way to celebrate my 46th birthday and to meet so many fellow Pulsers especially Jude, Sarah, Tim, Yoni, Hannah and Steve. We all had a fantastic time and the Birmingham crowd gave the band the reception they truly deserve on their return to their home city. I'm told it was captured on video for posterity - now that'll be a show worth watching. No live photos from this gig as cameras were not allowed.
Set-List for The Drum, Birmingham, 15 October: Intro Medley - Rally Round - Rollerskates - Blessed Is The Man - No More Weapons - Medley Medley Medley (Soldiers, Taxi Driver, Ravers, Blues Dance Raid, Reggae Fever) - Pan Africans Unite - African Holocaust - Make Us A Nation - KKK Medley (KKK, Prediction, Macka Splaff, Soundcheck, Jah Pickney RAR, Biko's Kindred Lament, Harassment) - Don't Give In. Encore: Moonie Guitar solo accompanied by Sidney on Keyboards - Chant A Psalm - Handsworth Revolution - Steppin' Out - Door of No Return - Emotional Prisoner & band introductions with brief solos. Show began 11.20pm, ended 1.20am.
[Above] A set-list and flyer from The Drum gig - click to enlarge.
20 October 2005: The Mean Fiddler, London:
London's Mean Fiddler venue in the heart of the city's busy Oxford Street area had the honour of hosting the final concert of Steel Pulse's trio of British dates. It was the band's sixth gig in a week and followed a gruelling cross-country hike and delays at customs, following on from three consecutive shows in Holland. On arriving in London (have you ever tried to park near Charing Cross?), I literally bumped into Selwyn amongst the Oxford Street crowds and took him up on his invitation to the soundcheck, where the band rehearsed various sections of the song Black Enough? for forty minutes until they were note and pitch perfect, finishing with a run through of No More Weapons, just as the more eager Pulsers filtered through the doors at 7.30pm. The ever-growing audience enjoyed the Trojan Sound System as they awaited Pulse's arrival on stage whilst I chatted to Baffour, a Pulser originally from Ghana and now living in London. We commiserated with each other over the rarity of Pulse's British shows though we were delighted to be present for only their second London gig in the last eight years.
To a great reception, Pulse entered the arena at 9.20pm and kicked-off with their Intro Medley . As I expected, Black Enough? was included, perfectly I might add to emphasize the importance of rehearsals, just before No More Weapons, fast becoming one of my favourite songs of their live show. I thought I detected a different arrangement from the two earlier gigs I'd attended, but what was evident was the crystal clear quality of sound coming from the stage. David's voice and Moonie's guitar solo' s were proof of this, and credit must go to the Pulse stage crew for doing such a fine job. The only blot on their copybook was a problem with Selwyn's mike which limited his usual cross-stage high jinks, though his steering-wheel routine was still very much in evidence during Taxi Driver. You can't keep a good man down for long!
Vocally, it was top drawer stuff, Moonie's guitar solo's shone brilliantly and Amlak, when he gets the call to step forward, is a real crowd pleaser. Everyone was on top of their game and the well-honed artistry and humour the band offer up makes a Steel Pulse live performance one to savour. Ask anyone at The Mean Fiddler. A dub start to Soldiers and a heavily-dubbed second-half of Global Warning were indicative of the increasing inclusion of this musical style (lyric-less, a lot of bass and echo) in the Pulse set, whilst the KKK Medley wasn't included this time around. The encore began with Moonie and Sid's party piece, a ten-minute revamped version of Chant A Psalm (including a welcome to Dennis Bovell, the band's first producer, who was in the audience), Global Warning, a call and response from Sid on Emotional Prisoner before an extended solo by each band member as they were introduced. The show closed at 11pm to long and loud applause.
It was another great performance from a group at the top of their profession, who work incredibly hard to make it look so easy. You'd be bonkers not to check them out next time they're in your area. As ever, my thanks and appreciation to the band members for their warm welcome, thanks to Sid for the Kevin Batchelor CD and I sincerely hope to renew acquaintances next time they're back in the UK.
Set-List for The Mean Fiddler, London, 20 October: Intro Medley - Rally Round - Rollerskates - Black Enough? - No More Weapons - Medley Medley Medley (Soldiers, Taxi Driver, Ravers, Blues Dance Raid, Reggae Fever) - Pan Africans Unite - African Holocaust - Make Us A Nation - Handsworth Revolution - Don't Give In. Encore : Moonie Guitar solo accompanied by Sidney on Keyboards - Chant A Psalm - Global Warning - Emotional Prisoner including band introductions and solo's. Show began 9.20pm, ended 11pm.
[Above] Melanie & Keysha in dance mode, and accompanying Moonie.
[Above] David & Moonie entertain the London audience; flyer & ticket from the concert - click to enlarge.
Also read my concert reports on the official Steel Pulse website
Click on each photo to enlarge
---
Home :: Steel Pulse :: E-mail
The contents of this website cannot be reproduced or copied without permission of the site author. © Andy Brouwer 2005