REGGAE ROCKZ 2005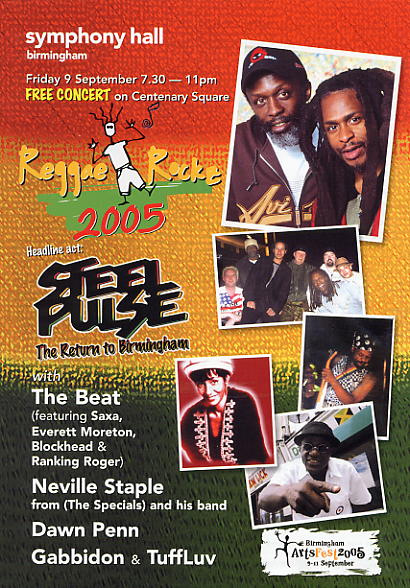 ---
Friday, 9th September 2005
Reggae Rockz 2005 at Centenary Square, Birmingham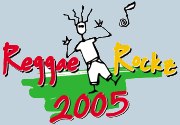 Visit the BBC Reggae Rockz webpages
---
Reggae Rockz 2005 featured...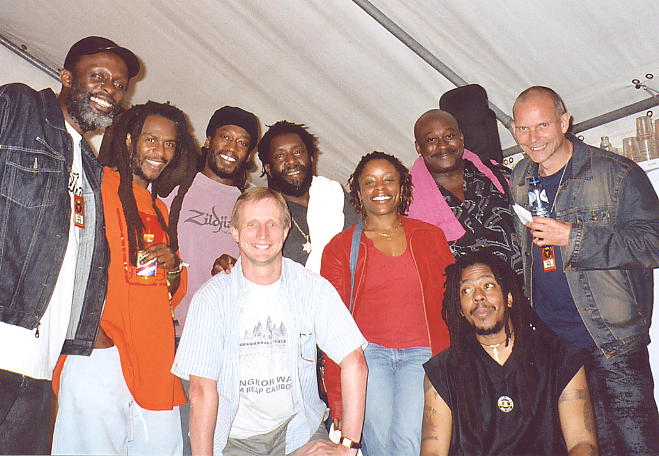 Handsworth's very own Steel Pulse are one of reggae music's most successful and popular bands around the globe and this year celebrate 30 years of infectious rhythms and a commitment to fighting injustice through their socially-conscious messages. Founder members David Hinds and Selwyn Brown are the creative heart of the Grammy award-winning band who motivated a generation with their landmark late '70s album Handsworth Revolution, toyed with mainstream acceptance in the '80s and '90s and who've returned to their roots with their latest album. African Holocaust is a powerful and provocative release that trumpets political and human rights issues whilst documenting the lives of activists and political prisoners for a younger, less-informed generation. Steel Pulse's appearances in the UK are rare, so their return to Birmingham to woo the city public at Reggae Rockz made it a night to remember. Click here to read more about 'The Return to Birmingham'.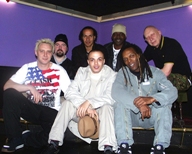 Featuring Ranking Roger (vocals), Everett Moreton (drums), Saxa (saxophone), Blockhead (keyboards), Neil Deathridge (guitar), Ranking Junior aka Mini Murphy (vocals), Andy Pearson (bass) and Mark Hamilton (saxophone). After the demise of the '80s ska band The Beat, various formations such as General Public, Special Beat and International Beat took form until the present line-up first appeared in 2003. Even without original member Dave Wakeling, The Beat are enjoying great success throughout the UK and made a welcome return to Reggae Rockz with tunes such as 'Mirror In The Bathroom' getting the crowd dancing.
Best known for his work writing & composing, the lead singer from The Specials, and as one of the founding members of Fun Boy 3, Neville Staple is credited with changing the face of pop music not only once but twice. Neville's biography and past projects read like a who's who of rock. Neville formed Special Beat with Ranking Roger and toured the US with Sting and Steel Pulse. He released a solo album, The Rude Boy Returns, late in 2004 and continues to wow audiences with his dynamic performances across the UK and beyond. His appearance at Reggae Rockz did exactly that.

Dawn Penn

Jamaican-born, Dawn Penn stakes a claim as one of reggae music's most enduring artists. Renowned worldwide for her single, You Don't Love Me, No No No, which was re-released in 1994 with producers Steely & Clevie to much acclaim, she regularly tours the UK, Europe and Japan with Desmond Dekker and Georgie Dekker of The Pioneers. She has worked with many of the best known Jamaican producers and singers since the late sixties and is known for her uniquely throaty and bluesy edged voice. Her backing band are The Indestructibles and with talented musicians such as Alvin Ewen (bass) and Focett Gray (lead guitar) supporting her, Dawn Penn gave the Reggae Rockz crowd a real taste of classic Jamaican reggae.

Gabbidon & TuffLuv

Led from the front by lead guitarist Basil Gabbidon, Gabbidon serve up a mix of reggae and rock fused with catchy melodies and rhythms that'll get you dancing. One of the founding members of Steel Pulse in the '70s, Basil, his brother Colin on drums and vocalist Lee Alexander were together in the band Bass Dance during the '80s and '90s before reuniting under the Gabbidon banner in recent years and are regulars on the Birmingham music circuit. The band, with additional lead vocalists such as Leonie Smith, also perform classic lover's rock songs under the banner of TuffLuv. Both line-ups acquitted themselves with great credit as they entertained the Reggae Rockz audience.
and
The Reggae Rockz Young All-Stars
The Reggae Rockz Young All-Stars was a project borne out of a ten-week summer school for local musicians, singers and dancers aged between 8-16 years old. Their musicianship, vocal harmonies and dance moves got Reggae Rockz off to a great start.
---
Centenary Square rockz to the soundz of reggae, ska and 2-Tone in a free open-air concert presented by Symphony Hall to raise the curtain on Birmingham Artsfest 2005, the UK's largest free arts festival. Headlined by the legendary Handsworth revoluntionaries, Steel Pulse, a large crowd witnessed a joyous celebration of Birmingham's unique place in the history of UK reggae, ska and 2-Tone.
Comperes for the evening were Amlak Tafari, Miss Pinky and Dennis Seaton.
Reggae Rockz 2005 Sponsors
Western Union is the world's premier international consumer money transfer system with more than 196,000 locations in over 190 countries. The best and most reliable way to send money, person-to-person, country-to-country within minutes. Western Union money transfers are particularly useful in emergency situations, when money is needed urgently, because of the speed of the service.
---
ArtsFest 2005 : The Drum : Urban Fusion : Symphony Hall
Whilst every effort is made to ensure that all information included in this webpage is accurate, users are advised that they should take appropriate precautions to verify such information. We expressly disclaim all liability for any direct, indirect or consequential loss or damage occasioned by the user's reliance on any statements, information, or advice contained in this webpage. e-mail