ANDYBROUWER.CO.UK
---
The Cambodian Arts & Scholarship Foundation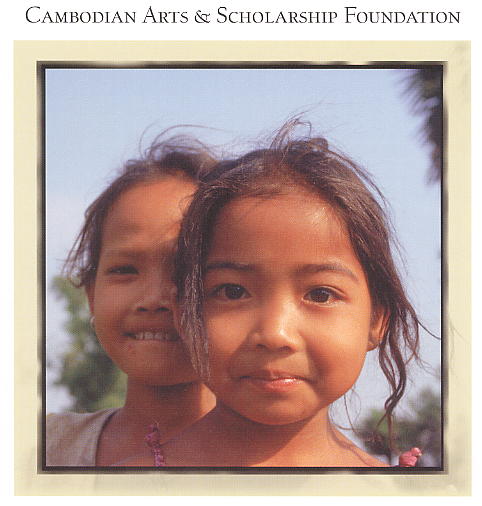 One of the strongest needs in modern Cambodian society is the education of young girls. As you may be aware, boys receive preferential treatment in most families and often its the girls who miss out.
The Cambodian Arts & Scholarship Foundation (CASF) is a small charity that is making a real difference for a handful of girls in Phnom Penh, Kompong Chhnang and Mondulkiri provinces by providing support for their education.
The charity started in November 2001 when two girls in Phnom Penh were supported with funds raised in the United States by president and founder Frederick Lipp. These were used to purchase school uniforms, supplies, snacks and a small payment for the teachers and parents. Mom, aged 12, is one of seven children who live in an impoverished squatters village in the Chba Ampov district of Phnom Penh. The other girl is Arun, aged 14. She finished grade 7 two years ago, but dropped out because her mother could no longer afford to send her to school. She lives in a small shack along the railroad tracks in Tuol Kok district of Phnom Penh.
The initial support to Mom and Arun has now been extended to other Phnom Penh youngsters as well as young Phnong-tribe girls in Mondulkiri province and elsewhere in Cambodia. The total number of girls being supported today is around 200 with more waiting in the wings. There is also one boy in the program. In all cases, the children are monitored monthly by Phnom Penh-based volunteer Peter Leth, his wife Veasna or local NGOs. The NGO contacts are especially valuable for future sustainability and reliability of far-away projects, like Mondulkiri.
Veasna Leth provided some background on one of the Foundation's beneficiaries in Mondulkiri province. Srey Lam is sixteen, the eldest of three children. Her mother died of tuberculosis recently and her father, the former village chief, passed away in March. She is an ethnic Phnong and lives in the village of Andong Kralung. Her school, the Pupyian Primary School, is six kilometres away, which is a two-hour walk from her village. Srey Lam would like to become a schoolteacher or a midwife to help improve the quality of life in her village, though when she is not at school, she spends her time fishing, farming and cooking for the family or walking the 25 kms to Sen Monorom to sell vegetables. CASF now provides her with school supplies, clothing, a bicycle and scholarship fees, as well as a small monthly sum for her teacher. Though currently in grade 2 at school, Veasna reports that Srey Lam is tall, strong and confident and has great potential.
CASF's mission also extends to supporting educational programs in the US. They want to help Cambodian children stay connected to their cultural heritage by providing opportunities for them to learn Cambodian dance, music, literature and art. Children born in Cambodia and adopted into the US will also benefit from CASF's programs.
Half of the profits from The Magic of Cambodia day held in Oxford, England by Caroline Nixon & Andy Brouwer on 17 August 2002 were given to The Cambodian Arts & Scholarship Foundation. This total came to over US$600 and will allow two girls to receive schooling for a year. We are delighted to be able to provide support for such a worthwhile cause and again donated a similar amount following our 2003 Magic of Cambodia event.
If anybody wishes to contribute money to the foundation, it is tax-deductable in the United States (as a non-profit organization) and can be sent to: CASF, P O Box 18186, Portland, Maine 04112, USA. A sum of US$360 will support a child attending school, covering the cost of food for the student/family, a school uniform, and paper and pencils for one year. You can obtain more information by contacting Peter Leth in Cambodia (pleth@lycos.com) or Frederick Lipp in the US (fredericklipp@msn.com). Frederick Lipp is the author of the illustrated children's story book, 'The Caged Birds of Phnom Penh,' which proved the catalyst for the Foundation.
The Foundation's stated purpose is:
Provide scholarships to Cambodian children for the costs of schooling in Cambodia.

Advance the education of Cambodian students by: (i) working with school administrators to develop educational plans, (ii) checking the progress of these students in school, (iii) meeting with teachers and families of these children to enhance their learning environment.

Provide support for Cambodian arts and education for Cambodian students in the United States.
To visit the Foundation's website, click here.
---
The Magic of Cambodia 2002
was held on 17 August 2002 in Oxford, England
All profits from 'The Magic of Cambodia' were split between The Cambodian Arts & Scholarship Foundation and The Cambodia Trust
Read a review of the day's events
*
The Magic of Cambodia 2003
was held in Banbury, England on 21 June 2003 and both charities were again supported. Click here to read a review of the event.
---
If you have any questions, comments or suggestions, e-mail me at:
---
The contents of this website cannot be reproduced or copied without permission of the site author. (c) Andy Brouwer 2005