ANDYBROUWER.CO.UK
---
Magic of Cambodia 2003
- a celebration of Cambodia, its people and its culture
---
Saturday 21 June 2003
Event Co-organisers: Andy Brouwer & Caroline Nixon
Update - A review of The Magic of Cambodia 2003 event
For our second Magic of Cambodia event, we had a fresh venue, a purpose-built lecture theatre at the Terence Mortimer Centre of the Horton Hospital in Banbury, a new line-up of guest speakers and for the most part, a new audience. With SARS and the subsequent downturn in travel to Asia, ticket sales had been slow until the week before the event, though we began with a near full-house as Andy welcomed everyone, explained what the event represented, the charities that would benefit from the profits and introduced our first speaker, lecturer and journalist Denise Heywood. To say that Denise captured everyone's attention would be an understatement. The audience were captivated by her enthusiasm and expertise accompanied by her glorious slides as she revealed the secrets of Angkor and much more. A wonderful start to the day's events.
Our next speaker, Peter Carey had the difficult task of following Denise though he did it extremely well. As the founding chairman of The Cambodia Trust, Peter gave us an insight into the machinations involved in its formative years, explaining the part played by one of our guests, Stan Windass and himself in forming the charity that would do great works for landmine and polio victims and lead onto the first international school for prosthetics in Cambodia. A remarkable achievement in the face of adversity. Following a break for coffee in the lounge and on the patio, everyone filed back into the lecture hall to welcome film-maker David Channer who introduced his documentary film, The Cross and The Bodhi Tree, which is one of three films he and his son have produced on aspects of Buddhism in Cambodia.
For the half-hour before our Cambodian buffet lunch was served, the audience had a choice of what to do next. In the main hall, Caroline and Heng Sambath took a sizeable crowd through the basics of speaking Khmer, encouraging lots of participation, whilst in the lounge, Rany Bradley gave a demonstration of cooking, Cambodian-style, which was also well attended. David Channer was also on hand to speak to some of the audience who wanted to ask questions or buy copies of his video.
Lunch was served by the female members of CASUNIK, the Cambodian Society in the UK, who had worked hard to produce an authentic array of Cambodian food dishes that were very well received, judging by the complimentary remarks we heard afterwards. It also gave everyone the opportunity to chat to fellow attendees and the speakers in the lounge and on the patio, which was bathed in glorious sunshine.
The afternoon's programme kicked off with the raffle prize draw for a collection of books on Cambodia, before Heng Sambath returned to the rostrum to show a selection of slides depicting the wide variety of fruits and vegetables that can be found in Cambodia. Our next speaker, novelist James Maw, stepped up to the platform and gave an engaging and humourous talk of his time in Cambodia, showing two clips from the documentary he made for British television of his exploits. James is a master raconteur and his talk was enjoyed by everyone.
During the tea break, a video illustrating the work of The Cambodia Trust was shown in the lecture hall before our final guest speaker, Tom Evans, gave an insightful lecture with slides on his work as a conservationist in the rarely-visited eastern Cambodian province of Mondulkiri. Following a question and answer session with Anita, Caroline and Andy in the main hall and a heartfelt thanks to everyone for their part in the day's proceedings, we closed the event with the opportunity to learn to dance the ramvong with some of our Cambodian guests.
The success of the day was due in no small measure to the invaluable help we received from our audio technician Chris Simpson, without whom we would've floundered hopelessly, Jane Lanciault and Val Ross who sold programmes, raffle tickets and manned the front door with great humour and Anita Sach, a speaker last year and a helper this year. A big thank you to each of those special people. The members of CASUNIK played a very important role too. Our speakers were marvellous, they provided an interesting variety of topics that kept our audience entertained, who in turn made it a wonderful day with their enthusiasm and willingness to join in the day's events. Thank you to one and all.
It's clear from the feedback we've received that those who attended the event enjoyed themselves. Below are a few of the comments. We certainly hope to stage a third Magic of Cambodia day next year and we're pleased that the two charities we supported again this year will benefit by nearly £400 each as a result of the event.
- You organised a fantastic day...everyone was obviously enjoying themselves.

- The arrangements and location created a relaxed and meaningful ambience.

- It was good to be amongst people who appreciate Cambodia for the way it is.

- I really enjoyed the day, it went really well...and gave me a good flavour of Cambodia.

- It was evident that many people have found Cambodia to be a very special place. I'm now very excited about my trip.

- A very big thank you for a superb day - most interesting, stimulating, well-balanced. You had a superb range of speakers, and all were good and interesting. Well done for such a good day.

- We thought that MOC 2003 was really enjoyable - the speakers (and food) were excellent.

- The moment I walked into the lecture theatre I felt the warmth that you had created...the huge cross-section of people that were there were there because they cared, and of course, they could see that you do too...as far as I know there is no other focus in this country that can pull together the available talent and dedication that you so obviously did today.

- Wonderful, what a fantastic day...last year was very good but this year you really surpassed yourselves...your choice of speakers was just amazing...they entered into the spirit of things and held us all captivated.

- Just to say a big thank you to Andy and Caroline for organising such a good day with such fantastic speakers, we will definitely be there next year.
---
2003 News :: Magic 2002 :: Cambodia Tales
The contents of this website cannot be reproduced or copied without permission of the site author. © Andy Brouwer 2005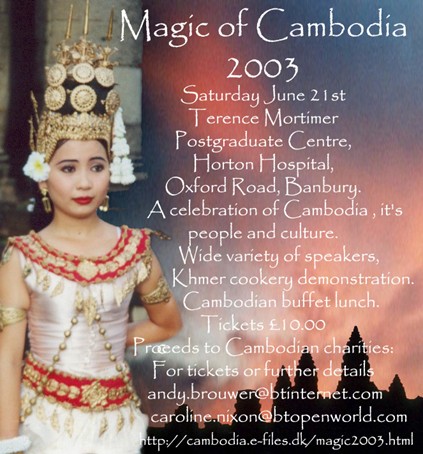 Poster by Caroline Nixon