ANDYBROUWER.CO.UK
---
CAMBODIA TALES 2003
Exploring by dirt-bike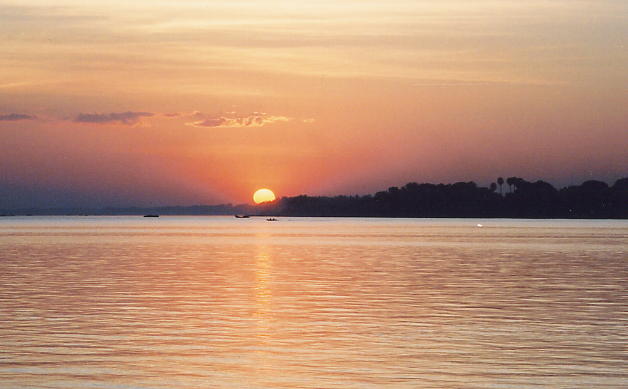 More photos to follow
My arrival in Phnom Penh was a quiet affair as my friends forgot I was coming. The flight from Heathrow to Singapore was uneventful and the connecting flight to Phnom Penh included a forty-five minute stop-over in Siem Reap, arriving at Pochentong at 11.30am. Twelve officials managed to stamp my visa without difficulty but my usual welcome party was absent so I got a moto outside the main gate and delivered myself to my friends home in Tuol Kauk. Ara, Lina, Alis and Thida were all a little embarrassed that they'd not been at the airport, due to confusion over my arrival time. They gave me a lift to the Dara Reang Sey hotel at 1pm where the two sisters who run the hotel gave me their usual warm welcome. As I was enjoying a cold drink and a snack, in walked Dennis Chiles, someone who'd attended my last Magic Day in the UK and then Garrie Maguire and two friends, an Australian photographer who'd been in email contact with me. I was waiting for my moto-driver Ran to appear when Sophal arrived on his 250cc dirt-bike to explain that Ran was busy with a tour group and that he could act as a substitute. We agreed to meet early next day for a two maybe three-day trip to Prey Veng province. That evening I went to the riverfront and a meal at La Croisette and drinks at the FCC with Garrie and his two friends, Martin and Tom.
Sophal arrived on time at 7am next morning and we took off along Route 1 towards the border with Vietnam, stopping for breakfast at his cousin's foodstall at Kien Svay. We reached Neak Luong at 9.30am and waited half an hour for the ferry across the Mekong river but the crowds were so great that we couldn't get on the first crossing and waited another thirty minutes to scramble aboard the second one. Crossing the wide Mekong took twenty minutes, the cost was 800 riel each and the large ferry carried an assortment of people, bikes, cars and lorries. We continued along Route 1 and half an hour later we reached a hilly area known as Ba Phnom, an early 5th century religious centre though also believed to be the site of human sacrifice into the 19th century, where an ancient sandstone and laterite temple with a tin roof, known as Preah Vihear Chann, stood. Climbing up many steps, the main pagoda, called Prasat Banchey, was in fact an unfinished, rather kitsch-looking vihara with great views of the countryside. There were five different levels of construction and as it was mid-day, we joined the resident group of builders for lunch at their invitation. Exiting the area by a different road, we found a small killing fields memorial at Svay Samsep village and taking the back road towards our ultimate destination, Prey Veng, we stopped for a more substantial lunch of pork, beef and rice at Kork Sandek, some 40kms from our goal. We joined the road to Prey Veng, Route 11, which was in an awful state, washed away in places, okay in others. Some of the fields surrounding the road were flooded and it looked like this route north from Highway One is not only prone to flooding but probably impassable in the rainy season.
We rolled into Prey Veng town at 2pm and after a quick recce to gain our bearings, headed for the Public Works depot to find Men Puht, an engineer who'd been recommended to me as a knowledgeable local. We looked at his detailed maps in preparation for our search for an ancient prasat the next day and then he guided us to Wat Thmey, as I wanted to meet the head monk of the province. Unfortunately, the go-ahead monk was in the capital preparing for a visit to Japan. Sophal and I booked a room at the Angkor Thom guesthouse (double room with fan $10) and then settled ourselves on the lakefront near the run-down Chongpam hotel to watch the sunset across the water with a handful of locals. Before our evening meal we tried out the local tikalok fruit-shakes at a stall at the northern end of town and played badminton with a group of excitable youngsters. At the open-air Theary restaurant, near the Public Works depot, we had chicken and fish dishes and drinks for less than $5 before retiring to bed at 8.30pm, by which time most of the towns's inhabitants were already asleep! Awake, showered and out by 7am next morning, we had breakfast at the Theary and then visited Phnom Baray, a small hillock housing Wat Andet Baray, a couple of kilometres outside town. The pagoda contained a dozen or so shrines, an open-sided vihara, a large seated Buddha and a troop of monkeys in a peaceful location, with some cheeky boys thrown in for good measure. The day before we arrived, a drunken policeman had killed himself with a hand grenade at our next stop back in town, Wat Sovann Rengsay. After chatting to the monks about the incident, I played football with a group of youngsters and as the foreigner, it was myself, a goalkeeper and Odom against five others. Unfair odds but Odom was an outstanding ball player, oozing with skill and tricks and most definitely the best player I'd ever seen in Cambodia. Football scouts please take note. Afterwards, I was completely shattered and it was only 8.30am though everyone seemed to enjoy the spectacle! We visited the local museum and tourism office before we left town but both were closed and that's when we realised that it was January 7th, a national holiday celebrating Victory Day over the Khmer Rouge regime.
It was 8.45am when we left Prey Veng, a sleep backwater town with friendly inhabitants, and headed north along Route 11 for forty-five minutes before leaving the main road and taking a dirt track in a northwest direction. We were on the hunt for a prasat but no-one seemed to know the name we offered up and in Prey Daem Thnang, everyone gave different directions. At 10.30am we finally reached a pagoda called Wat Bang Choal, surrounded by ponds, a very peaceful spot and found our prasat, Preah Dahm Srok. The single brick tower was split by a tree sprouting skywards and still possessed one colonette and a worn lintel but little else. I'd been hoping for something more substantial. The track had been tough, even for Sophal's dirt-bike and it didn't improve much as we continued northwards. After a drink-stop at Daem Anchang, we rode alongside the Tonle Toch river for a while, saw some brick kilns and at mid-day stopped for lunch, chicken and rice, at the dusty town of O'Reang Auv, back on the main road. Five kilometres north and a few minutes off the highway, we located our second goal, Wat Preah Theat Preah Srei, believed to be an 8th century Chenla capital. The compound was quite large and the main vihara was surrounded by a low laterite wall, with two excellent quality lintels standing in front of the main door. Nearby, they were rebuilding the foundations of Preah Srei, a laterite temple next to a large hole in the ground, full of small bricks and sandstone blocks. At the rear of the vihara, the laterite remains of Preah Theat suggest that it was a large temple with sandstone doorframes but no visible carvings remain. We left the site at 1.30pm and drove through rubber plantations on either side of the road until we reached the junction with Route 7 and a morass of road construction, men and machinery. The road to Kompong Cham was alternately dusty and tarmaced until we reached the local version of the capital's Prek Leap, a series of small restaurants on stilts, where we stopped for a cold drink before crossing the new Japanese-funded Kazuma bridge over the Mekong, into the city of Kompong Cham.
Traffic was heavy around town as we paid a flying visit to the island of Koh Paen, renowned for its long bamboo bridge though the water level on this tributary of the Mekong was too high for the bridge at this time of year. We booked into the Mittapheap hotel ($5 for a twin-fan room) and had a rest until 5pm when I suggested we return across the Kazuma bridge to watch the sunset behind the city. Sat on the riverbank, the view across the river was gorgeous. Back over the bridge, we had tikaloks with two sisters selling snacks and drinks, Chea and Phalla on the riverfront and then moved onto the Kompong Cham restaurant for beef and pineapple, returning to our hotel at 9pm. Next day we were up early, had noodles for breakfast at a roadside stall, saw Chea at her other job at the Caltex petrol station and reached Wat Nokor, on the outskirts of town, by 8am. Sophal showed me a walk-in killing fields memorial stupa containing many human skills and bones before we visited the rest of this intriguing temple, where a modern pagoda has been built around the substantial remains of the ancient prasat. This is a major attraction in Kompong Cham and shouldn't be overlooked by visitors. We left after half an hour and along Route 7, took a right turn at Prei Cho market, heading for Kor Koh village. At 9.30am we reached Prasat Yeai Hom, a sandstone temple with two lintels still in situ but surrounded by thick undergrowth. Next stop was Prasat Tuk Chha, a brick tower with a sandstone enclosure wall and broken gopuras. One lintel in excellent condition showed Indra riding an elephant alongwith with circular colonettes, sandstone pedestals and beheaded lions, whilst in the distance were the lake and waterfall of the so-called Tukcha Resort. Thirty minutes later we arrived at Prasat Kuk Ampil Thvear, a brick temple on laterite foundations with one remaining lintel under a man-made shelter. In the nearby village wat of Pring Chrom we located a lintel under the pagoda's main altar and across fields we could see a copse of trees which hid the temple where the lintel was originally housed, namely Prasat Kuk Pring Chrom. We tried to ride the dirt-bike through the flooded fields but it proved too difficult with two on the bike, so I waded on with the water above knee level while Sophal drove his bike sending a jet of water high into the air. When we reached the island, the brick tower was badly ruined with no carving apart from an inscription on a doorjamb and two local men and three boys eating their lunch, and more than a little surprised to see us. We dried the bike out and took a longer, less wet, route back to the road.
Skun, the town famous for its fried spiders, also serves beef fried in pineapple, as that's where we stopped for our own lunch around 1pm, near the main roundabout. A few kilometres along Route 7 we took a quick detour to visit the hill where Prasat Premea Chong Prei sits. I'd visited the temple before - with its series of fine lintels - but Sophal hadn't, so it was worth the climb for the great views over the surrounding countryside and to see how unfit my travelling companion was. At Phaav market we took a right turn and carried on through the villages of Tumnup and Sandek before reaching Phnom Trop. The track to the top of the hill was really difficult to negotiate but the temple on top was well worth it. Prasat Beng has three brick towers, no roofs, with a couple of lintels in situ, carved colonettes, large sandstone pedestals and best of all, interior brick bas-relief carvings on the inside walls of all three towers. The left tower, with a very fine lintel, has a carving of Vishnu with four arms and two attendants; the middle tower has three figures, the central one is probably Vishnu; the right tower has a figure with two arms only. The only other temple I know with similar bas-reliefs is the 10th century Prasat Kravan at Angkor. The great views from the hilltop and music from a wedding somewhere below, drifting cross the site, added to the moment. Just before we stopped to play volleyball with a group of farmers, we found a very old laterite-stepped pond, circular in shape and called Srah Srop, being used by a handful of women to wash clothes. We stopped for drinks next to a school, behind which we found Prasat Kuk Khvet. Standing in a field 100 metres from the school, the shape of this solitary laterite sanctuary is unusual though it houses a fantastically lively sandstone lintel with numerous monkey fgures. Five minutes later, we had a good look around the extensive grounds of Wat Tang Krasang, where we found six lintels on the floor in varying condition arranged around a small shrine. It was just after 4.30pm when we returned to Route 7 to continue our journey back to Phnom Penh, reaching the Dara Reang Sey a little after 6pm. Sophal had been great company, his English is excellent and he has a great sense of humour. We'd seen a lot of temples for the first time and our three-day trip had been very enjoyable, though a little uncomfortable on the back of his 250cc dirt-bike. Next time I'll take a cushion. I was keen to explore Route 2 and agreed to meet him early next day for part two of our travels. I walked to the riverfront to eat at the Garden Bar and returned to the Dara to meet my pal Phanna for a chat before ending the evening in conversation with Reangsey and her husband Srun.
---
Here's links to the rest of my Cambodia Tales
January 2003 marked my ninth trip to Cambodia since my first-ever visit in 1994. It's a country that has a special magic all of its own and which draws me back every year to venture out into the Cambodian countryside in search of new adventures, ancient temples and to catch up with the friends I've made from previous visits. Each trip is full of laughter, smiles and a host of fresh experiences and my latest expedition was no exception.
---
Home : Next : Messageboard : 2003 : E-mail
The contents of this website cannot be reproduced or copied without permission of the site author. (c) Andy Brouwer 2005