ANDYBROUWER.CO.UK
---
GRIZZLY RECORDS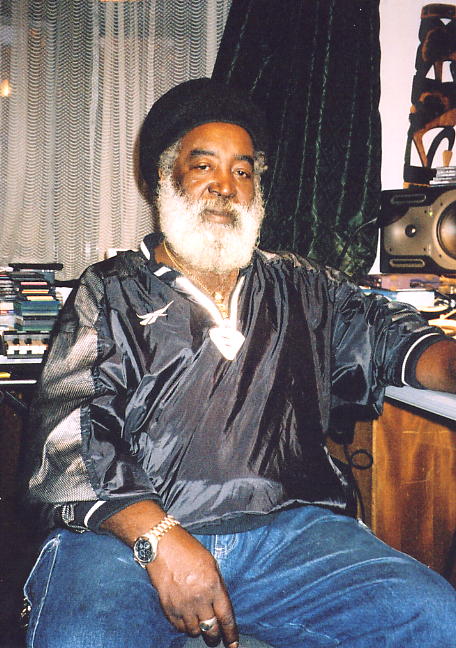 STEVE 'GRIZZLY' NISBETT
---
Steve 'Grizzly' Nisbett, Steel Pulse's legendary drummer has recently set up a record label and is working with a Midlands collective called New October Poets. This is a Press Release from Grizzly and his new venture:
GRIZZLY RECORDS
After conquering the world's musical stages, long-time Steel Pulse drummer Steve 'Grizzly' Nisbett has decided to invest his time and effort to a project a little closer to home.
The West Midlands will be the base for the most exciting independent urban music venture this side of the millennium. After much research and plenty of new media technology, a structure has been set up for record production, distribution and publishing with a difference. Music world watch out!
Here at GRIZZLY RECORDS, we have a team of website designers, internet community radio networks, studio technicians, and press and public relations teams. We also provide mentor support, business guidance and marketing strategies to take unheard voices direct to those that need to hear and want to listen.
Utilising our extensive international database, we will distribute your products via internet radio to a worldwide audience. If you have material ready to distribute please send us copy in the form of tapes, cd's, mini disk, quicktime or real media files.
So, if you have been making tunes since you can't remember or singing away to songs from way back and you just can't get heard in the music industry - Call Grizzly!
The deadline for initial submissions of work for review is June 30th 2004. We already have over twenty finished products from around the globe and are currently working with another 6 artists. Monetary remuneration is based on a profit share basis-which is calculated on product sales only.
If you are not at the stage of possessing finished products we can refer you to the New October Poets who are a Midlands collective of over 40 artists that network and support each other at live events, training sessions and away days. They comprise of programmers, writers, musicians, dancers visual artists and festival directors. They are NOT just poets.!
From all at GRIZZLY RECORDS
Note: Before parting with any of your work, we strongly advise you to protect your creation - COPYRIGHT YOUR WORK FIRST.
For more information contact: Cell phone: + 44 ( 0 )799 088 1038.
---
Read the full Steve 'Grizzly' Nisbett story HERE
---
Home :: Steel Pulse :: E-mail
The contents of this website cannot be reproduced or copied without permission of the site author. (c) Andy Brouwer 2004