LEONIE MOORE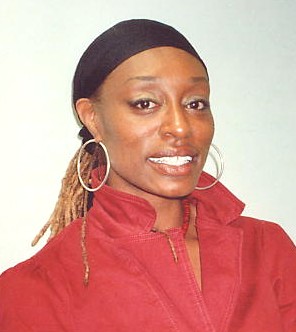 Birmingham born and bred songstress Leonie Moore is a talented and mesmeric performer and a vocal force to be reckoned with. Her performances are characterised by a passion, energy and vocal range that seduces her audience. Already firmly established as one of Birmingham's most sought-after backing vocalists, Leonie is making a big impression with her live performances and is certainly a name to watch out for in the future.
Twenty-eight year old Leonie's first real introduction to singing was at church, where she helped establish an acapella group called Unison, singing gospel music, and performed at various churches, venues and events. Whilst at Joseph Chamberlain college in Highgate taking theatre studies, photography and video production, she was a member of the college choir. She also took a make-up artists diploma at the NEW college in Redditch and studied holistic therapies at Sandwell college in West Bromwich. After seven years with Unison, her first big singing break came when she joined the established Birmingham-based acapella group, Black Voices on a tour of South Africa in February 1998, which Leonie describes as a real eye opening experience.
At home in any genre of music, whether it be reggae, soul or jazz, Leonie can regularly be found performing with legendary guitarist Basil Gabbidon and his band, Gabbidon, or their lovers rock persona, TuffLuv, in and around the Midlands area. The band is the brainchild of lead guitarist Basil Gabbidon, a founding member of reggae legends Steel Pulse in the '70s. Gabbidon is an eclectic grouping of musicians hell bent on providing the audience with a good time with their fusion of reggae, rock, ska and jazz styles meshed alongwith catchy rhythms and soulful harmonies, with gigs taking place in clubs and venues across the Midlands and at festivals such as Reggae Rockz, Black History Month and Making Friends With Music. Each member of the band has their roots in the local Birmingham music scene and the line-up can alter depending on the particular performance. Basil's own career spanned four albums with Steel Pulse before he enjoyed success in the '80s and '90s with Bass Dance, alongside his brother Colin on drums and vocalist Lee Alexander, both now part of Gabbidon. The rest of the band are much-in-demand musicians who ply their talent across the Midlands with an assortment of combos, like Leonie who sings occasionally with Motown-influenced group Simply Blu for instance. TuffLuv is the lovers rock alter-ego of Gabbidon and both performed at the Reggae Rockz Festival in Birmingham in September 2005.
Leonie appeared as a backing vocalist for international reggae star Pato Banton, working with the Birmingham-based toaster at a couple of British concerts in Birmingham and Bath and a small tour of Hawaii towards the end of 2005. Gabbidon performed at the Mary Seacole Achievers Awards in Birmingham in October 2005 where Basil and his band were the closing act with vocalists from TuffLuv joining them including Leonie singing what has quickly become her trademark tune, the huge Janet Kay hit song, Silly Games. Leonie then backed Janet Kay and Caroll Thompson at an appearance at The Drum in April 2006, with Gabbidon providing the sound for the two Queen's of Lovers Rock. Leonie was back on stage for the Birmingham ArtsFest with Gabbidon in September 2006 and performs regularly at their monthly residence at The Jam House in Birmingham and at the Glastonbury Festival in June 2007. When she's not performing with Gabbidon or Simply Blu, Leonie is part of an eight-strong Bob Marley tribute group called Legend. She has also sang with local reggae bands Voices of Ujima and Connecting Routes as well as with Yaz Alexander.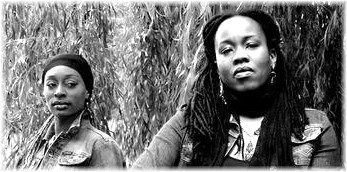 In June 2007, Leonie also began a new and exciting partnership with fellow Gabbidon vocalist, Indigo. Here's my review of their debut performance on 29 June as Rainy Days and Mondays: Last night, the Java Lounge in Moseley, Birmingham witnessed the birth of an exciting new singing duo, Rainy Days and Mondays - and in years to come I can say, "I was there." Its the brainchild of established Birmingham-based vocalists Indigo and Leonie Moore, who first sang together with the reggae band Gabbidon and found they enjoyed working with one another so much they've teamed up. Now they're ready to launch their sweet harmonies and well-timed arrangements into the public arena and the intimate surroundings of the Java Lounge heralded their debut performance. Their first set, lasting thirty minutes, began with Bob Marley's Waiting In Vain and was accompanied by Basil Gabbidon on acoustic guitar. The intimacy of the venue allowed the duo to sing without microphones and seven of their ten songs were backed by Basil and his guitar, the remainder were sung to a backing tape. Still The One, Saving All My Love, Feel Like Making Love, Walk On By and a brilliant rendition of Fleetwood Mac's Go Your Own Way concluded the opening set. The easy-listening love song themes continued after a short break with For The Love, Keep It Like It Is (Don't Know Why) and Killing Me Softly before a Leonie/Basil penned track called Sincerity closed the performance to well-deserved applause. The girls sang beautifully, the harmonies were precise and they complemented each other perfectly - Leonie's voice has a rare quality indeed, while Indigo, who was struggling with the remnants of a heavy cold, is a versatile and talented vocalist - and they show exceptional promise as a duo that will develop and grow with more appearances under their belt. Watch out for Rainy Days and Mondays at a venue near you soon.
I urge you to take note of this young woman, she's got an outstanding vocal range and has an equally dynamic stage presence. She is undoubtedly, one to watch.
Leonie Moore on stage; (left) with Pato Banton in Bath; (middle) at the Birmingham Symphony Hall with Gabbidon; (right) with Pato Banton in Birmingham.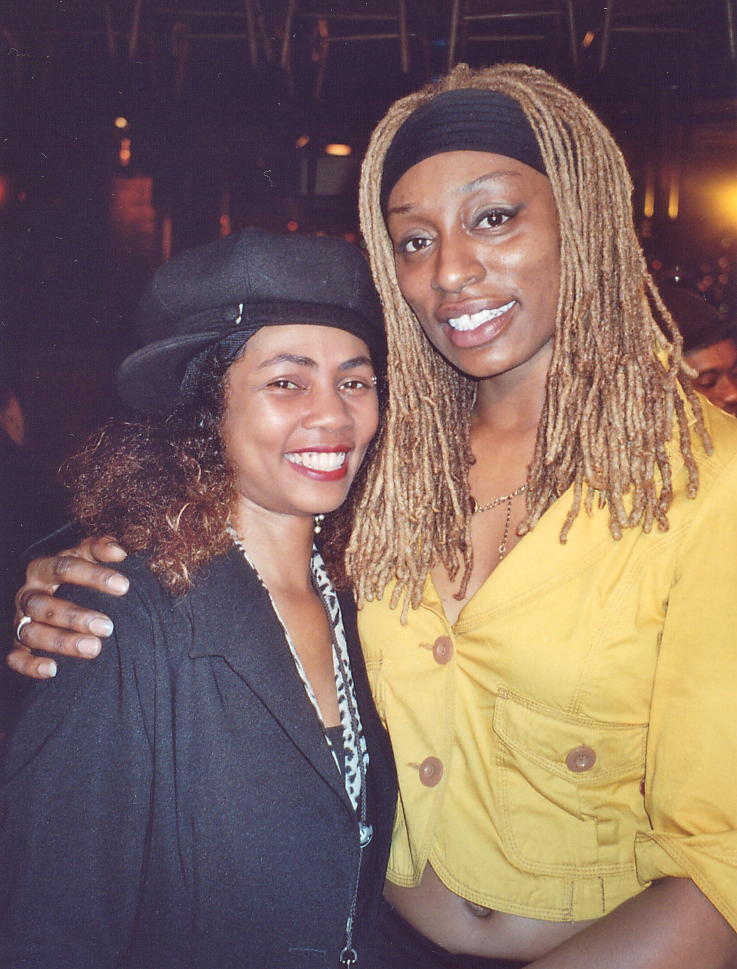 (Above) Leonie with Yaz Alexander, The Jam House, Birmingham, November 2006.
(Above) Leonie takes lead vocals with Basil Gabbidon (left), Lee Alexander and Indigo in support, The Jam House, Birmingham, November 2006.
Click to visit the Gabbidon webpage, fusing reggae, rock, ska and jazz
---
Home : More Music : E-mail
The contents of this website cannot be reproduced or copied without permission of the site author. © Andy Brouwer 2007