ANDYBROUWER.CO.UK
---
GABBIDON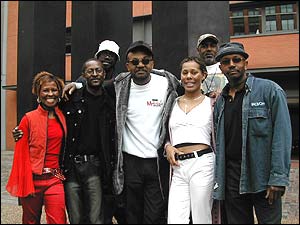 FEATURING...
Basil Gabbidon - vocals and lead guitar : Colin Gabbidon - drums : Lee Alexander - vocals : Leonie Moore - vocals : Indigo - vocals : Paul Beckford - bass : Faisal - keyboards : Alvin Davis - trumpet : Errol 'Spider' Smith - trombone
GABBIDON is the brainchild of the hugely talented lead guitarist Basil Gabbidon, a founding member of reggae legends Steel Pulse in the '70s. GABBIDON is an eclectic grouping of musicians hell bent on providing the audience with a good time with their fusion of reggae, rock, ska and jazz styles meshed alongwith catchy rhythms and soulful harmonies. GABBIDON have appeared in various guises over the last

few years, as Gabbidon Worldwide, or Gabbidon International or just plain GABBIDON with irregular gigs taking place in clubs and venues across the Midlands and at festivals such as Reggae Rockz, Black History Month and Making Friends With Music. Each member of the band has roots in Birmingham and the line-up can alter depending on the particular performance, though the musicians above are regularly involved. Basil's own career spanned four albums with Steel Pulse before he enjoyed success in the '80s and '90s with Bass Dance, alongside his brother Colin on drums and vocalist Lee Alexander. The rest of the band are much-in-demand musicians who ply their trade across the Midlands with an assortment of combos, playing various styles of music. Leonie Moore (right) has recently appeared with reggae star Pato Banton, whilst Indigo is forging a solo career.
In recent years, Basil has spent a lot of his time making real efforts to encourage the schoolchildren and youth of Birmingham and the Midlands to enjoy and participate in music through a series of community music programmes. "There are other ways to keep music alive apart from constant gigging and replaying your old stuff. I'm now trying to put back what I got out of it. To try and motivate local people and promote music to the youngsters in schools in particular. I will never stop making music. I'm enjoying it more now over the last few years. The energy is back, I can play any music I want to, not just reggae. My confidence is bubbling again." When he's not encouraging the next crop of musical talent to blossom, Basil and his friends continue to entertain. GABBIDON performances invariably include a variety of compositions, many are Basil's own such as The Key and Don't Kick The I, or tracks like Handsworth Revolution, Bad Man and Rally Round recall his successful Steel Pulse days. They also cover music by some of reggae's finest names including Bob Marley, Third World, Burning Spear, John Holt and Dennis Brown.
Basil is also the musical director for the Reggae Rockz event as part of the Birmingham ArtsFest. In 2004 this included a day-long celebration of reggae at the Symphony Hall included two performances of Reggae - The Musical Journey, a specially commissioned history of reggae in words, music, images and dance, and a star-studded showcase concert in Centenary Square that same evening. Alongside Pato Banton, Apache Indian, The Beat and Neville Staple Band, GABBIDON performed the finale with two special guests, David Hinds and Selwyn Brown, joining Basil on-stage for the first time in many years and performing the Steel Pulse classics, Prodigal Son, Bad Man, Ravers, Rally Round and Taxi Driver. The main event for Basil in 2005 was the second Reggae Rockz festival, held as part of the Birmingham ArtsFest in September 2005. Reggae Rockz took place on Friday 9 September in Centenary Square and was a major success. A large audience turned up to witness the return to their home city of headliners Steel Pulse and other quality acts such as The Beat, Neville Staple and Dawn Penn, as well as Basil's own group, GABBIDON and their lover's rock persona, TUFFLUV. A great night was had by all.
Latest gigs...
GABBIDON continue to perform in and around the Birmingham area, appearing at the September 2006 Birmingham ArtsFest show in Centenary Square and have also signed up for a regular monthly slot at The Jam House in St Paul's Square, Birmingham, on the last Wednesday of each month. Here's my review from their Jam House session that took place on 28 November 2006 and included an array of local vocal talent:
The ten-piece Gabbidon band, led by main vocalist Basil on guitar with his brother Colin on drums, kicked off their journey from ska through to roots reggae with 54-46 Was My Number, followed by Hey Fatty Bum-Bum and other songs, including the superb Love & Affection, with Basil sharing vocals with Leonie Moore and Indigo. Lee Alexander hopped on stage to take the lead, with Sweat, Wear You To The Ball and an instrumental version of Natural Mystic - aided by Pete Reid on guitar - ending the first forty-five minutes of the show. Just after 11pm, the band re-appeared with the first of a number of guest singers, Dennis Seaton, a member of Musical Youth in his childhood, belting out a brilliant version of Shine. The lead vocals then changed hands between Lee, Indigo (singing Walk On By), Candice, Leonie (with Police & Thieves) and Miss Banton, Lee returned to sing Now That We've Found Love and Mister Bojangles before Yaz Alexander stepped up to the stage for Keep It Like It Is, with the night's jam-packed session ending with One Love a little after midnight. Top quality music-making and some fantastic vocals showcasing a wonderful array of talent at the disposal of Britain's second city.
Gabbidon at the Jam House, Nov 2006. LtoR: Basil Gabbidon, Leonie Moore, Lee Alexander, Indigo.
---
---
Home :: Steel Pulse :: E-mail
The contents of this website cannot be reproduced or copied without permission of the site author. © Andy Brouwer 2007