Magic of Cambodia 2004
- a celebration of Cambodia, its people and its culture
---
...NEWS UPDATE...Read a review of the 2004 event HERE
---
Programme of Events
Saturday 18 September 2004
10am Introduction by Andy Brouwer, followed by:
Dawn Rooney - Angkor: Up Close & Personal
Talks by representatives of Schools for Children of Cambodia and Rikriey pre-school - the two charities we're supporting this year.
Denise Heywood - Cambodian Dance and the Arts
Cambodian Buffet Lunch between 1-2pm
Li-Da Kruger - 'Belonging' documentary and Q&A
Ask the Experts Question and Answer session and Book Raffle
Nick Ray - It's a Holiday in Cambodia! A behind the scenes look at guidebooks, television and film in the Kingdom.
Close at 5pm
---
Guest Speakers
Dawn Rooney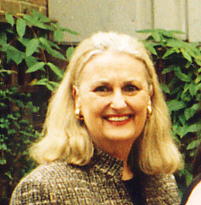 Dr Dawn F Rooney is an art historian specialising in Southeast Asia. She is the author of seven books and numerous articles on Asian art, including Angkor: An Introduction to the Temples (1994), Angkor Observed (2001) and The Beauty of Fired Clay: Ceramics of Cambodia, Laos, Burma and Thailand (1997). She is also a fellow of the Royal Gepographical Society and the Royal Asiatic Society, has lectured at art societies and museums in Asia, England and America and has acted as guest lecturer on tours to China, Southeast Asia and Vietnam. Dawn has made over seventy-five trips to Angkor since her first visit in 1969 and divides her time between residences in Bangkok, London and San Francisco. She has been a great supporter of our Magic of Cambodia events from the beginning and we're thrilled that she's able to join us this year for the first time. Her talk is entitled, 'Angkor - Up Close and Personal.'
Denise Heywood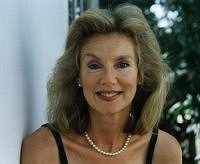 Denise Heywood is a freelance lecturer, journalist and photographer. A former fashion model, she has lived in Paris, New York and, most recently, Cambodia, where she worked as a journalist for three years. Denise arrived in Cambodia for a week, when the United Nations were organising elections, and stayed for two and a half years. She had her own column in the Phnom Penh Post, and wrote for many publications in Asia and Britain. She also wrote the 48-page official handbook, Cambodia: Discover the Hidden Kingdom, for the Ministry of Tourism.
Now living back in Britain, Denise writes for many travel, art and literary publications and lectures widely on Cambodia, Laos and Vietnam. She is also a lecturer for NADFAS (National Association of Decorative and Fine Art Societies) and for the British Museum on their Asian Art Course. In addition, she has taught courses on the Art of Indochina at the Universities of Cambridge, Southampton and Nottingham, and has made radio programmes for the BBC. She takes study tours to Cambodia, Laos, Vietnam and Europe, and lectures on cruise ships sailing throughout Southeast Asia. She is a Fellow of the Royal Geographical Society. Visit her website at: http://www.deniseheywood.co.uk. Denise gave a fascinating talk about the Angkor Temples at last year's Magic of Cambodia. This time around her talk and slideshow will be - 'Cambodian Dance & the Arts.'
Li-Da Kruger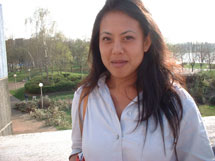 Cambodian refugee, Li-Da Kruger, was the subject of a documentary, called Belonging, which she co-produced and which was screened on British television in September 2003. She'd grown up as the adopted daughter of the British restaurateur and business woman Prue Leith and her writer-husband Rayne Kruger. Her's was a film with a gripping personal narrative, with tears and triumph, with some humour as well as disappointment. And in the most painful and poignant way showed life in Cambodia today: how a country wrestles with the concepts of justice and truth in relation to its past and yet in the end offers hope and optimism for the future. She's become a trustee of a British-based organisation called the Nginn Karet Foundation for Cambodia, which sponsors economic and educational projects in Cambodian villages, whilst continuing her work in the film industry. Li-Da is taking her film around the country in September and screenings will take place at: 1/9 - The Cube Cinema, Bristol; 5/9 - Chapter Cinema, Cardiff; 7/9 - Showroom, Sheffield; 14/9 - Birmingham MAC Art Centre; 18/9 - Magic of Cambodia, Banbury; 19/9 - Broadway, Nottingham; 27/9 - MacRoberts, Stirling; 28/9 - Glasgow Film Theatre; 29/9 - Bite the Mango Festival, Bradford; 30/9 -Darlington Arts Centre, Darlington.
Nick Ray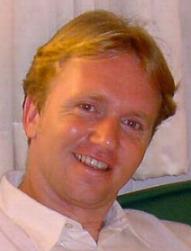 A Londoner of sorts, Nick Ray comes from Watford, the sort of town that makes you want to travel. He studied history and politics at the University of Warwick and emerged a few years later with a certificate that said he knew stuff about things, or was that things about stuff? After a stint as a journalist in London, he headed overseas, leading people astray on adventure tours from Morocco to Vietnam. He then linked up with Lonely Planet, and has authored two editions of their Cambodia guidebook and contributed to a dozen other titles, including: Britain, Cycling Vietnam, Laos & Cambodia, and East Africa. He currently lives in Siem Reap with his wife Kulikar and their three month old son Julian, and when not writing, he works as a location manager and scout for television, commercials and major films, including Tomb Raider in 2000 and Two Brothers (2003). At MOC, Nick will provide us with a behind the scenes look at guidebooks, television and film in Cambodia.
Here's an article Nick wrote for the University of Warwick magazine a year ago: "Rising early has always been an ordeal, so I meticulously avoid it where possible. Working on a new guidebook, I won't surface much before 8am, as it is likely I will have been delving into the nightlife to see what the restaurant, bars and clubs have to offer readers. Certain destinations - the one-horse towns of remote Asia and Africa spring to mind - don't have a whole lot to investigate so if there's nothing to keep me up, I might just make an early start. Working on a feature film, it's a different story, as I am beholden to the whims of the director. On a scout, directors like to get out early to catch the best light, so the days can be long, but that's nothing compared to the shoot when a location manager is usually up and running by 4.30am and is the last to leave the set around 8pm or so.
Mirroring the director's vision
Film scouts are immensely rewarding, as you have to absorb the script and seek out a physical reality to mirror the director's vision. For Jean-Jacques Annaud's latest film Two Brothers, a story of tigers in colonial Cambodia, we spent two weeks exploring by 4WD, motorbike and helicopter. He is often viewed as the director's director within Hollywood circles and where he shoots today, other film-makers will follow tomorrow. He showed his stamina as we journeyed to the lost jungle temples of Preah Vihear province where even the GPS was lost for coordinates. The monsoon rains rolled in, the trails turned to streams and before we knew it we were knee deep in mud. He simply stood there laughing, snapping away on his Leica as we tried to pull the bikes out of the treacle-like mud.
Back to the books, much depends on the size of the town or the city I wake up in that day. Delving into a capital city or a major tourist centre is a daunting challenge, with several hundred places to stay, to visit and at least as many restaurants and bars. Add to this the airline offices, foreign embassies, museums and other attractions and it's best to touch base with locals and expats who know the city well before venturing out, as they have the latest low-down if you've been out of town a while. Then it's time to hit the road. The worst part of the job is visiting all those hotels and guesthouses, the 'toilet inspection' as we call it. Many of the guesthouses are small, family-run places and if they are quiet, they are over-the-moon to see a potential guest. It is one of the more soul-destroying aspects of the job to keep walking out on these fine people after a cursory glance at their rooms.
The pulse of a place
By contrast, the best part of the job is eating and drinking your way through a country by night, sampling a slice of restaurants and then a basic bar crawl to touch base with the pulse of a place. This is the dangerous part of the day, as it has a huge impact on what you might want to achieve the next morning. However, this social side is extremely important, as solo travellers in strange corners of the world need to know in which bars or eateries they can find some friends. But the real beauty is getting out of the big smoke, taking some road trips on really bad roads to the national parks of Africa or the remote regions of Asia. Hanging over the hairpins high above Lake Kivu in Rwanda in a wheezing, squealing, ageing bus may sound like hell to some, but the views are stunning. Sometimes public transport is just too tedious for a tight schedule, so it's time to take to two wheels for some rapid research. In remote Cambodia, it is often the only way to make it down the sandy ox-cart trails that masquerade as roads.
Snakes for Angelina Jolie
On location again, a location manager takes care of the site during filming, so once the cameras roll, the walkie talkie channels are buzzing with requests ranging from the obvious to the absurd. During a typical day on Tomb Raider, the obvious included clearing crowds and securing consent from the relevant authorities for the changes the director incorporated as he went along, while the absurd included tracking down snakes for Angelina Jolie and fishing out a fire engine that had fallen off a causeway in Angkor Thom while on its way to water our set. Yes, you guessed it, the real Cambodian jungle just didn't cut it for Hollywood, so they dressed it with totally tropical plants. But when the day is done, no matter what the job, I sleep in seconds. In a busy year, there could be 100 different beds, ranging from a $5 fleapit to Raffles and I am still comfortable with either. In the remote regions, there is no choice in the matter, while on a film scout it is typically the 5-star incubators that keep the high-flyers safe from the real Asia or Africa beyond. When it comes down to personal choice, I prefer something in between, a bit of comfort and a lot of character, usually run by a local family with an eye for flair. Lights out anywhere between midnight and 3am, it all begins again the next day."
---
Magic of Cambodia 2004 is supporting the following charities
Schools for Children of Cambodia
Click here to visit the website and read all about this very worthy charity who provide free education for deprived children in three schools in Siem Reap and Bakong districts and who help educate nearly 400 pupils. We are very pleased to be able to support the work of Georgina Hooker and her colleagues in Cambodia.
Rikriey pre-school
Rikriey pre-school opened in August 2004 as a joint venture between a local church and the pre-school team of U of N Cambodia, a team of 3 early childhood educators from America, Switzerland and Britain. They are currently working with the teachers of Rikriey pre-school, giving training and support. After 2 years they will pass on the full running of this pre-school to the local church. They also look to run pre-school training seminars for Christian nationals, and help local churches to set up pre-schools. The vision is to have one pre-school in every province of Cambodia by 2007. These schools shall always be owned by the local church, not by U of N Cambodia. The team use the YWAM pre-school curriculum which gives an excellent basis for teaching children the Bible, about the world God has created, and how to have a living, fulfilling, respecting relationship with God, and with each other. Freedom and true hope for the future generation of Cambodia can start with something as simple as playing with playdough or doing a 6-piece jigsaw puzzle; and the potential is way beyond our wildest dreams. If you would like any further information about any aspect of this work, please contact the pre-school team: uofncambodia@online.com.kh : PO Box 1415, Phnom Penh, Cambodia. Friends of the pre-school, Annette Parsons and Mary Bunker, will give us a short talk at MOC to illustrate the work being done at Rikriey (which means joy and blooming of flowers).
---
At the event Tabitha - Cambodia will be selling a variety of cottage industry crafts, including gift items, silk handbags, scarves and wraps, soft toys and silver.
---
Click to read a review of the 2003 event
---
Magic 2004 Review :: How to get there :: Cambodia Tales
The contents of this website cannot be reproduced or copied without permission of the site author. © Andy Brouwer 2004