Magic of Cambodia 2004
- a celebration of Cambodia, its people and its culture
---
took place on
Saturday 18 September 2004
at The Horton General Hospital, Banbury, Oxfordshire, England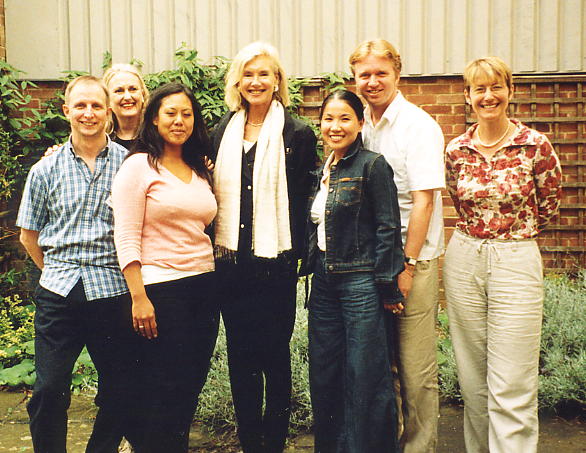 Speakers at Magic of Cambodia 2004: LtoR: Andy Brouwer, Dawn Rooney, Li-Da Kruger, Denise Heywood, Kulikar & Nick Ray, Caroline Nixon.
A review of The Magic of Cambodia 2004 event
Our 3rd Magic of Cambodia event took place on Saturday 18 September 2004 and was another great success with an enthusiastic audience enjoying a line-up of top quality guest speakers, a delicious Cambodian buffet lunch and a day full of talking about Cambodia with like-minded individuals. In addition, all profits from the event went to two charities that benefit Cambodian children, the Schools for Children of Cambodia and the Rikriey pre-school.
We began the day at 10am with introductions and our first speaker, Dawn Rooney, the celebrated author and Angkor expert, who delighted the audience with her intimate knowledge and experiences, interwoven with her own photographs, during her hour long talk, entitled Angkor: Up Close & Personal. After a break for tea, representatives from the two children's charities supported by the event, gave short presentations before our second keynote speaker, Denise Heywood, took to the floor. Denise was the star of the 2003 Magic Day and once again, captivated the audience with her passion and energy for her topic, this time concentrating on Cambodian Dance and the Arts, illustrated by her own excellent slides. Both Dawn and Denise are fascinating speakers and treated all present to a tantalizing glimpse of the treasures that await them in Cambodia.
An extremely successful morning session ended at 1pm and we filed out of the lecture theatre to enjoy a delicious and plentiful Cambodian feast prepared by the caterers, AK-City. It also allowed everyone the opportunity to look at the gifts and souvenirs on the stalls provided by Tabitha UK and the Cambodia Trust, as well as finding out more about one of our favoured charities with Georgina Hooker from Schools for Children of Cambodia and her helpers Melissa and Glenn, on hand to explain the superb work they're doing to provide free education to more than 400 schoolchildren in the Siem Reap area.
The afternoon session kicked off at 2pm with a brief introduction by Li-Da Kruger to her 45 minute documentary, entitled Belonging. Li-Da was on a nationwide tour and afterwards answered questions from the audience about her return to Cambodia to discover her family roots - an intriguing story. Our ever-popular book raffle was followed by a short question and answer session before our fourth keynote speaker, Nick Ray took the final slot of the afternoon, to give us a behind the scenes insight into guidebooks, television and film-making in Cambodia. Nick had some great experiences to relate and could've kept the audience entertained for hours. I hope we can persuade him to return again in the future to continue where he left off, as the event came to a close at 5.20pm.
Our 3rd Magic Day was exactly that, it was the best so far, and a great success. A massive thank you to Val and Jane, who manned the front door and more with their usual gusto, and to others who helped out on the day. We can't speak highly enough of our guest speakers, each of whom spoke with passion, honesty and humour. And our appreciation to our audience, who travelled from far and wide to help make it a very special day. Thank you all for your support.
Andy Brouwer & Caroline Nixon (Event organisers)
Footnote: The above event was the final Magic event - we'd like to thank everyone who supported these events in the past - they were a wonderful experience.
---
Go to NEWS UPDATE for details of the event
---
Click to read reviews of our 2002 & 2003 events
---
Home :: News Update 2004 :: Cambodia Tales
The contents of this website cannot be reproduced or copied without permission of the site author. © Andy Brouwer 2005