ANDYBROUWER.CO.UK
---
UK GIGS - JUNE 2004
---
[Left] Moonie Pusey. [Middle] Selwyn Brown & Melanie Lynch. [Right] David Hinds.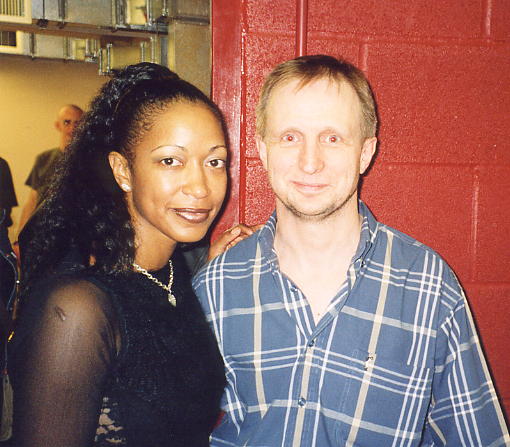 [Above] Melanie Lynch - gifted and glamorous (with the author)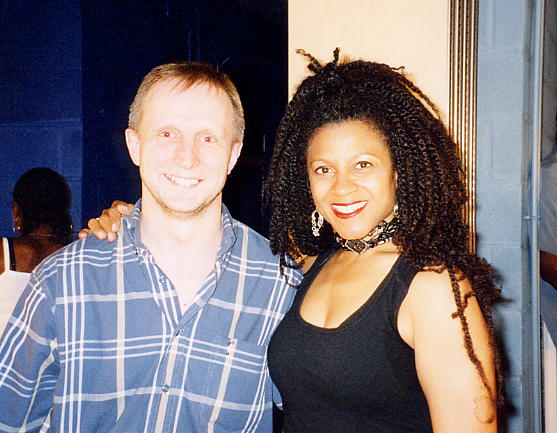 [Above] Talent and beauty - a great combination in Traciana Graves (with the author)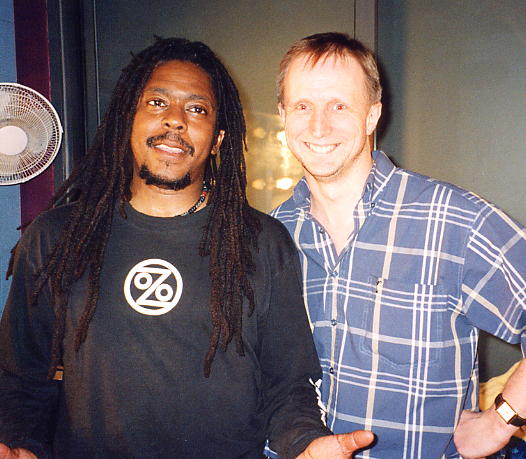 [Above] Moonie Pusey and the author share a quiet moment backstage at The Ocean.
Click on each photo to enlarge
---
Steel Pulse returned to play their first gigs in England for more than six years in June 2004, appearing in London, Manchester & Bristol as part of the European leg of their tour to promote their new album, African Holocaust. This long-awaited return demanded my fullest attention, so a week off work and 500+ miles on the clock, and here's what happened...
28 June : The Ocean, Hackney, London:
Billed as the first Steel Pulse concert in the capital for seven years, it was with much anticipation that the crowd gathered once the doors opened at 7pm. I'd arrived in London a few hours before, took in the sights and sounds of Hackney and the local MacDonald's before a drink in the cafe next to the venue. In the spirit of international relations, I made the acquaintance of Monika, who came from Gdansk in Poland, was now living in London, had seen Pulse in Conneticutt last year and was bursting to see the band perform live again. Stiff Naked Fools came on first as the warm-up act before Steel Pulse emerged at 9.30pm to the obvious delight of the sizeable audience.
Steel Pulse began with their intro medley that included brief snippets of Chant A Psalm, Bad Man, Macka Splaff and Nyahbinghi Voyage before rounding off the medley with an extended Don't Give In. By the time Rally Round and Prodigal Son were completed, the audience was in full voice, David Hinds was making full use of wide stage and the backing singers, Melanie Lynch and Traciana Graves looked as if they'd been with the band for years rather than days. The tempo slowed and the bass boomed for Tightrope and Bodyguard before my first hearing of Make Us A Nation from the new album, African Holocaust. It has its roots in Build A Nation, which the band played last year, but has been adapted for the album.
Moonie Pusey's guitar solo heralded Back To My Roots before the second medley kicked-off with Soldiers. Next up was Taxi Driver (always a crowd favourite with Selwyn Brown taking centre-stage), Ravers, Blues Dance Raid and Reggae Fever. All of these were given much more of an airing than the intro medley tunes. Rollerskates, a newly-adapted Uncle George and Steppin' Out completed the first hour as the band left the stage to ecstatic applause and stamping feet.
Moonie and Sid Mills (keyboards) began the first encore with a delicious five minute solo, before the band broke into Chant A Psalm, followed by Harassment, Caught You Dancing and Emotional Prisoner. There was lots of energy off and on stage, with Selwyn jumping around behind his keys and David shaking more hands than on a presidential walkabout. The girls added a splash of glamour as well as tight vocal harmonies, Conrad Kelly's drums and Alvin Ewen's bass kept the rhythm in step and Moonie was just awesome. Their second and final encore was another track from the new album, Global Warning, to close a show of old and new and to leave the audience wanting more.
The tour continues in Dublin, Manchester and Bristol though the London gig gave family and friends the opportunity to see the band perform on home turf and as a result, backstage was busy. Tour manager Rich Nesin whisked me through security to say hello to the band - who were as friendly and welcoming as our Eindhoven encounter last year - and it gave me the opportunity to meet Melanie and Traciana for the first time. And what a pleasure it was too, they are both lovely people and a great addition to the Pulse family. I also met Ron Hammond from Pulse HQ, who was attending his first live Pulse gig as well as Richard Hermitage, the band's manager, who hopes to confirm another one or two UK gigs before the end of the year. I left the venue with the band at midnight - they were up again at 6am for the flight to Dublin, whilst a two hour drive home lay ahead of me. However, that was no hardship after another memorable night with the Steel Pulse posse.
Set-list for The Ocean: Intro Medley (Chant A Psalm/Bad Man/Macka Splaff/Nyahbinghi Voyage/Don't Give In) - Rally Round - Prodigal Son - Tightrope - Bodyguard - Make Us A Nation - Back To My Roots - Medley Medley Medley (Soldiers/Taxi Driver/Ravers/Blues Dance Raid/Reggae Fever) - Rollerskates - Uncle George - Steppin' Out - [encores] Chant A Psalm - Harassment - Caught You Dancing - Emotional Prisoner (with band intros) - Global Warning. Show began 9.30pm, ended 11.10pm.
30 June : Manchester Academy 2:
Pouring rain and bright sunshine accompanied my 2½ hour drive along the M5 and M6 to Manchester's student area just past Moss Side. I arrived after 2pm and found a chip-shop for a pie, chips and mushy peas lunch. I also bumped into two of the Pulse offspring, Derrick Brown and Baruch Hinds, who are members of the band's road-crew, as keyboard and drum technicians, respectively. Around 5pm the band arrived for their soundcheck, which I watched alongwith a friend of the band and a favourite singer of mine, Yaz Alexander. She'd just finished rehearsals in London and was meeting family members at the gig. Also present was a film crew to interview David Hinds as part of a documentary on Jimmy Cliff, and the producer Yonathan was a keen Pulse fan.
The venue for the gig was a large hall holding up to 1,000 and at showtime (9.15pm), it was around ¾'s full. The DJ finished his stint and Pulse entered stage right to launch into their quick-fire intro medley. However, disaster struck when Alvin lost all power to his bass and within five minutes of the start everyone left the stage, except Moonie who stayed put for the twenty minutes it took to fix the guitar. Back on stage, they restarted and closed the medley with a full version of Prodigal Son. David's voice was in top form for this gig and this was no more apparent than on Rally Round and Rollerskates, whilst Selwyn's skank on Bodyguard and Moonie's intro for Back To My Roots were top notch.
Room to manoeuvre on stage was at a premium for this gig though the room's acoustics were clearer than in London and the crowd responded with gusto, none moreso than during Selwyn and David's rapping on Taxi Driver. During the gig, two Dave's, from Newcastle and Manchester, introduced themselves having recognised me from my website (which is always a bit weird), whilst three girls from Manchester ('the water carriers') graciously tended to my liquid intake. Pulse finished off the first hour to thunderous applause, with their 'rewind' section of Steppin' Out, Selwyn's 'steppin razor' skank and Moonie's guitar solo.
Sid and Moonie opened up the encore, with the latter again demonstrating his guitar virtuosity, and the band returned with Chant A Psalm. It all got too much for Geordie Dave and he felt the urge to join Pulse on stage, only to last 30 seconds before he was bundled off again. I'm all for expressing your support for our returning heroes but on stage is definitely not the place. The delay at the start meant the encore was cut short, three songs were dropped and they finished off with a rousing Don't Give In, including a brilliant 'try, try' response from the crowd and finally Emotional Prisoner. David introduced the band, gave a special mention to Grizzly Nisbett who was in the house and each of them received the appreciation from the crowd they deserved. Great gig, great crowd, great night. And it wasn't over either. Courtesy of a pass from tour boss Rich, the dressing rooms backstage were busy, with Grizzly the centre of attention, alongside the band. I had a long chat with Moonie who explained about the children he teaches which he fits into his busy schedule when he's home in Brooklyn. At midnight, the band boarded their coach to head for their hotel and an early morning start and I set out for my long drive home. Tomorrow's gig in Bristol is on my doorstep by comparison.
Set-list for Manchester Academy: Intro Medley (Chant A Psalm/Bad Man/Macka Splaff/Nyahbinghi Voyage/Prodigal Son) - Rally Round - Rollerskates - Tightrope - Bodyguard - Make Us A Nation - Back To My Roots - Medley Medley Medley (Soldiers/Taxi Driver/Ravers/Blues Dance Raid/Reggae Fever) - Uncle George - Steppin' Out - [encores] Chant A Psalm - Don't Give In - Emotional Prisoner (with band intros). Show began 9.15pm. Stopped 9.20pm. Restarted 9.40pm. Ended 11.05pm.
1 July : Bristol Carling Academy:
Just 30 miles along the M5 motorway, this gig was practically in my backyard and was Pulse's last in England before their return to the European continent with festival appearances in France, Germany, Italy and Belgium in the next seven days. Arriving in Bristol's confusing city centre at 2pm, I eventually located the Academy venue and parked in the multi-storey car park next door. Lunch was a fish & chips pub meal alongwith Pulse's long-time FOH engineer Louis Yesufu and his girlfriend. Soundcheck was an hour long from 6pm and punctuated by a major equipment failure with David's guitar and a squawky rendition of Prince's Purple Rain by Selwyn. It was a great opportunity to see the band practising and experimenting, as well as watching the easy repartee between the band members.
As the band went in search of food, I retired to the pub over the road to wait for showtime. Amongst the small crowd, I met Steve Thorpe, who'd written about the band for Black Echoes many years before. Pulse took to the stage at 9.15pm and though the audience was around 200 strong, they were very enthusiastic and the band responded in kind. Prodigal Son rounded off the intro medley, clearly the preferred choice now, whilst David's guitar problems returned during Rally Round, and were to plague the whole performance. Tightrope preceded Rollerskates for this particular gig though the rest of the set-list remained unchanged.
David made full use of the large stage and covered his guitar problems with constant movement, Melanie and Traciana were equally animated and are quickly developing some cute routines, whilst Selwyn was in his element, rapping, dancing and demanding that the crowd join in. David's 'spotty dog' walk during Don't Give In was priceless and that song again got the crowd roused with the 'try, try' chorus. No less than six songs in the two encores were rounded off with the band introductions during Emotional Prisoner and an 11pm finish. So another memorable gig was completed and the end of my short adventure following Steel Pulse around the country was now close at hand. A long drive to France necessitated a quick getaway by the group. I said my goodbyes to tour boss Rich and then the band and particularly appreciated the kind remarks from Conrad, Moonie, Selwyn and Traciana before they departed for the next leg of their tour. There's talk of one or two UK dates later in the year, I hope that happens. If it does, I'll be there.
Set-list for Bristol Academy: Intro Medley (Chant A Psalm/Bad Man/Macka Splaff/Nyahbinghi Voyage/Prodigal Son) - Rally Round - Tightrope - Rollerskates - Bodyguard - Make Us A Nation - Back To My Roots - Medley Medley Medley (Soldiers/Taxi Driver/Ravers/Blues Dance Raid/Reggae Fever) - Uncle George - Steppin' Out - [encores] Chant A Psalm - Harassment - Caught You Dancing - Global Warning - Don't Give In - Emotional Prisoner (with band intros). Show began 9.15pm, ended 11pm.
---
Home :: Steel Pulse :: E-mail
The contents of this website cannot be reproduced or copied without permission of the site author. (c) Andy Brouwer 2004