ANDYBROUWER.CO.UK
---
CAPTURED ON THE ROAD 2
Steel Pulse, the internationally acclaimed reggae band who began life in the back streets of Birmingham, England in the early Seventies are still very much alive today, nearly thirty years later. The band are renowned for their commitment to their musical message of fighting injustice, educating the masses and creating positive forces. They take their music around the globe and have a worldwide following.
Here's some photos from the band's recent and more distant past to enjoy [click to enlarge]. I welcome any photographs taken by fans and friends of Steel Pulse, who would like to post their special moments onto this webpage.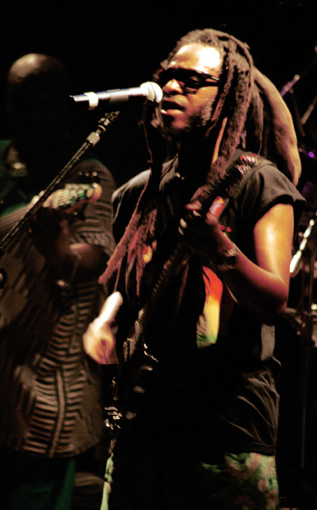 David Hinds in action in Athens, Greece on 16 June 2004. Photos (c) Olga K at www.nef-blue-pages.com
---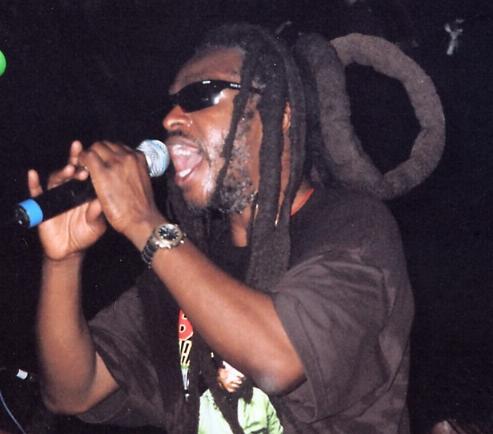 Roy Rowe and his wife Sue attended their first Steel Pulse gig for 15 years in New Haven, Connecticut on 15 July 2004 and loved it. Above is Roy and his wife with David Hinds before the show. And below is an excellent photo taken by Roy of David on stage.
---
Kimberley ('SoCalKim'), a regular on the Steel Pulse messageboard, took these photos at the Pulse gigs at Solana Beach and The Roxy in LA in August 2004. Thanks to Kimberley for permission to post them here.
---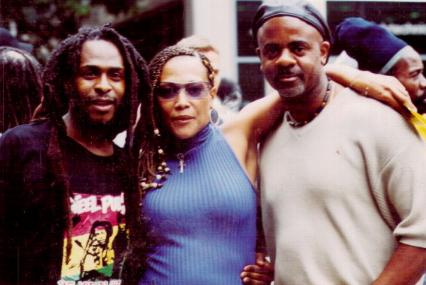 'Onelove', a regular contributor to the official Steel Pulse messageboard, took these photos in 1983 at the Hummingbird in Birmingham and in Brooklyn, New York in 2003. Thanks to 'Onelove' for permission to post his photos here.
---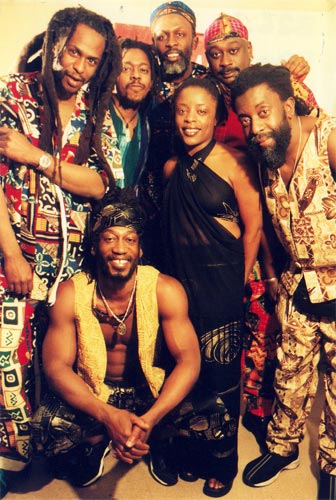 Steel Pulse in costume, photographed by Cecile Ossieux in 2002. LtoR: David Hinds, Moonie Pusey, Selwyn Brown, Donna Sterling, Alvin Ewen, Sid Mills and Conrad Kelly. [Photo (c) Cecile Ossieux.]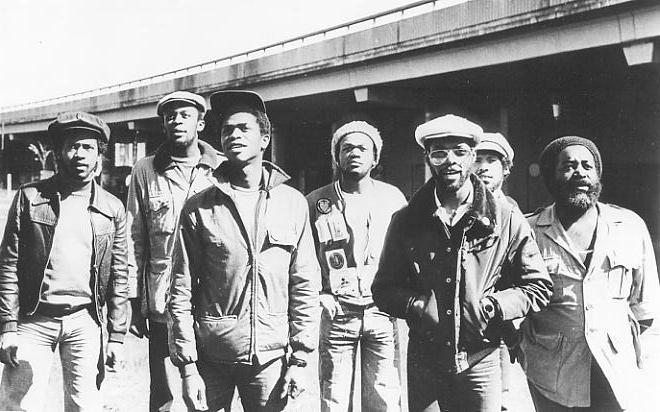 May 1978 and Steel Pulse pose for another Island Records publicity photo. LtoR: Phonso Martin, Selwyn Brown, David Hinds, Basil Gabbidon, Michael Riley, Ronnie McQueen, Grizzly Nisbett.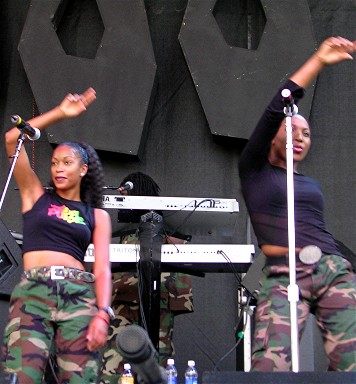 October 2004 and Mel Lynch (left) and Marea Wilson (right) strut their stuff at the Voodoo Fest, New Orleans concert. [Photo (c) liveneworleans.com]
(Left) Michael Riley poses for the camera in 1978 in a clergyman's costume. (Right) The band line-up in playful mode for the cover of their 1980 album release Reggae Fever. This was the album's title in the USA, whilst elsewhere it was called Caught You. LtoR: Ronnie, Basil, Selwyn, Phonso, Grizzly and David (in front).

1983 - this photo adorned the cover of a German pressing of the single Steppin' Out. LtoR: Carlton Bryan, Grizzly Nisbett, Alvin Ewen, David Hinds, Phonso Martin, Selwyn Brown.
Click here to go to Captured On The Road 1
---
Home :: Steel Pulse :: E-mail
The contents of this website cannot be reproduced or copied without permission of the site author. (c) Andy Brouwer 2006