---
CAMBODIA TALES 2007 - JANUARY
Notes from Siem Reap
Part 1: Leaving Battambang was a wrench as it's a part of Cambodia that I always enjoy but my next destination, Siem Reap, is the launching pad for lots of my past adventures and this year was no different. The Angkor Express boat left the Battambang dock at 7.15am, at the same time as two tour company boats and for the next four hours the boat pilots played a game of overtaking along the fairly narrow river channels leading to the Tonle Sap Lake. It looked to me as if the number of homes along the riverbank had increased in the last year as we sped along, leaving a heavy swell in our wake, that didn't seem to dampen the enthusiastic waves and shouts from the shoreline. At 11am, we stopped for a bite to eat at a drink-shop in the substantial village of Bat Prei that was a part shore-based, part floating village. We took on some additional passengers including a woman with a high-pitched voice that pierced my eardrums, as she proceeded to talk loudly and breast-feed her baby at the same time. By 2pm, we took a twenty-minute rest-stop at Prek Toal village – better known for its bird-watching possibilities – and then darted across the open expanse of the lake to arrive at the Chong Khneas boat dock at 3.45pm, and the usual scrum of motodops desperately clawing at you and your bags.
Amidst the mele, I spotted Rieng and his moto and his ever-present wide grin. His big hug said it all – it was great to be back in Siem Reap with my best friend and top guide. I'd forewarned him I was on my way, and his three hour wait hadn't suppressed his usual enthusiasm, as we caught up with each other on the ride into town and straight to my home-from-home, the Shadow of Angkor guesthouse. Expecting another big welcome, it didn't happen as the guesthouse owners, Seng Hour and Davy and their daughter Kim were in Phnom Penh, but it was good to be in familiar surroundings and I had a fruit-shake with Rieng and his wife Sovann, who arrived to join us, in the guesthouse's excellent restaurant. After a shower, I walked along the busy pub street, flush with tourists of every nationality, and headed for a fish and chip supper at Molly Malone's. I returned early to the guesthouse to catch up with Kim and her parents, and that postponed welcome, as well as meeting Juanita and Matthew, who I knew from email correspondence before I left home. I was all talked-out by 12.30am and retired to my comfortable room and slept soundly until 8am the next morning.
For my first full day in Siem Reap, I was on a mission. Rieng had told me a friend of mine who I'd not seen for six years was back living in her village inside the Angkor complex, so that's where we were headed at 10am, after breakfast with Juanita and Kim. It was a very hot day already as I paid $20 for a 1-day temple pass and took the road to the temple of Banteay Kdei, entering through the east gate, opposite the Srah Srang lake. And there she was, at her stall selling souvenirs and beaming that huge grin as if she'd never been away. I first met Socheata in 1999, as she was the elder sister of Noung, another souvenir-seller I'd met at Angkor Wat a year earlier. But Socheata had disappeared overnight six years ago when I was told she got married and moved to live in Japan – I thought I would never see her again – until today. Now 28, she returned five months ago after her husband had died prematurely. I was pleased to hear that their marriage had been a happy one and they'd spent a lot of their time together travelling the world, including a visit to Europe.
It was an emotional reunion, both for Socheata and myself, as well as Rieng who knew her well, and we were also joined by her brother Plon and her mother, as we chatted as old friends do, for a couple of hours. With a promise to meet at Angkor Wat a little later, Rieng and myself headed off, ignoring the no-entry signs to pay a visit the secluded temple of Ta Nei, one of my favourite minor temples, where I can almost guarantee to be alone amongst the ruins and the sounds of the surrounding forest. We had lunch with another friend, Shanti, at her food stall (no.9) at the west gate of Ta Prohm before rushing over to Angkor Wat and entering via the quieter eastern entrance and walking around the perimeter to the cluster of souvenir stalls situated alongside the pagoda on the northern side of the temple. There I spent the next three hours talking non-stop to Socheata, her sister Noung, her six month old baby and her husband, Mean Somnang and her best friend Now. The souvenir sellers are a close-knit bunch of people, many live in the same village next to Srah Srang and lots of them recognised me from many previous visits. I didn't even manage to set foot inside Angkor Wat itself.
I returned to the Shadow and had a drink with Juanita and Matthew before a 7.30pm appointment with Dougald O'Reilly for dinner at the Soup Dragon restaurant. Dougald is the Director of the NGO HeritageWatch, which is busting a gut to stop the illegal trade in Cambodia's cultural heritage and to protect and preserve it by way of educating the local populace and raising awareness by various initiatives including their new magazine, Touchstone, and Dougald is the brains behind it all. He was great company and the Vietnamese food we tucked into was excellent. Back at the Shadow I caught up with Seng Hour and her daughter, as we talked in detail about Kim's impending departure in just three day's time, to spend the next four years at university in Sydney, Australia. The following day, Heng drove Rieng and myself to the floating village of Kompong Khleang – which you can read about in a separate travelogue. It's one of a handful of villages fairly easily accessible from Siem Reap and is a worthwhile alternative for anyone who's keen on a break from temple visiting.
The morning of day three in Siem Reap was to be spent visiting school, more precisely schools receiving support from a UK charity, Schools for Children of Cambodia, who provide free schooling for kids aged 4-12 in and around Siem Reap. Rachel Palmer, SCC's in-country organiser and her right-hand man Jay, arrived at the Shadow just as I finished breakfast at 8am. Accompanied by Rieng and Heng, we drove out to Khnar primary school, just three kilometres outside of town in the direction of Roluos and one of the six schools receiving SCC's support. Five new classrooms costing $6K per room and had just been built thanks to sponsors like Andy Hill and will increase the school's capacity to teach up to 800 children. Also onsite were brand new water filters that provide clean water for the school and I also spotted two sandstone pedestals under a tree, next to the garden which the kids were watering and weeding. At 10am we were back in town and heading for Wat Athvea, a laterite temple next to a pagoda, a couple of kilometres down the road leading to the Tonle Sap lake. Next to the ruined west gate of the ancient prasat is another SCC school, Krosang Roleng, with space for 230 children and class sizes of up to fifty per sitting. It was another well-presented primary school and a grateful head teacher, who praised the charity for their efforts at his school. Our final visit was to Sway Dongkum school, where volunteers Pete and Kat were teaching some of the school's 500 children English for an hour from 11am, as part of SCC's volunteer program. I thanked Rachel and Jay for showing us the work of SCC who are doing a fabulous job in providing education for free for so many children.
Back at the Shadow, I had lunch with the owner Davy and helped Kim with her leaving speech, which she would deliver at her 'going-away' party later that same night. In the meantime, Rieng collected me at 2.30pm for a visit to one of my favourite places to relax, the Angkor Conservation Office, where most of Angkor's free-standing statuary is held for safe-keeping, some in the Conservation garden and the superior quality pieces, under lock and key in two large storage buildings. We chatted to Kleng Reach, who'd I'd met on previous visits and for a small tip, he took us into one of the large rooms where over 200 original sandstone heads of gods and demons from the Angkor Thom and Preah Khan gateways were arranged in rows on the floor. Also in the room are inscription stele stones, pedestals, linga and lintels of outstanding quality and undoubtedly of museum standard, whilst outside the door, line-up along a wall, is the bounty retrieved from the home of the former Khmer Rouge leader Ta Mok including apsaras, nagas, lintels and lions, especially a stunning example from Wat Lovea. Another two-storey storage room nearby was off limits according to Reach and we had to be content with peering through the broken glass window at the sculptures earmarked for the new Siem Reap museum, when it opens in the middle of the year. On our way back we popped into the Jasmin Lodge guesthouse to say hello to the owner Khun, a former guiding colleague of Rieng's and then it was back to the Shadow and Kim's farewell party, organised by her parents. It began at 6.30pm and turned into a great send-off for the 17-year old, who in turn was excited and emotional by the turn-out as up to eighty of her friends and family ate and drank their fill and danced through til 12.30am. And the speech – there wasn't a dry eye in the house.
Part 2: Morning began with tearful goodbyes over breakfast to Kim, who was due to fly to Australia around midday. I, on the other hand, headed west along Highway 6 to enjoy a varied day of sightseeing with Rieng and Heng in their 4WD Pajero. Its a good road these days, busy and flat until you get to Sarsadam, where the tarmac ends and a very bumpy and dusty rode begins. Our first stop was in Prey Chrouk village – which is Rieng's home village – where we visited the primary and secondary schools, side by side, to look in on the new school building (five classrooms) donated by a joint venture between ADB and the Sage Insights travel company in Siem Reap. With over 1,000 students at both schools, another brand new two-storey building, donated by Prime Minister Hun Sen no less, was locked and empty as there were not enough teachers to use the classrooms! I stood in front of two grade 9 classes, ages ranging from 16-20, to say hello and spotted Rieng's younger brother, Ratha, in the second row. When Rieng lived in the village there was no secondary school, so he had to cycle to Sarsadam for his education.
Continuing on, just after 11am we reached the roundabout in Preah Net Preah village - 88kms from Siem Reap said Heng – and then headed west for three kilometres on the lookout for Phnom Arayacontra (or Prasat Preah Net Preah). It's the biggest hill there so you can't miss it. 200 steps later we were enjoying a wonderful view from the summit. Its an interesting site with old and new mingling together – old, in the form of broken colonettes and an unusually large pedestal, three undecorated lintels and a blue corrugated tin stupa housing two more pedestals and a small inscription on a doorpost. Alongside were the remains of two demolished brick towers with sandstone door frames. A friendly nun, Tre Chantha, told us the four resident monks and two nuns were off at a celebration and took us to a locked room to show us an inscribed boundary stone and some other sculpted pieces, as well as some carved figures on large sandstone boulders.
Retracing our route along Highway 6, we stopped briefly at the pagoda at Prasat Romduol village on the hunt for Prasat Tayrin, but were assured that the colonette we found was all that remained and the thigh-deep river that barred our path dissuaded us from checking ourselves. By 2pm we'd stopped at Kralanh for lunch – fried chicken and vegetables, chicken soup and dried fish plus drinks, all for $5, before we headed east towards Tek Chou. The village pagoda had some friendly children but nothing else of note, though Wat Char Leu was a different story, housing a laterite tower with red sandstone doors though minus its lintels, situated next to the old vihara. It was a site I'd visited before. Returning towards Siem Reap, we stopped at Prey Chrouk again to visit Rieng's family home for an hour where I met his mum, dad, granddad, two sisters and two brothers and a souvenir photo for my album. Like Rieng, they are lovely people. Back at Siem Reap by 6pm, I joined up with Rachel Wildblood - a VSO fisheries worker I'd previously met in Kompong Thom – for dinner at the very popular Khmer Kitchen. I enjoyed an excellent chicken curry and a chat with the owner Sophal about her successful business which now employs forty staff. Back at the Shadow of Angkor guesthouse, we were joined for a drink by David Musa, an Israeli archaeologist-cum-tour leader, who I knew by email contact before my trip began.
More temple adventures were the order of the day as we set out next morning for Beng Mealea at 8.30am via the town of Damdek. The road toll for the 4WD was $5 and the temple pass another $5 as we arrived at a temple I'd first visited in 1999. In those days, it was a serious adventure and extremely hard work – nowadays the temple sees between 50-100 tourists each day and wooden walkways make exploration very straightforward. Not one to follow the crowd, Rieng and myself investigated the rarely-visited east gopura and its impressive array of naga heads and lanterns leading along the 400 metre long causeway, accompanied by beautiful bird song all around us. At the eastern entrance large stones blocked our way in so we had to climb up and over the massive gateway, perching precariously on top of the gopura before heading for the north library and taking an anti-clockwise route around and through the whole temple. Beng Mealea is an extraordinary size and deserves its new found popularity. There's so much more to see than on my previous visits, though the prize you have to sacrifice is the real adventurous feeling I used to experience. During our exploration I met Shinto Asano, an English-speaking Japanese girl who was gushing in her praise for the temple. At midday, with Rieng translating, I renewed acquaintances with Chheng Chhun, the temple guide who showed me around in 1999 and at 72, he's still very sprightly for his age. He told me he was born in the area and is proud to show people his temple. As an added bonus, he told us about a trio of smaller temples lying east of Beng Mealea along the ancient Royal Road and agreed to be our guide for our afternoon exploits. I'd been on the Royal Road before, around the village of Khvao, so this was an opportunity to see another part of the highway.
At 12.30pm, with Chhun in charge of directions, we joined the old royal highway that linked Angkor with the former capital of Jayavarman VII at Preah Khan at Kompong Svay, and the laterite base is still in use today, albeit with a sandy covering. We passed through an area under the control of CMAC de-mining teams, and onto the substantial village of Chantrea, and the waves and smiles of villagers not used to visitors. The sandy surface made driving tricky - though Heng is a magician when it comes to negotiating difficult tracks - past the so-called Japanese stream, one of three riverbeds we crossed, and lots of tree-felling before arriving at our first ancient laterite bridge, Spean Khmeng, complete with ruined sandstone balustrade. Ten minutes later we hit upon Spean Teap Chei – another laterite arched structure – and at 1.15pm arrived at our farthest target, Prasat Teap Chei, or more precisely the village of the same name, some 15 kilometres from our starting point. With Chhun leading the way, we ploughed through very thick undergrowth without much success for twenty-five minutes and almost gave up until we encountered a large laterite wall and the eastern gateway to the temple. With one central sandstone tower with a porch and four doors, two smaller libraries and one solitary eroded lintel, it was cloaked in the forest and impossible to photograph, not to mention the humidity and stinging sweat in my eyes. As for Chhun, he didn't even break sweat. Back on the Royal Road, we turned for home, stopping at two more temples we'd bypassed earlier. Prasat Kongpluk has a central laterite pyramid tower, somewhat ruined, with four sandstone entrance gates in a surrounding laterite wall. Scattered amongst the debris were colonettes, a worn lintel, two broken lions and lots of red de-mining tape warning us to avoid certain areas. Closeby, another temple, Prasat Chrey, had already been de-mined. It's a good size, a sandstone and laterite mix with a lantern causeway leading to one central tower opening to the east with a sandstone porch, two libraries and three gates in the laterite enclosing wall. It was a nice setting and a good temple, just five minutes from Beng Mealea, to end our expedition.
In a small café opposite the entrance to Beng Mealea, we stopped for noodles, rice and chicken and thanked Chhun, who pedalled off into the distance with a big grin. At 4pm, we took the road that leads to Banteay Srei on the hunt for our final temple site of the day. Turning south at the temporary home of a de-mining unit, the track was getting a bit tricky and the area remote and another forty-five minutes into our ride, the bumper fell off the 4WD. Rather than risk further damage, Rieng and I walked on and used two young men to guide us to Prasat Banteay Ampil. Another fifteen minute walk, along a flooded path and across rice fields near the village of Andong Pei, we arrived at the temple. And what an excellent find it was. Amongst the trees and sounds of cicadas, and with the 5pm golden light shining on it, the temple looked at its best. Inside a large laterite wall with sandstone gopuras, are two libraries and one substantial central tower with a porch, open to the east and west and housing some attractive carvings and lintels. It was tricky as the path through the temple is by picking your way around the rubble underfoot but its definitely a temple worth more time than we could allow. With the light fading fast we headed back to Heng and the 4WD, leaving us no time for a look at another ruin nearby, Prasat Lich. Prasat Banteay Ampil is about 8 kms from the main road to Damdek, but local help is essential to locate it. By 7pm, I was back at the Shadow for a long, hot shower and then out to Rieng's home for a gorgeous home-cooked supper with Rieng, Sovann, her parents and three sisters, and lots of chatting and practising English with Phyrun, Kadka and Dary. At 11pm I climbed into bed for a well-earned sleep.
For my last full day in Siem Reap, I opted for an easier day, especially as the next leg of my trip with Sokhom would be the usual endurance test. A late breakfast, I had an hour at the internet café and then joined Phyrun, Rieng's sister in law, at her vegetable pitch in the heart of the old market, much to the amusement of her fellow vendors and customers alike. An hour later, I met with another good friend of mine, Heang, for lunch at the Khmer Kitchen and continued my chat with Sophal, the owner, who took over the restaurant seven years before after being a cook for Medicins Sans Frontieres. As Phyrun had moved her pitch to a new location in the market, I repeated my retail apprenticeship in vegetable-selling, without much success but great fun nonetheless. I'd arranged for a 6.30pm meal with Socheata, Now and Plon at the Shadow restaurant but they were an hour late coming from their Angkor homes, so we had less time to chat and eat our amok, chicken curry and spaghetti before the 9pm arrival of some more friends. I said my goodbyes to Socheata and welcomed Rieng, Heang and Phalla – three great friends of mine – to celebrate my last night with some drinks and friendly banter at a couple of Khmer restaurant-bars, until midnight. We recalled lots of great memories from previous trips together and it was a suitable way to end my stay in Siem Reap.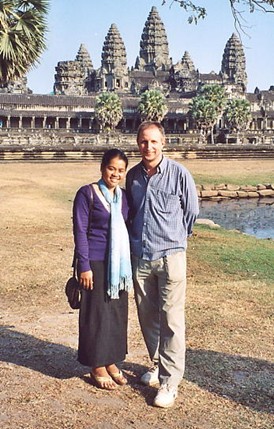 Blog post: More than six years ago, the sister of Noung, my souvenir-selling friend from Angkor Wat, was married to her Japanese husband and moved to live in Japan. Socheata was 22 years old at the time and when I heard the news, I was taken aback as I'd seen her a matter of weeks before and she'd not mentioned it at all. Older and more mature than Noung and with a great sense of humour, I was saddened by the thought of never seeing Socheata again on my frequent visits to the temples. So imagine my surprise when I arrived in Siem Reap this January, to be told that Socheata was back home, living with her parents and working the family souvenir stall at Banteay Kdei temple. My first stop the following morning was just inside the east gate of Banteay Kdei, opposite the Srah Srang lake, where I enjoyed an emotional reunion with Socheata, now 28 and back in Cambodia for the previous five months. It was great to see her again, she hadn't aged at all and her English was considerably better than before. But why was she back? It turns out that her husband, who was 50 at the time they met, had fallen in love with her on three visits to Angkor and at the third time of asking, she agreed to marry him. For the next six years they lived in northern Japan but also spent a lot of time travelling and she'd enjoyed visits to Europe, all of Asia and lots more besides. I was relieved to hear that her marriage had been a happy one but her husband had died six months before and she felt it was best to rejoin her family in their village near Srah Srang lake. Her selling pitch is Banteay Kdei and she's a real hit with the Japanese tourists with her masterful command of their language. We later met up again at Angkor Wat, where the above photo was taken and also for a meal at my guesthouse on my final night in Siem Reap. It was great to renew our friendship and we'll no doubt meet up again on future visits to Angkor.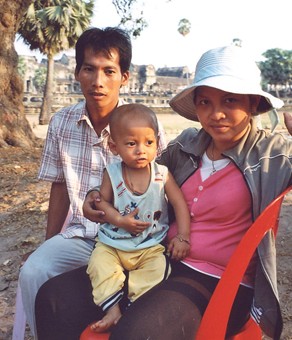 Blog post: In March 1998 I first met Noung in the corridors of Angkor Wat. She was a bright and bubbly twelve year old souvenir seller, and we've remained good friends ever since. You can see some photos of Noung through the years here. I hadn't seen her on my last couple of visits to Cambodia, so in January I was determined to track her down and I was in luck. She'd just returned to work at her stall in the grounds of Angkor Wat and was accompanied by her husband, Mean Somnang and their very recent addition to their family. Noung and her family are still at Angkor Wat, every day, and husband Somnang is a camry driver and can be contacted on 012 636 094. One reunion that I wasn't expecting was with Noung's elder sister, Socheata (see above).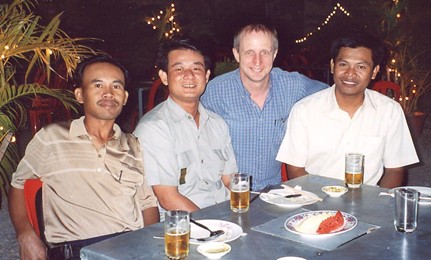 Blog post: Here's a photo from a boy's night out I had with three of my very close friends who live in Siem Reap, during my Cambodia visit in January. From left to right, they are Rieng, Heang, me and Phalla. I always touch base with them when I'm in Cambodia but usually its individually, so this gathering was a special occasion and the beers were on me to celebrate. I don't drink alcohol but that didn't stop them! Rieng is a brilliant guide, Heang is a top-notch driver and Phalla has moved back to Siem Reap to work for a travel company. Over the last few years I've had some great travel experiences with these guys and I hope to have lots more. You can find out more about Rieng and Heang here.
More photos to follow
---
Here's links to the rest of my Cambodia Tales
January 2007 marked my 13th trip to Cambodia since my first-ever visit in 1994. It's a country that has a special magic all of its own and which draws me back every year to venture out into the Cambodian countryside in search of new adventures, ancient temples and to catch up with the friends I've made from previous visits. Each trip is full of laughter, smiles and a host of fresh experiences and my latest expedition was no exception.
---
The contents of this website cannot be reproduced or copied without permission of the site author. (c) Andy Brouwer 2007