---
BLOG ARCHIVE - May 2006
Favourite photos....2
Here's another one of my favourite photos, taken in the Srei Santhor district of Cambodia in January 2003. Its proudly on display on my website homepage, as I pose with half a dozen youngsters in the grounds of a pagoda called Wat Sithor.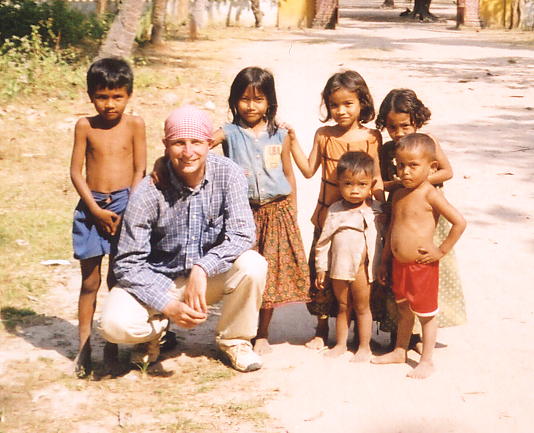 The Srei Santhor district lies to the east of the capital Phnom Penh, across the mighty Mekong River. Its a part of Cambodia that sees practically no tourists or travellers at all, so I was greeted throughout my day in the district with waves, smiles, hello's and a great deal of warmth. My visit to Wat Sithor was no exception. It was 2pm when my dirt-bike driver Sophal and myself reached the extensive grounds of the pagoda. A large brick stupa of indeterminate age stood next to the main vihara, whilst another four even larger brick stupas with porches, almost small temples in size, were situated behind the pagoda and overgrown with vegetation.
From the moment we arrived, I was followed around by the children you see in the photo above, they were absolutely adorable kids who smiled at me constantly, played peek-a-boo, they squealed with laughter when I chased them but never uttered a single word, even when Sophal asked their names. When I suggested a photo they lined up rather sheepishly and then the girl in blue put her arm around my neck - she was so sweet. The red krama (scarf) on my head was to keep the sun off but by the end of the day, my nose was bright red from sunburn - perhaps that's what the children found so funny. The trip was a great success and to get a real taste of life in rural Cambodia, I'd recommend everyone take a trip to Srei Santhor district.
Somaly Mam - a real life heroine

A country with a recent past as tragic and uncompromising as Cambodia's is fortunate to be blessed by a small number of remarkably tough and resourceful citizens such as Somaly Mam. If you aren't aware of Somaly Mam, she's the president and co-founder of AFESIP, a grassroots NGO which works to combat trafficking of women and children into sex slavery. A book, The Silence of Innocence, will be published in English by Virago later this year. In it, she retraces her own life story, as dramatic as any of the women she now helps, and interweaves the testimonies and the tragic destinies of the young girls she has encountered through her work. She is a woman on a mission and received a worthy accolade in February this year when she was selected as one of eight women to carry the Olympic flag at the opening ceremony of the Torino Winter Olympics. This Sunday Times article provides an insight into her daily routine: http://www.timesonline.co.uk/article/0,,2099-1891955,00.html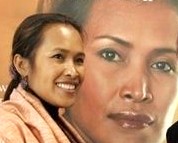 Somaly Mam has also joined forces with the K11 Project, who are producing three films - Holly, A Virgin Harvest and The K11 Journey - that expose the real life stories of children abducted into the horrifying world of child trafficking and prostitution. According to the UN, over two million children, some under the age of five, are trafficked and sold to prostitution each year. Somaly is a key figure in A Virgin Harvest, a documentary dealing with personal testimonies, whilst Holly is a feature length film focusing on the story of an underage prostitute. The K11 Journey is the behind-the-scenes story of the three years of work undertaken to uncover the sex trade in SEAsia by the Project team. To find out more about the worthy K11 Project, go to: http://www.priorityfilms.com/k11/.
Vann Nath - artist and witness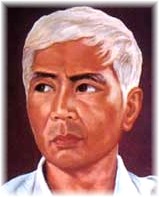 Phatry Derek Pan writes for the Phnom Penh Post and one of his recent stories highlighted the failing health of Vann Nath, potentially a key witness in the Khmer Rouge tribunal scheduled for early 2007, but renowned worldwide for his paintings depicting life and death in the notorious Tuol Sleng Prison. His art and his life story have received press coverage around the globe over many years and he was prominently featured in Rithy Panh's award-winning documentary film, S-21 - The Khmer Rouge Killing Machine. He also wrote about his own experiences in prison in the book, A Cambodian Prison Portrait - One Year in the Khmer Rouge's S-21, published by White Lotus in 1998. The PPP news story of Vann Nath's serious health problems, can be found on Pan's blog at: http://phatrypan.blog.com/608256/. My own webpage on Vann Nath and his paintings that are on view at the Tuol Sleng Museum, can be seen at: http://andybrouwer.co.uk/vnath.html.
Vatey Seng - A heavy price to pay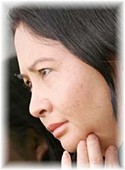 To help her own healing process, Vatey Seng wrote about her experiences under the the Khmer Rouge regime. It took her sixteen years to complete and she called her story, The Price We Paid. Her book was self-published late last year through iUniverse and deserves its place amongst the survivor memoirs that are a lasting testimony to the extreme price that was paid for the Khmer Rouge revolution in Cambodia.
The daughter of a Cambodian military officer, Vatey (pictured) was born into a comfortable middle-class family in 1961. Following the Khmer Rouge victory in 1975, the family - Vatey, her two brothers, five sisters and parents - was forced to abandon their Phnom Penh home. What followed were brutal and dangerous years of forced labour in a series of work and so-called re-education camps. The death of her father, which remains a mystery, occurred early on. During the chaos following the defeat of the Khmer Rouge, Vatey and the remaining members of her family sought refuge in a refugee camp near Thailand. However, the camp was vulnerable to raids by Vietnamese troops and bands of Khmer Rouge soldiers. Married and pregnant with twins at the time, Vatey and her family staged a daring escape and fled to a safer camp in Thailand, where, because her father had been in the military, she and her family were allowed to apply for political asylum to another country.
After spending seven months in the Thai camp and nine months in the Philippines waiting for a sponsor, the family flew to the United States in 1982. Sponsored by the the Catholic Church in Illinois, Vatey, now 21, started out working at a curtain factory, later taking a job as a housekeeper at a hotel. In 1985, she moved to Oakland where she returned to school and earned an Associate of Arts degree in business accounting and word processing. Now 44, and the mother of a 16-year-old daughter, as well as her 24-year-old twins, Vatey works as accounting supervisor at Alameda County's Environmental Health Department. Although 30 years have passed since the beginning of her ordeal, she still has nightmares and relives the painful memories that haunt her. She wakes up, scared and in tears. "I just want it to end," she says. "And I do feel much better after I published the book. But I want the leaders (of the Khmer Rouge) to know what it cost - how they made people suffer."
Vatey has returned to Cambodia twice since her move to the US. The first time was in 1996 and she admits that she felt so scared that she spent most of her time in Phnom Penh. Her next visit, in July 2004, was very different. "We could go to many places, we stayed in Battambang for 3 weeks and went to Siem Reap to see Angkor Wat, Banteay Srei and the waterfall on Phnom Kulen. I had so much fun and felt so good when I was in the countryside. I will take my mom next time, she's 75 and I want her to visit home at least one more time." Despite the occasional nightmare, Vatey concludes, "I've never felt so peaceful and happier as I am right now." To get a copy of The Price We Paid, go to Amazon.com at: http://www.amazon.com/gp/product/059534383X/102-1982679-9864930?v=glance&n=283155.
Sereyvuth Kem - actor, policeman, tour guide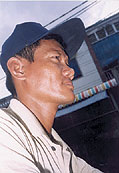 If you haven't heard of Sereyvuth Kem, also known to his friends as Srash, then I recommend you get hold of a copy of the 2002 dvd City of Ghosts starring Matt Dillon (who was making his directorial debut) and James Caan. In my opinion, he's the highlight of the film - besides the atmospheric locations around Cambodia - playing a cyclo-driver, who befriends Dillon's lead character and his portrayal of the amiable, good-hearted and likeable Sok is precisely the behaviour I've seen mirrored amongst a handful of moto-drivers myself. I'm proud to say that some of those motodops have become my closest friends, so Srash's true-life portrayal is one I can easily relate to.
Since Ghosts, Srash has appeared in the 2005 movie Holly, as a vendor and motor mechanic in a ground-breaking film focusing on child trafficking and has just posted his own website at http://mrsoksrash.tripod.com, where he is also happy to act as a tour guide - he tells me he now has his own car - alongside his other jobs of policeman and farmer. Speaking about his role in Ghosts, Srash told me, "For me I just try to be myself for my part in the film and when I see myself in the film, my character, I just want to laugh...because it is the same as my real job and my background. Matt put my real story, my real life into the film."
Matt Dillon originally spotted Srash in front of the Capitol Guest House after the motodop offered him a lift. Dillon declined, but he liked his face, took his photograph and asked him to audition. The Hollywood star set him up with lessons in English, acting and driving. "He's a natural," Dillon gushed. "He's such a great guy, and he's done such a great job." Now 40 years old, Srash grew up in an orphanage in Kompong Thom province. He joined the army and served for three years, worked under UNTAC as an electoral official before moving to Phnom Penh in the hope of finding a better living. In the city, he used his English skills in his job driving tourists around the capital on his moto, combining it with a second job as an Interior Ministry policeman. The lure of Hollywood was but a brief respite from the more mundane and Srash used his fee from his film debut to renovate his family farm in Takeo province.
Author Links....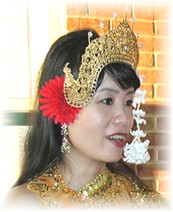 Three female Cambodian authors, each having published an inspiring and moving memoir of their early years growing up in war-torn Cambodia, now have their own websites where you can read more about them as an individual and their survival stories. If you haven't got a copy of their books yet, I urge you to get a copy without delay. Chanrithy Him (pictured left) published her incredibly moving story, When Broken Glass Floats, in 2000 through WW Norton & Co. Her website is at: http://www.chanrithyhim.com. She is currently writing her second book, Unbroken Spirit.
Oni Vitandham published her first book, On The Wings Of A White Horse : A Cambodian Princess's Story of Surviving the Khmer Rouge Genocide, via Tate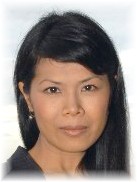 Publishing in April of this year. Oni is also a songwriter and has produed two CD's, and is currently working on her second book. Her website is at: http://www.onistory.com
Theary C Seng (pictured right) published her book, Daughter of the Killing Fields : Asrei's Story, in 2005 though Fusion Press. Her website is at:http://www.asrei.net.
And of course, don't forget to visit Loung Ung's website at http://www.loungung.com.
Favourite photos....1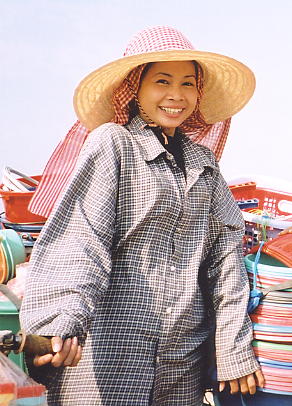 From time to time, I'll post some of my favourite photos, and why... This is Dany and her dazzling smile. I met her and her friend, Kim Hoy, as I crossed a sandbank causeway between two islands in the middle of the Mekong River, in March 2002. The islands were Oknhatey and Koh Dach and the girls were pushing their bicycles, brimming with plastic coloured bowls, through the clogging sand. At we passed each other, with both girls giggling and shyly covering up their beautiful smiles, Dany lost her grip and her cycle crashed to the floor, scattering her wares in all directions. I helped pick up the bowls as they explained they came from Prey Veng province and were staying with friends near Phnom Penh. Dany's smile was absolutely captivating and amid the giggles, she told my moto-driver Ran that I was the first foreigner she'd ever met, and that I had a beautiful (and large) nose! Just another of those moments in time that will forever remind me of what a bewitching place Cambodia is.
My (small) part in Tomb Raider
In the early part of 2000 I received an email from Sam Breckman, the London-based Locations Manager for Paramount Pictures, yes, those heavyweights from Hollywood. He'd seen my website and wanted to come to Gloucester to talk about my experiences in Cambodia. Why? Because he was interested in using the country for a film that Oliver Stone was taking on, called Beyond Borders, and would star Meg Ryan. My gast was flabbered but of course I said yes. At the same time, a contact from Cambodia by the name of Nick Ray was also in the UK, doing his bit for the new Lonely Planet England edition, Nick being the editor for the Cambodia guidebook version though born in Watford. Are you still with me?
My idea was to regale Sam with my love of Cambodia, show him my photos and to match-make Nick with Sam, as Nick had the ability to make Sam's idea come to fruition. The three-way get-together was a rip-roaring success, Sam was hooked. Within a week of our meeting, Sam and Nick flew to Cambodia, scouted various locations relentlessly for a week and it was a done deal. Beyond Borders would be filmed in Cambodia. That was until Oliver Stone decided to pull out. The film was shelved. However, soon after, another film took up the challenge of using Cambodia in its production, and that film was Tomb Raider.
Nick, having already persuaded Paramount that filming in Cambodia was a real possibility, then had to come up with the goods, which he duly did. As the Locations Manager for the Cambodia leg of the film, he was responsible, alongwith his future wife Kulikar, for the successful shooting of the first Hollywood film in Cambodia, and particularly Angkor, for over 35 years, since Peter O'Toole's Lord Jim. Tomb Raider premiered in mid-2001 and Nick and Kulikar were flown to Los Angeles for the opening night. Lucky buggers. Oh I nearly forgot, the gorgeous Angelina Jolie was the star of the film, and also starred in Beyond Borders, when it was eventually shot, in Thailand, in 2002. Nick and Kulikar were involved in that film too.
Why have I brought this up now? Well, yesterday I received an email from a Canadian production company who want to film a documentary in Cambodia for their country's History Channel. Who are the bees-knees when it comes to filming in Cambodia, Nick and Kulikar of course - their company is called Hanuman Films - and I pointed the producer in their direction.
Over the years I've had half a dozen enquiries from documentary producers, of which the coolest one came from the National Geographic tv channel and asked me would I consider taking a small camera crew into the Cambodian jungle to search for ancient temples! Yeah right, someone was pulling my leg. But no, the crew would fly in from Singapore and I'd already suggested the Koh Ker complex of temples as a potential target. Whilst it was an incredible opportunity, it wasn't one I could follow-up due to work commitments and it was forgotten. That is until I saw a Nat Geo documentary a year later that had Prof Charles Higham, a noted SEA archaeological scholar, taking a camera crew into the recently-discovered temples of Koh Ker in a film called Guardians of Angkor. The guardians turned out to be landmines and it was exactly the angle of temples and landmines that I'd suggested to Nat Geo a year before. Sometimes you just have to leave it to the professionals! To read more about Nick's company, Hanuman Films, go to: http://www.hanumanfilms.com/default.html.
Yaz Alexander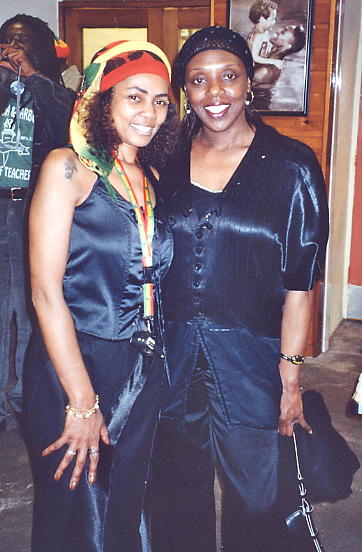 If you've visited my website, I hope you're already aware of Yaz Alexander, a passionate and charismatic vocalist, particularly in the reggae genre though also at home singing jazz, blues, you name it, she can sing it, brilliantly. As yet, Yaz is unsigned, notwithstanding a career in the music industry that has seen her rub shoulders with the likes of Steel Pulse (appearing on three of their albums) and a 14-year association with Pato Banton, as a backing vocalist, both live and in the studio. She's certainly served her apprenticeship and deserves her time in the solo spotlight in my opinion.
To read all about Yaz and to see a stack of my photos taken at various gigs in and around Birmingham, click on: http://andybrouwer.co.uk/yaz.html. If you want to hear Yaz sing two tracks, including the excellent This World, go to her own website at: http://www.myspace.com/yazalexander. The next opportunity to catch Yaz singing live will be at the forthcoming Women In Music Festival, to be held in Birmingham on 2nd & 3rd June. This festival will celebrate females working in the industry and over the two days will feature a variety of styles and artists performing at the South Birmingham College and The Irish Club, both in Digbeth, Birmingham. To read more about the festival, click on their website at: http://www.womeninmusic.co.uk. Yaz will be taking part in the After Show Party on Saturday 3rd June at the Irish Club - Alcester Suite from 9.30pm til late. Also on the late night bill will be Shaz Akira, Lava Flo, DJ Nolo and Juicy Geee. However, don't forget that there's a stack of talented performers doing their bit throughout the day and I particularly recommend watching Jean Mclean at the SBCollege at 6pm. Left is a photo of Yaz (left) and Jean Mclean, taken at the Newtown Community Centre celebrations earlier this month. Tomorrow, I'll tell you the story about my part in the choice of Cambodia for the motion picture, Tomb Raider. It was a small part, but perfectly-rounded!
Lucky Child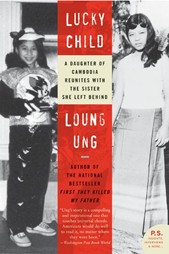 The postman brought me a present direct from author Loung Ung today, a brand new paperback version of her second book, Lucky Child, published by HarperPerennial at a price of $13.95. Having already read the hardback from cover to cover, its an excellent book in my opinion and the paperback (below) contains some additional insights and interviews on top of the main story of Loung and her sister Chou, and their very different lives in America and Cambodia. Also through the postbox came an advance copy of Willa Schneberg's book of poems, Storytelling in Cambodia, to be published by Calyx Books in September. The author was a UN volunteer in Cambodia in the early 90s and her book has a foreward by poet U Sam Oeur, who released his own memoir, Crossing Three Wildernesses, last year. I'm not normally a poem reader so I'm looking forward to see how I get on with this collection.
I mentioned in my blog yesterday about the increasing opportunities for tourism in the Battambang area of Cambodia and this prompted an email from Dickon Verey, who has spent a lot of time and energy in supporting a local NGO in Ksach Poy village, one of the 'new' tourist locations. Dickon pointed me in the direction of the NGO, called Friends Economic Development Association, or FEDA, and their website, which is well worth a visit, at: http://www.fedacambodia.com. Thanks Dickon, I'll do my best to pay the village, the NGO and their brand new House of Light and Knowledge community centre, a visit on my next stop-over in Battambang.
Battambang, Preah Vihear and Steel Pulse....
Battambang, Cambodia's 2nd city, is one of my favourite places in the country. Laid-back almost horizontal, it has a good vibe and the people, much like everywhere else, are great. I was there in January and really enjoyed my stay. If you get the chance to sample the slow pace of life in Battambang, look out for my pal Sak, who'll make sure you get the best out of your visit. Contact Sak on sanvasak@yahoo.com. There's actually quite a bit to see and do in and around Battambang. The two museums are top-notch, the nearby Angkorean temples are definitely worth the effort and in the middle of this year, three new attractions are being promoted by the local Tourism office. Under a project named 'New Life Along Sangke River,' three villages - Watkor, Kompong Seima, and Ksarch Poy - will take centre-stage, as they think of new ways to attract tourism to their area.
Watkor village consists of 20 Khmer traditional houses built almost 100 years ago with the owners encouraged to wear traditional outfits and sell local food. As for Kompong Seima village, it will be a centre for the practice of primitive Khmer farming using traditional agricultural equipment, while in Ksarch Poy village, the inhabitants will grow oranges and many other fruit trees as well as vegetables in traditional style. The villages are sited 5 kilometres from the city. By the way, in 2005, there were 19,140 international tourists visiting the province, up 85% on the previous year.
I've just received a letter from Germany. It was sent by an American teacher who visited the cliff-top temple of Preah Vihear many years before I did. Here's his story:"I was stationed at Ubon Royal Thai Air-Base from Mar-Oct 1973 as a USAF Security Police Officer. After the US Congress imposed a halt on funding the remaining war in Indochina on 15 Aug 1973 (which was pretty much limited to an aerial bombing of Cambodia out of bases in Thailand), we had a bit more time on our hands so a Thai interpreter, a RTAF Msgt Sergeant and a sergeant in our intelligence section decided to try and visit the ruins of Preah Vihear. Renting a pickup truck (no contract required), we headed south to the border. We checked in with the Thai border police and the initial situation did not look good, whilst not told 'no,' the only way we could see the ruins was if the Cambodian soldiers occupying the ruins would let us in. We proceeded to the unmarked border where conversation ensued between the police and the soldiers. We eventually were allowed to see the entrance steps leading to the top and in an eventual 'can we see just a little bit more' gambit secured access to the site. Cambodian soldiers family huts lined the long walkway from the small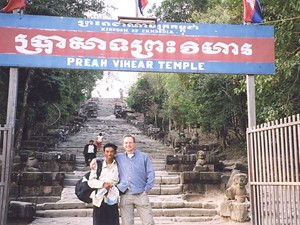 temple at the top of the steps to the larger site. Cleared areas amongst the ruins were also used as vegetable gardens. Buddhist monks were also present. There were, of course, absolutely no tourist brochures though we were told that one particular ruin was a library. The views down into the valley floor were spectacular and in checking the Preah Vihear photos on your website, some of them were the same shots I took. The only historical information I could find about the site was that at one time it had belonged to Thailand until a border readjustment sometime in the 1960s. After my tour in Vietnam and Thailand (Nov 72-Oct 73) I was transferred to northern Japan. I remember hearing in 1975 a news announcement that Preah Vihear had finally fallen to the Khmer Rouge. I find it interesting that my reasonably new Nat Geo atlas of the world lists only two major ruins in Cambodia: Angkor Wat and Preah Vihear." I too visited a deserted Preah Vihear, in March 2002. Here's my story: http://andybrouwer.co.uk/pvihear.html. Above, is a photo of yours truly and my pal Sokhom at the foot of the steps leading to Preah Vihear, taken in January 2005, on my 2nd visit to the temple.
Reggae legends, Steel Pulse kick off their latest USA tour tomorrow with the first of 32 shows, after a handful of gigs in the Indian Ocean. Pulseheads Stateside get to see the band far too often for my liking (whoops, my jealous streak peeking through there) - but they are so popular, that it makes sense they spend so much of their time there. Pulse fly into Europe in early July for a few gigs in France, Belgium & Italy, before returning to the US, Canada and Jamaica (for the big Sunsplash event). Fingers-crossed they'll manage a UK gig or two before the year is out.
More on Casualty....
With a 25-strong crew and actor group heading out to Cambodia this weekend to film a double episode of the popular BBC tv drama series Casualty, I found that the tabloid newspaper The Sun broke the story last week - am I behind the times or what? As well as a return for Duffy, played by actress Cathy Shipton, the d-episode will be a celebratory one, as the series marks its 20th anniversary in September. Duffy was an original cast member and stayed for 13 years before moving on, returning for another stint and then leaving for a second time three years ago. The script calls for her to enlist the help of her former hospital colleagues, in the shape of Charlie, Abs, Comfort and Guppy in setting up a clinic in Cambodia, presumably where she's been residing since her departure from the series. It'll be intriguing to see how much coverage is devoted to showing us glimpses of Cambodia and its people in the final cut. Role on September. Cathy Shipton has also appeared in tv shows like Doctors, The Bill, Holby City, Taggart and One Foot In The Grave, as well as the film Spice World.
Seasoned blogger and comic specialist, John Weeks, has been running his 'webbed feet, web log' for a long while now and as he's just publicised mine, its only right I should repay the favour. So to learn more about the arts in Cambodia and to uncover a host of links to other bloggers, go to:http://jinja.apsara.org/blog/index.htm.
Recently, I received an email from a representative of the Cambodian Ministry of Foreign Affairs, asking me to promote their new e-Visa on-line service. The idea is to access the Ministry's website and enter your passport and credit card details, and hey presto your e-Visa will be delivered to your pc inbox for you to print and avoid those delays on arrival in Cambodia, when at least a dozen immigration officials in uniform take at least 15 minutes to process your visa application. The on-line version costs a few extra dollars but it might suit some of the tourist fraternity to get theirs before they leave home. If you're interested, try it out at: http://evisa.mfaic.gov.kh.
Nail-biting....
I'm just killing a few hours until 3pm when Leeds take on Watford in the Play-off final to decide who gets the third promotion place into the money-spinning Premiership. Basically the whole season comes down to this last game - it doesn't get more nail-bitingly nervous than this! Two years ago Leeds were heading for oblivion, but they've turned it around and are on the threshold of bouncing back to the top flight earlier than I, and many others, ever thought possible. Come on you Leeds...[Update at 6pm... we lost 3-nil and were second best. I'm gutted but there's always next season.]
A pal in Australia has written to me asking for a shout-out to anyone who can help with her Cambodian Orphans appeal. Gaye Miller is putting on a fundraising dinner in Melbourne on 29 July and is seeking support. Her email is gmiller9447@aol.com and you can read more about her appeal at http://www.yatesweb.com.
I received an email the other day from a gentleman who'd been in Cambodia in the very early 70s and reminisced about his time in Phnom Penh. I'm sure he won't mind me reprinting parts of his email here:"I thought Phnom Penh was a lovely city. It had more character and touch of the French than Saigon. Unfortunately I never did get to Angkor Wat. On my next to last trip, it was monsoon season. Four of us caught an Air Cambodge in what was a DC-5 with no luggage racks but fans on the walls. The countryside was like a big lake. We stayed at Le Phnom which was Le Royal on the last visit. The five of us got peddicabs and took a tour of the town. It got dark, and I had a friend coming to the hotel, so I made all kinds of signals to my driver that whichever peddicab got back to the hotel first, he would win 5000 riels. He finally understood and told the others. When he took off I almost got whiplash. This was the first Phnom Penh Peddicab Race. I think it's time to have another.
Phnom Penh was a beautiful city, but it was swollen by refugees from the country. The Institute for Defense Analysis came up with a novel way to conduct a census. Every person, man, woman, or child, eats one cup of uncooked rice per day. So they measured the rice consumption for a couple of months and came up with an estimate. I was out to the north west of Phnom Penh where a friend was building a small house. A couple of miles away, 155 artillery shells were impacting at a railroad crossing called Toul Leap. Then a Huey and a Cobra helicopter appeared, cocked their tails up in the air and fired rockets. They left and three T-28s from Pochentong came over and dropped some 500 lb. bombs. They were followed by three A-37s that also dropped some ordnance. Vietnamese were flying this type of plane in 1972; so I don't know if they were VN or American, but it was obviously coordinated. I had a 2X telextender on my camera as I crawled up a tree to get a better view. I didn't care if it looked as if I had taken the pictures through a Kleenex, I wanted a close-up of the action."Memories - don't you just love them.
Another email arrived yesterday and said... "I've come across your website - I would like to personally thank you for putting a vast range of information about cambodia. Its really touching for me as a cambodian-american, I think personally you touch every key aspect of cambodia from the history to the tragedy." I'm blessed as I get that type of email regularly and they continue to inspire me and confirm that I was spot-on when I decided to post my first travelogue tales from Cambodia, way back in Feb 1999. At the time Cambodia was still viewed with suspicion and nervousness by many travellers and since then, I hope I've done my small bit to allay some of those fears and bring a human face to travel in Cambodia. I don't claim to have single-handedly increased the tourist arrivals past the 1 million mark but I've been part of a wave of writers and travellers who've been to Cambodia, discovered its beauty and wanted to shout it from the roof-tops. Of course it has a down-side - there's bloody tourists everywhere! - but each one of them has a ripple effect on the Khmer people who are a special people, they have survived so much and deserve better. Cambodia has so much to offer the traveller although overwhelmingly, it is the spirit and the warmth of the people that makes it such an exceptional destination.

Update on the BBC tv Casualty visit to Cambodia; Cathy Shipton, aka Duffy (pictured), is flying out this weekend and looks like she'll have a week to absorb the culture and learn her lines before her part of the filming schedule begins. She has to speak Khmer so she's honing her language skills on the plane and is really looking forward to visiting Angkor Wat early in the trip. Cathy's character, one of the original and most popular in the drama series, has been off the scene for a couple of years, so it'll be a welcome return for her legion of fans for this special double episode of the drama, due to be screened around September.
A nice surprise....

Whilst web surfing this afternoon, I popped into Loung Ung's own website at http://www.loungung.com and found a nice surprise in Loung's Blog: "Great Website on Cambodia! Andy's a very cool guy and writer. We met way back in 2001 in England. Needless to say I dig that he's a compassionate and sensitive friend to many Cambodians and everything related to Cambodia. I log onto his site frequently. http://andybrouwer.co.uk/home.html" Thanks Loung, I appreciate and value your support. Loung did an email interview with me way back in 2000, the same year as her first book, First They Killed My Father, was published by HarperCollins, and we've kept in email contact since. I met her briefly on her one and only visit to England in April 2001 at a book-signing/reading session in Birmingham. At the session Loung gave a vivid and passionate description of her life as a child in Cambodia, before and after the takeover by the Khmer Rouge in 1975. She explained why she wrote the book in the style of a child narrator and read three short passages from her work. The most moving part of her story was a powerful account of how she was denied a normal childhood and lost some of the people she loved the most, like her father, mother and two sisters. For a long time, she couldn't understand why her mother had sent her away until she realised that had increased her own chance of survival. And survive, she did. As an orphan in a labour camp, she was trained as a child soldier. "When I was eight, instead of a baseball bat, I had a gun and was trained to run in a zig-zag line to avoid bullets." She was keen to point out that her story was just one of hundreds of thousands of children, whose own stories will never be heard. "If you had been living in Cambodia during this time, this would be your story too."
To promote her book but moreso as a spokesperson for the Campaign For A Landmine Free World, Loung has travelled tirelessly across the length and breadth of the United States speaking at colleges and universities, visited countries worldwide and in early 2005, brought out her second book, Lucky Child. Both books have received widespread acclaim from the general public and I myself have received numerous emails from people inspired by Loung's story and her books. To view my own webpage on Loung, go to: http://andybrouwer.co.uk/lung.html
I reviewed Lucky Child for my own Book Review webpage, and it reads as follows: "Loung Ung's fascinating second book, Lucky Child, picks up the story that began with her first memoir, First They Killed My Father, and with both books I found it impossible to put them down once I'd begun reading. Lucky Child contrasts life for Loung as a refugee in America, with her sister Chou's life in rural Cambodia, and it's a revealing and moving comparison. Loung, with lasting feelings of guilt for those she'd left behind, found it difficult to fit in, whilst Chou, resigned to her fate, displayed the resilience and inner strength that is apparent in so many of her fellow countrymen and women.
I found two parts of this remarkable book particularly poignant, the heart-rending death of three-year-old Kung and the reunion between Chou and her brother Meng after a separation of eleven years. These passages were hard to read. Whilst the eventual meeting of Loung and Chou is an awkward affair, the tale of their brother Kim's escape from Cambodia to France is enthralling. The book tells a tale that underscores the importance of the bond between family members, the sheer strength of the human spirit and will to endure and most of all, it's a story of two sisters who have survived and flourished against all odds. Loung Ung has a special talent at storytelling. I recommend this book without hesitation."
Keeping in touch....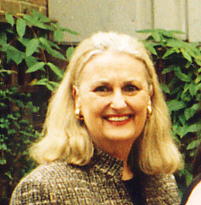 One of the rewarding elements of my involvement in Cambodia over the last few years has been my contact with some of the notable authors who've produced a growing selection of books about the country. I can't speak highly enough of each of them, in particular art historian Dawn Rooney (pictured), who has penned a number of books on Southeast Asian art and culture, particularly her oft-reproduced Angkor: An Introduction to the Temples.
Dawn has been a deep well of information over the last half a dozen years and in her latest email tells me she's on her way back to Cambodia to work with Vittorio Roveda on a forthcoming book they're doing together and to work with the ceramics team from APSARA regarding the month-long mapping they have done of the kilns at Anlong Thom on Phnom Kulen. The book with Roveda, himself an author steeped in Khmer mythology and who's just brought out the meticulous and massive tome Images of the Gods, will be one to look forward to. I believe its aim is to provide a comprehensive review of all of the major and secondary temple sites across Cambodia, a feat not done before as most books linger on the Angkor temple complex and give scant reference to all the other temple sites across the country. As someone with an unquenchable thirst for visiting these temple sites, its certainly a book I've been waiting for, for a long time. And in Rooney and Roveda, its a double-act that will undoubtedly do a seriously good job. And its timely too, with more and more travellers getting away from Angkor and into the beautiful Cambodian countryside to visit places like Banteay Chhmar, Koh Ker, Preah Khan of Kompong Svay, Preah Vihear, Sambor Prei Kuk, the temples of Battambang and Kompong Chhnang, Wat Nokor, Phnom Da and so on. The list is a long one.
An email interview with Dawn can be found on my Hot Off The Press webpage at: http://andybrouwer.co.uk/press.html. After a few years of email contact, it was a real pleasure to meet her for the first time when she took time out of a visit to England to spend the day at my Magic of Cambodia Day in September 2004 as one of our guest speakers. She delighted the audience with her intimate knowledge and experiences, interwoven with her own photographs, during her hour long talk, entitled Angkor: Up Close & Personal. Since her first visit to Angkor in 1969, she's clocked up over 80 visits and is also working on another book as we speak, A History of Cambodian Ceramics with Bonnie Baskin. The book will showcase 2,500 years of pottery in Cambodia. Few people realize that the ceramics tradition in Cambodia goes back to at least 1,000 b.c. It is a tradition that has never been chronicled, detailed, or interpreted until now. And with the research in Cambodia that has taken place in the past five years, there is a wealth of archaeological data for scientific evidence. Its a field in which Dawn is regarded as one of the leading specialists. Also the 5th edition of her Angkor book, is expected to be published anytime soon. To call Dawn prolific would be an understatement, and we haven't even touched on her numerous articles and lectures, tour-leading trips and more. Here's a link to her own Cultural Archive website: http://www.rooneyarchive.net/
A quick re-cap....
In case you are visiting my blog for the first time and aren't aware of my own website, this is a quick re-cap....My website at: http://andybrouwer.co.uk is where you'll find a legion of comprehensive travelogues from my many trips to Cambodia (12 trips so far, more to come), alongwith an abundance of photos, numerous Cambodia-related articles, interviews with people like Loung Ung and Dawn Rooney, book reviews, an extensive bibliography, and much more. My website also hosts the largest unofficial website on reggae legends Steel Pulse alongside a lot more music, more travel and some personal bits &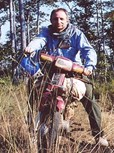 pieces. The Steel Pulse On-Line pages have to be seen to be believed in terms of the breadth of detail, whilst the other music pages include biographies of artists such as: Roy Hill, Yaz Alexander, Ennio Morricone, Incantation, Black Roots, The Natural-Ites, Tony Hinnigan, Percy Dread, Gabbidon and more. Travel includes my trip to Poland and Auschwitz amongst others, whereas the personal stuff houses the usual baby photos and such-like. My website is very much a 'work in progress'. Whilst it already contains hours of reading, I still have more travel stories from my visit to Cambodia in January 2006 to post as well as my travel photos from the last four or five Cambodia trips. Right, is a pic of me on my pal's moto in the middle of the Cambodian countryside, many miles from civilisation. Great fun.
Opening the door a little....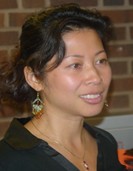 In e-mail contact with author Loung Ung yesterday (pictured), who tells me she's still recovering from a skiing accident she suffered eight months ago and which has hindered her movements ever since. She is working with therapists and trainers five days a week to get back to full fitness but its a long haul. She's one helluva tough cookie, so I know she'll get there in the end. Her second novel, Lucky Child, has just come out in paperback and she's sending me a copy. If you get the chance to read this book, don't miss the opportunity, it's excellent.
Hard luck on Arsenal, who lost to Barcelona in the European Cup final the other night (though great news that Thiery Henry has signed on for another 4 years). Fingers crossed that Leeds United have more success against Watford in the Play-off final this coming Sunday. I'm off to watch the game at my brother Tim's house so we can shout & scream at the tv to our heart's content. We're both big Leeds fans, so only 1 result will satisfy us.
I can reveal my 'insider' on the Casualty gig in Cambodia is none other than actress Cathy Shipton, aka Duffy, one of the drama's most popular characters. They fly out soon to begin filming - I hope it goes swimmingly for them. Word reached me recently that the popular BBC tv serial, Casualty, will be filmed over in Cambodia in the next few weeks and will be screened on UK tv in September. The storyline will involve former hospital staff now working in a clinic in Cambodia. More as I get it. Casualty is an extremely popular programme in the UK and I think its great news that the BBC have taken the gamble to film an episode in Cambodia.
By the way, welcome through my open door where I'll post random thoughts, ruminations, events, comings and goings and any other items that spring to mind. It's a good excuse to exercise my typing fingers in preparation for when I finally get around to penning the outstanding travelogue tales from my trip to Cambodia in January, or setting my scanner alight with the hundreds of photos I need to post to my website from my last four or five visits to that special country. I will get around to it, honest. I began my open door on my own website a few weeks ago but thought I'd post it here instead. My own website is at: http://andybrouwer.co.uk.
---
The contents of this website cannot be reproduced or copied without permission of the site author. © Andy Brouwer 2007