---
CAMBODIA - BOOK REVIEWS
---
Denise's celebration of dance
Cambodian Dance: Celebration of the Gods - by Denise Heywood
Just arrived this afternoon with the ink still wet on its pages is Denise Heywood's glossy coffee-table book, Cambodian Dance: Celebration of the Gods. Denise adores Khmer art and classical dance is an extension of her love and this shines through in this celebratory book, with a foreword by one of the country's best dancers of her generation, Princess Norodom Buppha Devi. Lavishly illustrated with lots of gorgeous photos and drawings, the book introduces a history of Cambodian dance, the role of the French in bringing it to the attention of the West, the paintings of dancers by Auguste Rodin, the Reamker from which many of the dances were born, and the stories of the dancers and teachers who have played a vital role in its revival after the Pol Pot horrors. The book also discusses Khmer music, shadow puppets and the future of dance in Cambodia. It's 144 pages with 300 illustrations, 208 of them in full colour and published by River Books in Thailand, at a cost of $45.00. Denise lived in Cambodia for a couple of years, and is a journalist, lecturer, photographer and acknowledged expert on art and history of the countries of the Mekong region. She's an all-round whirlwind who oozes passion and energy for her topics and is much in demand as a speaker and tour leader. She is also the author of the book, Ancient Luang Prabang. In her latest book she has done Cambodia proud with a beautiful publication.
Cambodian Dance: Celebration of the Gods - by Denise Heywood. First published by River Books November 2008. 144 pages.
---
"Never give up hope"
Golden Bones: An Extraordinary Journey from Hell in Cambodia to a New Life in America - by Sichan Siv
I've waited a while to get to read Golden Bones, the story of Sichan Siv's extraordinary story of survival from Cambodia's darkest hour to living the American dream and rising from apple picker and cabbie to represent his adopted country as an Ambassador at the United Nations. It is truly an inspirational story and whilst Sichan makes no bones (sorry but i couldn't resist it) about his love for America and what it has helped him to achieve, he doesn't miss an opportunity to remind us of his golden bones - blessed with incredible luck - roots, whether in the form of his mother's mantra of "never give up hope," a classic Khmer folktale or stories of his return to trace those that helped him on his incredible journey. As a Brit I learnt quite a bit about the American system from Sichan's book, I smiled inwardly when I read of his friendship with one of my all-time favorite thriller writters Eric Van Lustbader and that his father's village is named Hanuman, the name of the company I now work for. In addition, he has a connection through his favourite teacher, Roger Jones to my hometown of Cheltenham in England, and during my own lobbying days in the early '90s, it was Roger's brother Nigel, my local Member of Parliament, who supported my efforts at a national level. It was a pleasure to finally meet Sichan and his wife Martha last year during one of their frequent visits to Phnom Penh and in the flesh, Sichan and Martha are a sincere and down to earth couple, he has a mind like a steel-trap, the memory of an elephant, is not afraid to poke fun at himself and would easily make my top three list to invite to a dinner party - his wealth of experiences would keep everyone engrossed all evening. The style of the book is easy to read, and whilst he skips over his story between working for both of the Bush presidents, there's more than enough in this HaperCollins-published memoir of a classic American immigrant success story to strike a chord with everyone.

I posted a Q&A with Sichan on my blog in May 2007, almost a year before the memoir was published. Here's what he had to say:
Q. After 30 years in the US, do you think of yourself as Khmer or American? And how do you reconcile one alongside the other?
I am both. I am an ABC: American By Choice or American Born Cambodian! I feel privileged to be an American of Cambodian ancestry, enjoying the blessings of freedom and opportunities, and being able to maintain an ancient cultural heritage.
Q. What was the catalyst for your career at the White House and then at the UN?
I became interested in the US political process while watching TV coverage of the Democratic and Republican national conventions in the summer of 1976. From my involvement in refugee resettlement and the plight of Cambodia in the 70s and 80s, I became more familiar with how Washington works. In 1988, I volunteered for the Bush campaign to better understand presidential elections. The thought never crossed my mind that I would end up working for two Presidents of the United States.
Q. What has been the rationale and motives behind your successful career?
Adapt and be adopted! I had two dollars in my pocket when I arrived in America in 1976. I worked hard to adapt myself to America, so that America would adopt me. My mother told me when I was a child to "never give up hope, no matter what happens." Hope kept me alive and helped me move forward in some of the most difficult circumstances.
Q. To be employed by 2 US Presidents is a rare achievement, but what would you consider as your proudest moment...and your greatest achievement?
At the White House, I was proudest when I said "On behalf of the President." At the United Nations, when I walked in, my colleagues from 190 countries looked at me. Through me, they saw America. They saw its promise. They saw its opportunity. They wanted to hear what I had to say. When I uttered: "On behalf of the President and Government of the United States and the American people," that was my proudest moment. My greatest achievement has been the ability to implement the President's policies that help hundreds of millions of people around the world.
Q. Were you able to achieve anything working for the Administration that aided and supported Cambodia and the Khmer people?
My two presidential appointments, at the White House under President George Bush (41) and as an ambassador to the United Nations under President George W. Bush (43), had national and global scope. They were not to work on Cambodia. Yet, at the White House I was able to participate in the peace process that led to the 1991 Paris Accord and organize numerous briefings on Cambodia to maintain awareness and keep the issue front and center. At the UN, the United States has been the leader in all UN development, economic, and humanitarian programs. I am happy that the Khmer people have benefited from them.
Q. Briefly, what did your Ambassadorial role involve over the last 5 years?
The focus was from "cradle to coffin." My responsibilities ranged from children, to health, HIV/AIDS, economic issues, food crises, humanitarian disasters, human rights, refugees, women, all the way to aging. The United States is the largest donor to all these programs and my office at the US Mission to the UN oversaw some 70% of the U.N. budget.
Q. Have you returned to Cambodia since leaving in the 70s?
I returned to Cambodia the first time in March 1992 while I was still at the White House. It was 16 years after my escape from the Khmer Rouge forced labor camps. It was quite an emotional trip. In 1994 I took my wife to visit. Since then, we have been to Cambodia on a regular basis. Each time, we enjoy staying longer and longer. I am also pleased to support Cambodian communities around the world.
Q. Can you encapsulate the flavour of your memoir to be published early next year?
GOLDEN BONES is a human story. It recounts my journey from humble beginnings in a sleepy village in Cambodia to the corridors of power in Washington, DC. It is about an extraordinary escape from hell in Cambodia; an American journey from apple orchards to the White House; a timeless and universal tale of love, dreams, hope, and freedom. This is the unique history of two lands: opposite sides of the earth; two cultures: ancient and modern; two nations: weak and strong; two societies: poor and rich. It is the true story of one mother's love and sacrifice, of her son's hope and struggle for survival, and his life between these different worlds.
Q. Finally, what does the future hold for Sichan Siv?
It is hard to predict the future. I will continue to connect, to share, and to inspire. Hopefully, "the best is yet to come!"
Golden Bones - by Sichan Siv. First published by HarperCollins July 2008. 336 pages.
---
Action adventure aplenty
The Judas Strain - by James Rollins
James Rollins' The Judas Strain is a fast-paced action-adventure thriller that utilises Cambodia and in particular The Bayon temple at Angkor in its climactic scenes. I love a well-written thriller being a Robert Ludlum fan and I enjoyed this novel, which mixed together historical and scientific intrigue aplenty in a race against time, roller-coaster, doomsday treasure-hunt. It linked Marco Polo to Angkor amid tales of pirates, cannibals, angelic script, a mutating bacterial virus and glowing bodies as the good guys of Sigma Force battled against the evil Guild. Okay, so I had to suspend my belief quite a few times but that's what good thrillers do, keep you intrigued with a storyline of believable and fictional adventure. The book would make good movie fodder, but the destruction of The Bayon in the closing scenes might present a headache for the Apsara authorities! Link: HarperCollins.
The Judas Strain - by James Rollins. First published by William Morrow/HarperCollins July 2007. 450 pages.

---
To hell and back
To The End of Hell; One Woman's Struggle to Survive The Khmer Rouge - by Denise Affonco
Denise Affonço's heart-wrenching story of her life during the Khmer Rouge reign of terror in Cambodia in the late 70s is a compelling and chilling account of her survival against overwhelming odds. A French citizen, born in Cambodia of a French father, her background was known to her captors but she was able to cling to life, just, to outlive the genocide, and to give evidence at the trial in absentia of Pol Pot and his cronies. For that she remains eternally grateful to the Vietnamese liberators who crushed the Khmer Rouge and their rule by murder, starvation, disease and hard labour, in which 1.7 million Cambodians perished. She escaped this living hell in January 1979 with only her son still alive. Her husband was arrested and never returned, her 9-year-old daughter died of starvation as well as five other members of her husband's family. Denise had the chance to leave before the Khmer Rouge took charge of Phnom Penh but remained with her husband and children, prompted by her husband's blind faith in the communist ideals at the heart of the Khmer Rouge ideology. He effectively signed his own death warrant, and those of others with that misguided devotion, while Denise was left to watch her daughter fade away before her eyes, unable to supplement her meagre rations enough to keep her alive. The inhumane treatment dished out by the Khmer Rouge cadre is exposed in full as Denise miraculously managed to cheat death herself before her liberation by the invading Vietnamese.

To The End of Hell was in large part, penned some twenty-five years ago as evidence at the Khmer Rouge trial but remained locked away until 2005 when it was published in France. The English language edition was released by Reportage Press last month and her recollections serialized in the UK's Sunday Times Magazine. Today, Denise has married again and lives in France. Her memoir, one of more than twenty-five detailing the struggle for survival during the Khmer Rouge regime in my collection, is amongst the most moving and vivid. I recommend you buy it without hesitation. Part of the profits from the sales of the book will go to the Documentation Center of Cambodia (DC-Cam), where a scholarship has been set up in the name of Denise Affonço's nine-year-old daughter Jeannie, who starved to death in 1976. DC-Cam is the independent research centre dedicated to recording the history of the Khmer Rouge period. Link: Reportagepress.
To The End Of Hell: One woman's struggle to survive the Khmer Rouge - by Denise Affonço. First published by Reportage Press, November 2007. 170 pages.
---
America's Cambodia shame
Troubled Relations: The United States and Cambodia since 1870 - by Kenton Clymer
I don't want to sound overly naïve but this book was a real eye-opener for me as to the frankly disgraceful way in which successive United States' administrations have treated third-world countries, in this particular case, Cambodia. This is an abridged and updated version of Kenton Clymer's definitive history of the relationship between the two countries. It was originally published as two volumes in 2004 by Routledge, and this revised edition comes courtesy of Northern Illinois University Press, who graciously sent me a copy for review and where Clymer is a Professor of History.

What I found particularly deplorable was the utter contempt with which senior US diplomats treated Cambodia and its people throughout the period under the microscope. It wasn't just one or two administrations, it was all of them. For most of us, the connection between the two countries came strongly into focus during the Vietnam War when US planes mercilessly bombed perceived enemy strongholds in Cambodia. The attacks led to Cambodia's involvement in the war and to civil war, from which the Khmer Rouge emerged victorious. And we all know that what followed tragically saw nearly one third of the country's population die under the Khmer Rouge's genocidal regime.

I found the whole book fascinating, with Clymer's background research and revelations providing a story that made me angrier as I turned each new page. In fact, this book should be compulsory reading for any American visiting Cambodia today, so they are made aware of their own country's shambolic and disgraceful attitude towards this increasingly popular tourist destination. The fact that the United States, alongwith my own country, the United Kingdom, supported the continuation of the Khmer Rouge seat at the United Nations for so long, for purely anti-Soviet and Vietnamese political reasons, even though they were both fully aware of the genocide perpetrated by its leadership and cadre, makes my blood boil even now. And its not abaited today, with some individuals still seeking regime change by blocking vital funding.

America's first interest in Cambodia stemmed from intrepid travelers like Frank Vincent Jr, Jacob Conner, Helen Churchill Candee, Harry A Franck and Robert Casey who all wrote about their adventures in Cambodia before the missionaries moved in, albeit with limited success. It was the period after the 2nd World War that America began to take more interest in this gentle, faraway land as the threat of communism reared its head in Asia and the on-off love affair with Cambodia's mercurial leader, Norodom Sihanouk, began. In the 60s, the South Vietnamese and their US allies made frequent incursions into Cambodian territory and American apologies for the loss of Cambodian lives were hollow. The inglorious end to American involvement, firstly in Vietnam and then the final evacuation from Cambodia in April 1975, so graphically portrayed in the film, The Killing Fields, rankled with the US administration and formulated their embarrassing anti-Cambodia stance throughout the 80s. As I finished reading Kenton Clymer's book, I felt that the United States' relationship with Cambodia was one which, if I was an American, I would feel deeply ashamed.
Troubled Relations: The United States and Cambodia since 1870 by Kenton Clymer. First published by Northern Illinois University Press, June 2007. 254 pages.
---
Sam & Sony's story
In The Shade of A Quiet Killing Place - by Sam Sotha
Sam Sotha's story of how he and his wife, Sony, endured and survived the brutal Khmer Rouge regime in Cambodia is a remarkable one. Like so many of his compatriots, they overcame severe hardships and dangers after they were forced to leave their Phnom Penh home in April 1975. And their story is one of an incredibly strong bond between husband and wife and their equally strong faith in their Christian beliefs. Sam wrote his memoir in 1981 whilst in a refugee holding camp prior to their resettlement to the United States a year later. It describes in graphic detail, supplemented by his own drawings, of their evacuation from Phnom Penh, imprisonment, hard labour, separation, hospitalization and their daily life during those tortuous years. Throughout they found comfort and strength in each other and in their faith. Following the Vietnamese liberation and the birth of their daughter, they decided to head west to rejoin family in Battambang and passing through Phnom Penh and Siem Reap, they eventually took shelter with other refugees in one of the Thai-Cambodian border camps. The book's Epilogue brings us up to date and provides a fitting and moving finale to the story. Today, Sam Sotha is secretary-general of the Cambodian Mine Action Centre (CMAC), having returned to Cambodia in 1995. His unstinting efforts on behalf of others in the United States and Cambodia are a shining example to all, and his story, a celebration of how two people were able to overcome overwhelming odds to survive and prosper.
In The Shade Of A Quiet Killing Place - A Personal Memoir by Sam Sotha. First edition published by Heaven Lake Press, June 2007.
---
Window on Cambodia
Images of Cambodia - This Must Be The Place - by Eric de Vries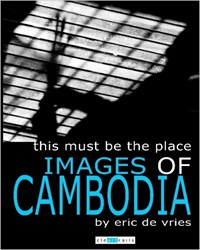 Eric de Vries' love affair with Cambodia began in 2000 and shows no sign of waning as he's just about to spend the next six months based in Phnom Penh on assignment. A photographer and artist, his book, Images of Cambodia - This Must Be The Place, was published by Cleartrails Publishing in The Netherlands in December 2006 and contains nearly 150 black & white and colour images taken between 2000 and 2006. The majority are black & white, capturing the good, the bad and the ugly faces of Cambodia, the smiles and the scowls, the signs of hope and the darker, more brooding aspects of this beautiful but tragic country. From Angkor to Bokor, from rubbish dumps to S-21, landscapes, portraits and images from around town and the countryside, evoke the diversity of Cambodia for the viewer. At least thirty of the photographs constitute the complete collections of four exhibitions that the photographer held in Phnom Penh and in The Netherlands in 2005. Images of Cambodia is a very valuable addition to the all-too-sparse number of publications of photographs outside those of Angkor and Cambodia's temples. He's also published two other books this year, A Blues For Buddha and Hanoi Black and White. You can order all of these books via the author's website.
Images of Cambodia - This Must Be The Place by Eric de Vries. First edition December 2006. 200 pages. Published by Cleartrails Publishing. ISBN 978-90-78782-01-8. £22.47.
---
Bones That Float, A Story of Adopting Cambodia - by Kari Grady Grossman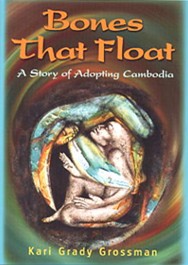 Cambodia gatecrashes your psyche, it worms its way into every pore of your body and it captures your heart like nowhere else. That's how I feel about Cambodia and in her book, Bones That Float, A Story of Adopting Cambodia, Kari Grady Grossman exudes similar feelings for this magical faraway land. Not only did Kari and George Grady Grossman adopt a son, they also adopted a country and its culture. Bones That Float is a beautifully written book - it felt like a tutorial in love, as well as lessons in history, survival, cooking and hope for the future - that brought me to tears and happiness in equal measure. I loved it.
It's the journey to parenthood for Kari and George with the adoption of Grady and a search for his birthfamily, weaved amongst two other tales, of Amanda and her family's story of survival, and Sovann, bursting with typical Khmer ingenuity but forever dreaming of a life in America. The legacy of Grady's adoption is a lasting one. Kari and George founded a school in their son's honour in 2001 and 25% of the proceeds from this book will support the school as it makes a real difference to the lives of nearly 500 children in the remote village of Chrauk Tiek. Bones That Float is available in major bookstores and online booksellers, however, the best way to ensure more money goes towards the school is by purchasing it directly from www.bonesthatfloat.com or by mail from Wild Heaven Press. Go to the book's website to find out more about Kari and her story, and I urge you to visit the school's website to read a lot more about this on-going success story.
Bones That Float, A Story of Adopting Cambodia by Kari Grady Grossman. First edition April 2007. 250 pages. Published by Wild Heaven Press. ISBN 978-0-9792493-0-3. $24.95.
---
Cambodia's smiling faces
The Face Towers of Banteay Chmar - by Baku Saito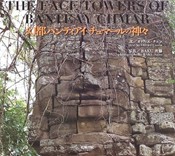 For someone like me who has always found immense fascination with the face towers of Cambodia, The Face Towers of Banteay Chmar, published by Goto Shoin from Japan, is the perfect Christmas present. 150 pages devoted to the enigmatic faces believed to King Jayavarman VII, from the remote and ruined temple of Banteay Chhmar, its satellite temples - which I visited in January 2005 - and the even more ruinous temple complex at Preah Khan of Kompong Svay.
For photographer Baku Saito this was an opportunity to complete his project to capture all of the face towers in Cambodia, having previously produced exhibitions and a book for Unesco on the more readily-accessible faces of The Bayon and the other temples at Angkor. In all there are 228 faces at The Bayon and more at the temples of Ta Prohm, Banteay Kdei, Ta Som and the Gates of Angkor Thom. These faces began appearing in the latter half of the Bayon style period, after 1200 and are known as 'the smile of Angkor'. The task of capturing the faces at Banteay Chhmar was a tougher assignment, one which Baku Saito has come through with flying colours, with no less than 58 pages of the book housing gorgeous colour plates of the temples and towers, another 40 pages containing black & white shots of each face he encountered (31 in total) as well as plans of each temple site. No effective restoration work has yet taken place at Banteay Chhmar and the book highlights the need for urgent conservation studies to be undertaken, especially as one of the face towers collapsed in 2004. There are now 70 face towers still standing in the whole of the country, though some are in an advanced state of ruin - its time to act now to save these incredible masterpieces of Khmer culture.
The photographs show that the faces at four of the satellite temples surrounding the main Banteay Chhmar complex, as well as the face tower at the temple of Prasat Preah Stung in Preah Khan are in considerably better condition than those at the main temple site, and adds further ammunition for the urgent restoration of these priceless gems. The book also contains an essay by Olivier Cunin who looks for evidence of more face towers at the temples, which are no longer standing, but the question of who exactly is represented by the faces is left hanging without any definitive conclusion. This book feeds my fascination for these bewitching temples and for that I thank Baku Saito and Goto Shoin for their foresight in publishing this exceptional record.
The Face Towers of Banteay Chmar by Baku Saito. First edition July 2005. 150 pages. Published by Goto Shoin Publishing, Kandaizumi-cho 1-6-2-203, Chiyoda-ku, Tokyo 101-0024, Japan. Tel +81-3-5825-3620. Price: 3,333 Japanese Yen.
---
Orientations - Asian Art magazine
Angkor - Sacred Heritage of Cambodia

Orientations is a glossy magazine aimed at collectors and connoisseurs of Asian art and the latest issue, Vol 37 # 8 Nov/Dec 2006, is a 'must have' for anyone interested in finding out more about the art of the Angkor civilization in Cambodia. It previews the forthcoming 'Angkor - Sacred Heritage of Cambodia' exhibition to be held in Germany and Switzerland (mid-December to April 2007) and contains no less than thirty pages and six articles on various aspects of the Khmer heritage. Its published in Hong Kong and is available on subscription here. In addition to the Angkor spread, the limelight is shared with articles extolling the virtues of the sacred Chola bronzes from Southern India which are on show at the Royal Academy of Arts in London until the end of February.
As for the Angkor articles, the co-curator of the Bonn exhibition, Helen Jessup discusses the early art of the ancient Khmers, accompanied by gorgeous photos by John Gollings, whilst Wibke Lobo highlights some of the key elements of the exhibition including the bronze Vishnu found at the West Mebon in Angkor. Over 100 of the finest pieces of Khmer art will travel from Cambodia to Germany for the show. Brilliant scholar Ang Choulean explores the traditions of the linga in Cambodia, while Hab Touch and Lucie Folan of the National Museum discuss Khmer art held overseas and recent instances where sculptures have been identified and reunited through international efforts. Far too much of the Khmer heritage is held abroad in museums or private collections and its high time these antiquities were returned to their rightful home. HeritageWatch director Dougald O'Reilly makes it quite clear that urgent efforts need to continue to stem the flow of artefacts leaving Cambodia and his organization are at the forefront of that battle to keep them in their homeland, as I've highlighted in previous postings on my blog.
Perhaps the most interesting article in the Angkor section of the magazine is a second piece by Helen Jessup, where she introduces a few of the elder statesmen as well as some of their younger and dynamic students, who are among those making a real difference in various fields like archaeology and ceramics. Jessup provides an insight into the individuals and gleans from them, a view of the current challenges facing Cambodia's cultural identity. She interviews people of the stature of Vann Molyvann, Ang Choulean and statesman and archaeologist Son Soubert, alongwith architects Hok Sokol and Long Nary, and ceramics experts like Ea Darith, Pich Thyda and Chap Sopheara. Ly Daravuth of the Reyum Institute, and Hab Touch, deputy director of the National Museum are deservedly highlighted, as is the Museum's director Khun Samen, who has recently celebrated a decade in charge after taking over from Pich Keo. All in all, an excellent magazine and well worth getting hold of a copy.
Orientations - The magazine for collectors and connoisseurs of Asian art. Available here. US$14.
---
Angkor's myths and legends
Images of the Gods - by Vittorio Roveda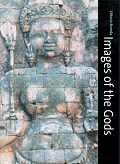 Vittorio Roveda's latest publication, Images of the Gods, is an impressively comprehensive undertaking which presents the author's own meticulous research into the meaning and messages of the vast array of Khmer motifs and myths portrayed in the temples of Cambodia, Thailand and Laos. On lintels, pediments, statues and in bas-relief, the lives and legends of Hindu gods, adopted and transformed from Indian sources and Buddhist themes, come to life. And in this encyclopedic tome, Roveda examines those themes in rich detail.
An expert commentary of the Hindu myths is presented in sections on Vishnu, Krishna, the Mahabharata, Rama and Shiva. The lives of lesser gods and deities like Brahma, Ganesha, Garuda, Indra, Rahu, Yama and Hanuman are explained. The majority of reliefs illustrate mythological and religious narratives, some dealing with real life events such as battle scenes and royal processions, others show scenes of daily life and tapestry reliefs with floral motifs and figures. Decorative elements on lintels, walls, pilasters and door-frames include apsaras and devatas, dvarapalas, kalas and makaras and free-standing sculpture such as nagas and lion guardians. In addition, the Buddhist legends reveal sacred text from the Jatakas and the life of Buddha, as well as the cult of Lokeshvara, most famously celebrated at Banteay Chhmar and other temples built by Jayavarman VII.
In the second part of the book, this incredible array of visual narratives are described and illustrated as they appear at over 100 Khmer temples at different locations throughout Cambodia, Thailand and Laos. In each section of the book, Roveda includes numerous photographic examples to accompany his descriptions and to enable readers to identify the myths for themselves. In fact, no less than 2,400 colour images are included in the text and on a supplemental DVD. River Books of Bangkok published the book earlier this year, it has 544 pages, and is an essential companion for anyone with more than a passing interest in Khmer mythology and symbolism. Roveda is currently collaborating with Dawn Rooney on a guidebook to the temples of Cambodia, that'll cover both Angkor and beyond, a book that will benefit from both authors' insatiable love and respect for Khmer history.
Images of the Gods by Vittorio Roveda. First edition 2006. 544 pages. $90.00 hardback. ISBN 974-9863-03-8.
---
History re-told
The Treasures of Angkor - by Marilia Albanese & A Short History of Cambodia: From Empire to Survivial - by John Tully
I've just finished reading a gorgeous new traveller's guidebook called The Treasures of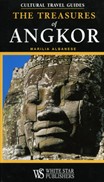 Angkor by Italian journalist Marilia Albanese. Its published by White Star and is a great addition to the guides that currently exist to help tourists decipher the crown jewels of Cambodia, the Angkor temple complex. Albanese is a scholar of Indian art and has written a number of books about India before turning her attention to Cambodia. In 2003 she published Angkor: Splendors of the Khmer Civilization, a 300 page coffee table-sized book that provided an in-depth commentary on the history and beliefs of the Khmers, alongwith a host of beautiful photos. For her latest publication, Albanese has compiled a compact and handy pocket-sized guide that houses a wealth of information within its 290 pages on each temple in the Angkor complex, together with a temple plan and what to look out for on your visit. The photos in the guidebook are excellent, especially the close-up pictures of some of the statues to be found in the National Museum and in the Guimet Museum in Paris. The author also takes you on a trip through the various stages of the developing artistic styles and the basic elements of the temple structures as well as identifying the carvings and deities you'll encounter along the way. The temples themselves are explored in six groupings, mostly in chronological order though with some variations. I'm sure the guide will prove popular because of its size and depth of information. It reminded me of a more slimline and convenient to carry version of the excellent Ancient Angkor by Michael Freeman and Claude Jacques.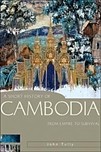 Another of the books I've just finished is John Tully's A Short History of Cambodia: From Empire to Survival, and I really enjoyed it. The author's style was engaging and easy to follow, not heavy at all and its intended audience - tourists, students and general readers with an interest in SEAsia - will gain much from his concise interpretation of Cambodia's chequered history, which is awash with war, invasion and conflict. Throughout, you can't but feel for the Khmer people who've borne the brunt of so much for so long. The book, published by Allen & Unwin, is 270 pages long. Its not as detailed as David Chandler's History of Cambodia but its not intended to be and hits the spot perfectly in my view. Interestingly, Dr Tully is a lecturer at the Victoria University in Melbourne and pays his dues to his former tutor, David Chandler, acknowledged as the great Cambodian historian. In my opinion, he does a fine job following in his mentor's footsteps.
The Treasures of Angkor by Marilia Albanese. First edition 2006. 290 pages. IBSN 88-544-0117-X. £18.95. A Short History of Cambodia by John Tully. First edition 2006. 270 pages. IBSN 1-74114-763-8. £10.99.
---
Oral rural history
The Monk, The Farmer, The Merchant, The Mother - by Anne Best
A big thank you is due to Dickon Verey. A couple of days ago, he sent me a copy of a book titled The Monk, The Farmer, The Merchant, The Mother, which I have just this minute finished reading. I found it captivating in its simplicity. Dickon has spent the last couple of years raising funds to build and equip a community centre in the village of Ksach Poy, some six kilometres southeast of Battambang, in northwest Cambodia. The centre was the brainchild of the grassroots NGO, FEDA and has become an integral part of the village community.
One of the ways to raise money was to produce this book, compiled by Anne Best and containing the oral histories of four elder statesmen of the village, all in their late 70s or older. Their true life stories provide an absorbing glimpse into a Cambodia that has seen cataclysmic changes, though the fundamentals of village life is much the same today as it was in their youth. Simple but always a struggle. Mey Sampho tells of his life as a monk; Chinn Muon describes in detail how to farm rice; small businesses have been the lifeblood of Nun Chhuon, whilst Prom Tun was a dedicated midwife and mother. All four stories were fascinating, sincere and told with great dignity. I loved them.
The Monk, The Farmer, The Merchant, The Mother by Anne Best. First edition 2005. 170 pages. Available from www.fedacambodia.com
---
Surviving two worlds
On The Wings Of A White Horse - by Oni Vitandham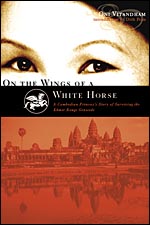 Wow, what an incredible story of survival Oni Vitandham has revealed in this absorbing biography. Told in a clear and easy to read style, Oni describes her miraculous journey through a childhood that would've consumed and defeated most of us, let alone a young girl who'd lost both parents and a succession of guardians. The recollections of her early life are graphic, powerful and vividly portrayed. She witnessed death and cruelty as a daily occurrence under the Khmer Rouge regime, travelling the length and breadth of Cambodia as well as wretched sorties into Laos and Vietnam before ending up in a Thai refugee camp. Beginning a new life in America didn't bring much respite from hardship as she struggled to adapt, ran away from foster homes, lived on the streets and suffered serious abuse. With help, she has turned her life around, become a proud mother and a strong advocate for change. The extent of her suffering - foretold in a prophecy - has set Oni on a mission to help her fellow countrymen, as the founder of an organisation that provides education for Cambodian children. Her courage and determination in the face of overwhelming odds are to be admired. I am sure her story will be an inspiration to many.
On The Wings Of A White Horse by Oni Vitandham. First edition Tate Publishing 2006. 200 pages. $15.95. ISBN 1-5988609-9-2. www.onistory.com
---
History as a personal quest
Facing Death in Cambodia - by Peter Maguire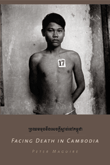 Peter Maguire's mix of personal travelogue and historical study works well, with the author lingering on the question of impunity and the ineffectual international community, whilst interviewing victims and perpetrators of Khmer Rouge crimes on many visits following his first trip to Cambodia in 1994. That first exciting yet unnerving visit in 1994 is something the author and myself have in common, as we do the loss of a close Cambodian friend in recent years. His loss was Sok Sin, well known as every journalist's 'fixer' and Maguire's tale of his demise is poignant. His interviews with the suvivors of Tuol Sleng such as Bou Meng, Vann Nath and Im Chan contrast sharply with the soul-less KR photographer Nhem En and guard Him Huy, whilst DC-Cam and Youk Chhang rightly emerge as a beacon of light in the chaos that is Cambodia. He also tracked down Mai Lam, the Vietnamese colonel who'd turned Tuol Sleng into a Genocide Museum though ultimately their discussions were stymied. I found the book stimulating, frustrating, insightful and vexing in equal measures, with Maguire admitting up front that he ultimately failed to come to any clear-cut conclusions. However, the journey to get to nowhere is an interesting one.
Facing Death in Cambodia by Peter Maguire. First edition Columbia University Press 2005. 275 pages. £19.50. ISBN 0-231-12052-4.
---
A fictional look into Cambodia's past
The King's Last Song - by Geoff Ryman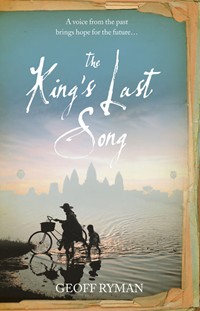 I eagerly awaited Geoff Ryman's novel, The King's Last Song, that links the glories of the Angkor dynasty of King Jayavarman VII with modern-day Cambodia, and I was richly rewarded. It's excellent. I particularly loved the passages that yielded such a vivid and atmospheric recreation of life in the court of the King during the twelfth century that I could almost taste it. Okay, much of it was from the author's own imagination, but I believed it. The book swirls around the life story of Jayarvarman VII written on gold leaves which are found and subsequently stolen. The hunt is on for their recovery and with it, we gain an insight into the Cambodia of today. This book sets a towering standard for new fiction writing on Cambodia that will be difficult to match, let alone exceed. I take my hat off to the author for a wonderful and evocative story that I found impossible to put down. I urge everyone with an interest in Cambodia to buy this book and then encourage your friends and family to do the same.
In the run-up to the book's release in March 2006, I asked Geoff Ryman to fill in some of the blanks about the book itself and his interest in the country. You are widely known for your science fiction and fantasy books, so why a mainstream fictional novel about Cambodia, and what was the catalyst for the book? "I've certainly written and won awards for my SF novels, but they're only about half my work. The most successful novel was 253, about 253 Londoners on a train. It crashes. But mostly the passengers just sit. Was, a historical novel, used The Wizard of Oz as a way into different eras of American history and different kinds of American childhoods, from the 1870s to 1989. In particular about half the book was set in Kansas in the 1870s. The catalyst. Well my first successful fantasy novella, The Unconquered Country was a phatasmagoria around Cambodia. I'd seen a photograph in Look magazine in the States which showed a Cambodian woman in hospital next her soldier husband, not realising he was dead. The image just wouldn't go away, it haunted me for years, especially during and just after the Pol Pot era, when it would have been difficult to travel. Unconquered Country finally came out in 1985. In 2002 I was invited by friends to stay at the Australian archaelogical dig at Siem Reap. I was very lucky and got a tour from the dig director Roland Fletcher of all the monuments in the order they were built, which was an overwhelming introduction to the history. I came back and immediately started to write the Jayavarman sequences. But there was a lot of expense, research, travel and reading to be done. I went back to Cambodia 4 times in two years, the last trip funded by the Author's Foundation. On my second trip, meeting so many Cambodians during the research inspired the modern plot and the whole modern half of the book took off from there." How close are your ties to Cambodia today? "Gosh, the ties should be closer. While there the last time I tried to help set up a writing workshop. I also recorded and got broadcast on Resonance FM a ninety-minute piece about arts in Cambodia. But a lot of pretty severe changes in my personal life have just got in the way of getting back enough...my mom in California is very ill, etc."
Can you give a brief precis of The King's Last Song? "The made up bit of the story is that Jayavarman VII's son has dictated to him his father's personal memoir. It is written on gold leaves to avoid decay and insects, but during the pro Hindu revolt, the book is buried to preserve it from destruction. We do know from a fragmentar inscription translated by Saveros Pou that texts were ordered to be written on gold. Indeed, the person commanding the writing did have the title Jayavarman, but....so there is some justification for this conceit. In 2004, the fictional memoir is accidentally discovered again. There is widespread concern that such a treasure, containing Jayavarman's words, is not stolen. Unfortunately, it is stolen at gunpoint, and the general and the dig director protecting it are taken hostage. The modern story concerns the efforts of two modern Cambodians to get the book and the Professor back. Map is a Patrimony Policeman with too many bad memories of the wars. Veasna, a motoboy in his 20s helps him... without being aware that during the Pol Pot era, Map killed his parents. This relationship is mirrored by that of the Professor, a Frenchman called Luc Andrade, and his kidnapper, en ex-Khmer Rouge cadre. By the end of the novel, both of them are working together to translate the Sanskrit of the original into modern Khmer. Intercut with the efforts to get the book back and to translate it are flashbacks to 1960, 1967 and in one long section to do with Map, 1988 and 89. About half the book is idylls of the King, sections of Jayavarman's life from age six up to the consecration of Preah Khan in 1191. It is also interspersed with sections from the fictional memoir. Some poetic license is needed to get the story to flow, and there is still a lot we don't understand about J.VII's life. So I've had to make up/fill in gaps against a considerable amount of disagreement among scholars as to when he might have been born, what his relationship was with the Chams, etc. So the book is a kind of a collage around Cambodian themes. One thing it does not have is a chapter set in the Khmer Rouge era. That time has been more than adequately covered by people who lived through it."
My thanks to Geoff Ryman for his co-operation. Look out for The King's Last Song, coming your way very soon. The author opened the Huddersfield Literary Festival on 16 March 2006 and launched the book in London a few days later. Read more reviews here.
The King's Last Song by Geoff Ryman. First edition Harper Collins 2006. 490 pages. £10.99. ISBN 0-0022-5988-5.
---
Comrade Duch unmasked
The Lost Executioner : A Story of the Khmer Rouge - by Nic Dunlop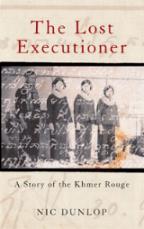 Nic Dunlop's first-rate detective story on the trail of Pol Pot's chief executioner, the notorious Comrade Duch, is a fascinating journey into Cambodia's recent bloody history. Through a series of testimonies by Duch's family members and people who knew him, Dunlop builds up a compelling picture of this former teacher turned mass murderer, whilst also giving us a running commentary on the development of the Khmer Rouge organisation through the eyes of former cadre such as Sokheang, now a human rights investigator though formerly a Khmer Rouge sympathiser.
The Lost Executioner is Dunlop's first book; he's primarily a photographer who became obsessed with S-21, known to many as Tuol Sleng, and its commandant, Comrade Duch. He even kept a photo of Duch in his pocket. By an astonishing stroke of luck, Dunlop met the man responsible for the deaths of more than 20,000 people, in Samlaut, a small town in northwest Cambodia in 1999 and exposed him with the help of Nate Thayer and the Far Eastern Economic Review, leading to his arrest and detention, awaiting trial. Dunlop's subsequent investigations and interviews now provide us with a great wealth of detail about Duch's life before, during and after the Khmer Rouge reign of terror though ultimately the reason for Duch's transformation into a brutal killer remains an unexplained puzzle. In a perverse twist, Duch converted to Christianity, had worked for an American charity, was living under a new identity and had returned to teaching before his unmasking. The book is written in an easy to follow though powerful narrative and I recommend The Lost Executioner to anyone seeking to delve into the morass that is Cambodia's recent past. It's a remarkable and revealing story.
The Lost Executioner: A Story of the Khmer Rouge by Nic Dunlop. First edition Bloomsbury 2005. 352 pp. £16.99 hardback. ISBN 0-7475-6679-4.
---
Life is but a breath
Daughter of the Killing Fields : Asrei's Story - by Theary C Seng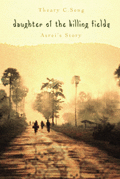 Daughter of the Killing Fields : Asrei's Story is an inspiring personal testimony by Theary Seng of her family's survival of the Khmer Rouge period in Cambodia's recent history. She has combined her own earliest memories with the collective recall of her four brothers and close relatives to produce a powerful and fascinating memoir.
Born in Phnom Penh in 1971, she lost her father in the flight from the capital four years later. Under the Khmer Rouge she lived in the Svay Rieng province bordering Vietnam, where the killing's were most intense and where she spent five months in prison. One night she fell asleep in her mother's embrace and woke up to find her gone forever. Theary and her surviving family members, thirty people in total, trekked across the border to Thailand in late 1979 and emigrated to the United States a year later. Today, she's a successful lawyer and has recently returned to live in the country of her birth, not as a prisoner, but out of choice.
My brief description above takes into little account the trials and tribulations experienced by the family unit. An incredible strength of will and determination to survive, exhibited by Theary and her family members, resonates throughout the whole book, none more so than that embodied by Grandma Yi Hao, a colossus of a matriarch and unflinchingly selfless, who Theary describes as the fragrance of her life. Another worthy example is that of Ta An and Nan, whose own tale is an extraordinary one and who survived the Thai army's forced repatriation of refugees across the landmine-strewn Preah Vihear border.
Asrei's Story is an important historical narrative, written in a matter of fact style, which I didn't find as intense or gripping as some other memoirs covering the same period - Haing Ngor, Loung Ung and Chanrithy Him come to mind - nonetheless, her story is one that should be told and widely read, to inspire us all to combat our individual struggles, even if they may never be as life-shaping as Theary Seng's.
Daughter of the Killing Fields : Asrei's Story by Theary C Seng. First edition Fusion Press 2005. 280 pp. 19 b&w photos. £15.99 hardback. ISBN 1-904132-70-7. Asrei
---
The tale of two sisters, worlds apart
Lucky Child - by Loung Ung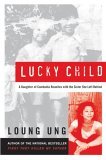 Loung Ung's fascinating second book, Lucky Child, picks up the story that began with her first memoir, First They Killed My Father, and with both books I found it impossible to put them down once I'd begun reading. Lucky Child contrasts life for Loung as a refugee in America, with her sister Chou's life in rural Cambodia, and it's a revealing and moving comparison. Loung, with lasting feelings of guilt for those she'd left behind, found it difficult to fit in, whilst Chou, resigned to her fate, displayed the resilience and inner strength that is apparent in so many of her fellow countrymen and women.
I found two parts of this remarkable book particularly poignant, the heart-rending death of three-year-old Kung and the reunion between Chou and her brother Meng after a separation of eleven years. These passages were hard to read. Whilst the eventual meeting of Loung and Chou is an awkward affair, the tale of their brother Kim's escape from Cambodia to France is enthralling. The book tells a tale that underscores the importance of the bond between family members, the sheer strength of the human spirit and will to endure and most of all, it's a story of two sisters who have survived and flourished against all odds. Loung Ung has a special talent at storytelling. I recommend this book without hesitation.
Lucky Child : A daughter of Cambodia reunites with the sister she left behind by Loung Ung. First edition Harper Collins 2005. 280 pp. 38 b&w photos. $24.95 hardback. ISBN 0-06-073394-2. Loung Ung
For my own interview with Loung Ung, click here.
---
Exposing the long road to justice
Getting Away With Genocide? Elusive Justice and the Khmer Rouge Tribunal - by Tom Fawthrop & Helen Jarvis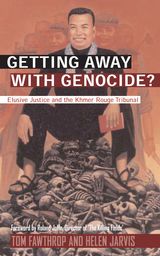 With the long-overdue trial of the Khmer Rouge leadership about to become a reality, this is a well-timed and painstakingly researched publication by British journalist Tom Fawthrop and Aussie academic Helen Jarvis. Whilst I found great chunks of the book fascinating in its detail and as a window into the machinations of the Western superpowers, it began to lose my undivided attention in its latter stages as it explained the twists and turns of passing a Cambodian law to establish a tribunal and reaching agreement with the United Nations on its role. However, what it did highlight for me was the shocking cold-war political double-standards employed by the US and the UK governments, who helped keep the Khmer Rouge and their coalition allies in Cambodia's seat at the UN for eleven years, and who turned a blind eye to China's backing of the Khmer Rouge with money, arms and supplies through a coalescent Thai government. Only the Vietnamese stood up to Pol Pot's army and fought a long and bitter battle against their adversaries, whilst Cambodia suffered an outrageous and shameful aid boycott and another decade of war. The people of Cambodia deserved better. The Khmer Rouge were quite literally, getting away with genocide, while the UN and the Western superpowers used Cambodia as a pawn in their political power games. I found myself getting increasingly angry as I read the first half a dozen chapters of the book.
'Genocide' cleared up a lot of questions I'd harboured for years, particularly as I'd done my share of lobbying in the late '80s and early '90s, displaying my extreme displeasure at the UK government's tacit support of the Khmer Rouge. In fact, my own Member of Parliament, Nigel Jones, was very supportive as his brother had worked in Cambodia for many years, but few others in official office covered themselves with any credit. It certainly showed senior United Nations officials in a poor light, especially Secretary-General Kofi Annan and Hans Corel, the head of the UN's legal team, as they seemed hell-bent on derailing the whole process. Despite their opposition, the Cambodian people can now see some light at the end of the tunnel, after 25 years of inactivity, delays, frustrations and thwarted hopes. A mixed tribunal - one with Cambodian and international participation - might just give the Cambodian people the justice and closure they've been seeking for so long, after the Khmer Rouge were responsible for the deaths of over one quarter of the total population. I sincerely hope so. 'Genocide' tells the story of those 25 years in fascinating detail and is an invaluable reference for the forthcoming tribunal.
Getting Away With Genocide? Elusive Justice and the Khmer Rouge Tribunal by Tom Fawthrop & Helen Jarvis. First edition Pluto Press 2004. 336 pp. 20 b&w photos. $22.95 paperback. ISBN 0-7453-2027-9. Pluto Press
---
A look at contemporary Cambodia
Cambodia Now : Life in the Wake of War - by Karen J Coates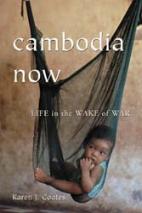 Karen Coates has written a warts 'n' all view of contemporary Cambodia, giving us a glimpse into how hard life really is in a country traumatized by war but which still retains a magical quality that attracts and infatuates people like Coates and her husband Jerry Redfern, both journalists who worked in-country on and off for six years. Personally, I loved the book, I could hardly put it down. I could relate to many of the people Coates met on her travels, and if you get the chance to stay long enough in Cambodia, you will meet them too.
My emotions fluctuated wildly between elation and dismay as I read the stories meshed together from her interviews with scores of Cambodians, from the fragile hope of street beggar Bun Na, to the dogged determination of commune leader Ly Chheng Ky, a lone woman in a typically male-dominated environment. She introduces us to Choun Nhiem, better known as the old sweeper of Ta Prohm from the cover of the popular Lonely Planet guidebook. She interviewed three people I've met on my own travels; Rithy Keo, a supervisor at the Kien Khleang rehab center just outside Phnom Penh, enthusiastic conservationist Tom Evans, working in the forests of Mondulkiri, and Youk Chhang, the tireless and dedicated director of the Documentation Center of Cambodia. These three are just the tip of the iceberg of unsung heroes and heroines working to make a better Cambodia. But its a tough job and Coates makes that abundantly clear throughout her twenty-one chapters, in which she examines the past, present and future, dissecting Cambodia's many ills and its' hopes. This book is a must read for anyone seeking to delve below the flimsy veil of idyllic Cambodian life that most of the tourist hordes see and believe is the real Cambodia. They have little idea of what lies just below the surface.
HOTP caught up with Karen Coates in August 2005 and and asked her, Was it a project that was continually evolving?..."Absolutely! All in all, the book is the result of seven years of work, beginning with the year we lived in Phnom Penh in 1998. I had no idea then that I would write a book. And I had no idea after I decided to write a book that it would take so long to find a publisher. As the years passed, as we returned again and again to Cambodia and learned even more about the country, the manuscript changed dramatically. I often wondered whether it would ever reach print, but I had passed the point where I could simply stop writing. I was way too deep into my examination of the society - and way too captivated to leave it behind." How difficult was it to juggle between the positive and negative takes on life in Cambodia?..."It was a struggle to keep the book from being overwhelmingly grim. I know many of the stories are depressing. But I hope readers will find what I did: that amid all the poverty, corruption, ill health and hopelessness, there are exceptionally bright and talented people with the drive and persistence to work for a better Cambodia. I also believe it's important for people to see the reality of this country (which is not unlike others), even if it is unpleasant to look at. Things won't change if people refuse to face the truth." Do you intend to return to Cambodia often and is it a country that still captivates you as it has always done?..."I imagine I'll always be going back! We have many, many good friends in Cambodia, and my mind is way too deep in the country for me to turn away. Plus, there are still so many places we haven't seen, so many stories we want to do. I only wish we had more months in a year. This fascination and dedication to Cambodia, by the way, is far deeper than I had imagined after our first year of living there. The country has a way of pulling you in." I think anyone who has spent time in Cambodia will readily agree with Karen's final comment.
Cambodia Now: Life in the Wake of War by Karen J Coates. First edition McFarland & Company 2005. 382 pp., photographs by Jerry Redfern. ISBN 0-7864-2051-0. $39.95. McFarland & Company : Redcoates.net
---
Books still to be reviewed
- the following Publishers or authors have sent me copies of the books shown below - my sincere thanks to each of them.
Wakefield Press - Temples & Tuk Tuks : Travels in Cambodia by Lydia Laube
A story of the author's travels through Cambodia.
Praeger - After The Killing Fields : Lessons from the Cambodian Genocide by Craig Etcheson
Craig Etcheson's perceptive book uncovers Cambodia's struggles of the last 30 years.
University of Western Australia Press - Leaving Year Zero : Stories of Surviving Pol Pot's Cambodia by Richard Lunn
This book follows the lives of six Cambodian refugees who've settled in Australia.
iUniverse - The Price We Paid by Vatey Seng
A personal account of the author's life in Cambodia and her escape to America.
Coffee House Press - Crossing Three Wildernesses by U Sam Oeur with Ken McCullough
Celebrated poet U Sam Oeur delivers a haunting personal portrait from Cambodia.
---
The Apsaras of Angkor Wat
Khmer Costumes and Ornaments : Of the Devatas of Angkor Wat - by Sappho Marchal

Published in June 2005, Khmer Costumes and Ornaments is an important translation into English by Merrily Hansen, that brings the painstaking analysis of the unique apsaras of Angkor Wat by Sappho Marchal to a wider audience of present-day scholars and visitors to Cambodia.
Hansen's preface explains; 'During a brief one-week stay in the Angkor Park area, I felt overwhelmed by the complexity and unfamiliarity of the images that blanketed every surface - there was simply too much to absorb or understand. One clear impression that remained, was that of the hundreds and hundreds of celestial nymphs, commonly called apsaras, which are sculpted on the walls and towers of Angkor Wat. Unlike the hieratic and rigid formalism that typically characterizes the free-standing sculpture of the Angkor period, these lithe, sensuous, and animated figures, termed devatas by Marchal, appear like sentient beings only waiting for the god-king's signal to resume their life in the courtyards of Vishnu. On first glance these heavenly figures seem almost identical, whilst on closer inspection myriad differences in their jewellery, headdresses, coiffures and costumes emerge. With the exception of several pairs of identical twins, the devatas arranged singly or intertwined in pairs of two, three, or even more, delight the viewer's eye with their individuality. Marchal ably captures these differences in her meticulously rendered pen and ink drawings included in the 41 separate annotated plates.'
Merrily Hansen explained further to HOTP, "Sappho Marchal was Henri Marchal's daughter. She's now deceased; she was born in 1904 in France and came to Cambodia in 1905 with her parents. She grew up in the shadow of the temples and published this book in 1927 when she was just twenty-three years old. What's wonderful about it is the 41 plates of pen and ink drawings that she drew to illustrate the fabulous headdresses and costumes of the 1,860 apsaras (she calls them devatas) at Angkor Wat. The book consists of an introduction that presents a general discussion of ornaments, headdresses, and garments worn by the devatas, and then it is followed by these 41 plates of pen and ink drawings with a detailed commentary. Great news is that it's been reproduced on a wonderful heavy weight paper which will make it seem like the original, which was a gorgeous letter press printed book. Chris Frape, the publisher of Orchid Press has also pledged to give some of the profits to the German Apsara Conservation Project (GACP) as they were absolutely wonderful to me during my visit last year. I spent a day with them climbing about on the scaffolding at Angkor Wat over the third level on the west side as well as the north gopura which they had just started to repair, so I really got a feeling for the incredible behind-the-scenes conservation efforts that are ongoing at Angkor Wat."
For those interested in these majestic creations, the publication of this translation is all the more precious and timely since many of the original reliefs have severely deteriorated or disappeared due to erosion and weathering of the sandstone. Let's hope the conservation efforts underway will protect these fabulously meticulous carvings for future generations. Khmer Costumes and Ornaments is published in Bangkok by Orchid Press and is a valuable contribution to the art and architecture of Cambodia's priceless treasures.
Khmer Costumes and Ornaments: After the Devata of Angkor Wat by Sappho Marchal (translated from French by Merrily Hansen). First English edition Orchid Press 2005. (1st French edition, 1927) 128 pp., 44 b&w pl., including numerous line drawings. 215 x 152 Softcover. ISBN 974-524-057-5. $16.00. Orchid Press website
---
In the Shadow of Angkor
An Anthology of Contemporary Literature of Cambodia
Published in May 2004, In the Shadow of Angkor is the first collection of contemporary literature of Cambodia to appear since the 1979 defeat of the Khmer Rouge regime. The genocidal regime attempted to destroy the country's literary heritage, murder its authors, and make the population illiterate. With determination and resilience, however, Cambodians have succeeded in recovering the work of a generation of lost writers and continuing a vibrant literary tradition. Says Dith Pran, president of The Dith Pran Holocaust Awareness Project, and compiler of Children of Cambodia's Killing Fields: Memoirs by Survivors, 'In the Shadow of Angkor does a commendable service to Cambodia's people. It reminds the world of the strength of character that has enabled Cambodians to courageously bear witness to intolerable suffering and now, aided by the renewal of the country's arts and literature, to begin a nationwide healing based on experience, wisdom, and compassion.' Loung Ung says of the publication, 'This book shows that the light of literature has not been extinguished in Cambodia, and is growing brighter.'
The collection presents not only fiction, poetry, personal essays, and memoirs, but also lyrics by the young Cambodian American rap artist Prach, a modern spiritual fable by Nobel Prize nominee Maha Ghosananda, and the shooting script of Bophana: A Cambodian Tragedy, by award-winning documentary filmmaker Rithy Panh. Also included are interviews with Cambodian and Cambodian American authors like Ronnie Yimsut and a portfolio of photographs of Angkor Wat by Northern California artist Richard Murai. In the Shadow of Angkor is the latest volume in the Manoa series of new writing from Asia, the Pacific, and the Americas. Edited by Frank Stewart and Sharon May, the book is published by the University of Hawaii Press and may be ordered by visiting the Manoa website here.
---
Michael Freeman's Cambodia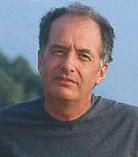 Filling in the template for a changing Cambodia : With Angkor as its capital, the Khmer empire ruled over what is now central and southern Vietnam, southern Laos, Thailand and part of the Malay Peninsula. Now dwindled to Cambodia, Angkor's colossal ruins are the major reason people come to view its remains. Gone are the days when, as late as the end of the 16th century, a visiting Spanish missionary could remark that there were indeed so many precious things in the country that "when the king fled to Laos, he scattered gold and silver coins along the road so that the Siamese would be too busy gathering them up to capture him."
Yet Cambodia is now recovering from its vicissitudes. Michael Freeman tells us in this book [Cambodia, published by Reaktion Books, March 2004] that when a department store in the capital last year installed the country's first escalator "the Phnom Penhois queued to try it out, and the store had to appoint instructors to show people how to use it." True, but it did have the escalator, one of the many comforts of the "first world," and more is to follow. Not all of them perhaps so welcome. The author outlines a few: "A mobile sound-and-light show roaming from temple to temple, the world's largest balloon tethered close to Angkor Wat (an ancient Khmer temple), handing everything over to a Chinese Malaysian contractor to run on efficient Disney-like lines, and installing an escalator on Bakheng hill."
Tourism is a major money-making enterprise in Cambodia. In 1987 there were just 440 visitors; in 2001, a quarter of a million. No wonder then that commerce outruns quality. Already, in 2002, the Grand Hotel near Angkor (now spruced up and run by Raffles) enticed Jose Carreras (one of the ubiquitous "three tenors") to serenade there, and all of the tickets (cheapest were $500) were snatched up by affluent foreign visitors. Another money-making enterprise is the despoilment of those very ruins that attract the tourists. Many sculptures and carved panels are stolen and spirited away to dealers, often to neighboring Thailand. These thieves are, to be sure, only following in the elegant footsteps of Andre Malraux, who eventually became minister of cultural affairs in de Gaulle's government. In 1923, Malraux-turned-tomb-raider-Laura Croft relieved the temple of Banteay Srei of some of its finest ornaments. He was apprehended after he had managed to transport his 600 kg of cut stone all the way to Phnom Penh.
Both the French temple robber and the temple went on to greater things. He to a high government post and, for a time, literary regard; it to a new kind of reconstruction, one that the author describes as "a manicured state of abandon." And the pillage continues. The author himself encountered a whole field of lingas, stolen stone phalli. When asked why so many, he was told that they were not very good sellers compared with more figurative sculptures. "A bit minimalist perhaps," he writes. "The looters had misjudged the market."
His very interesting book is filled with much first-hand information of this sort. Freeman knows his subject. He is a well-regarded writer and photographer, author of three books devoted to Angkor and the other Wats, and here he gives us a general book on the country, one based upon his own activities. He thus structures it in an associative manner, one subject suggesting another, until the template of Cambodia is all filled in. This means that it can be difficult to relocate subjects (there is no index), but it also gives the work an organic unity and allows for much historical association.
In attempting to account for the even now astonishing cruelty of the 'killing fields' of the 1970s and the terrible, implacable Khmer Rouge, the author easily turns to the history lying so near at hand. "There is, it has been said, a vein of ferocity running through Khmer history," and he then gives us examples. In the process, he perhaps forgets that there is a vein of ferocity running through all history, one that surfaces particularly when social reforms, new orders and final solutions are being considered. The horror perpetuated by Pol Pot and his associates was spawned of just such utopian ambitions and none of us are innocent of these.
Very well designed, beautifully illustrated, this volume gives us the past and present of one of the most interesting, and still one of the most unknown countries of Asia.
[by Donald Ritchie, The Japan Times, March 2004]
---
More from the pen of Dawn Rooney
With a 5th edition of her Angkor: An introduction to the Temples on the cards early in 2006, renowned Cambodia scholar Dawn Rooney has published another book, Angkor Observed. It consists of a selection of early western travellers' impressions of Angkor, the capital of the Khmer Empire from the late 9th to the middle of the 15th century. The text is divided into nine chapters and the excerpts cited span over a century, from 1860 onwards. It brings to the reader selections from sixty-eight accounts that are either out-of-print or available only in specialised libraries. A portion of the book is devoted to descriptions of the trials of getting there which are incomprehensible today when we can fly to Cambodia from several international destinations. The text includes tales and legends told by Cambodians about the great site of Angkor. And the author's own reflections from her sixty trips to Cambodia since 1970 mingle with the early accounts and add an intriguing 'then and now' element. Dr. Rooney describes her aim as an effort "to capture the spirit of adventure, written by those who experienced it" and says it was written "in celebration of all those who left their memoirs for us to relive their experiences and perceptions of Angkor." Angkor Observed, with over 80 photographs and illustrations, is published in Bangkok by Orchid Press (ISBN: 974-8304-79-5) and is a 'must' for all lovers of Angkor. To read an interview with Dawn Rooney, click here.
---
2 books reviewed by The New York Times
First They Killed My Father - A Daughter of Cambodia Remembers - by Loung Ung
When Broken Glass Floats - Growing Up Under the Khmer Rouge - by Chanrithy Him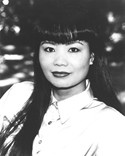 During the three years that the Khmer Rouge tried to create an agrarian utopia in Cambodia, two million people are believed to have died from execution, starvation and disease. Two million - a horrifying number, but so large as to seem almost an abstraction, like the distance to the nearest star. The number gains far greater psychological force with these two new memoirs, whose authors, both young girls in the Cambodia of the time, describe the terror and losses they suffered during the Khmer Rouge revolution in wrenchingly particular terms.
Chanrithy Him (pictured right) was 9 and living with her family in Phnom Penh when the Khmer Rouge forced the entire population of the city to evacuate their homes and trek into the countryside. Loung Ung was 5 and living with her parents and six brothers and sisters when that occurred. Ms. Him's book, "When Broken Glass Floats" (the title refers to a Cambodian proverb), takes her and her large family to a village called Daakpo in northeastern Cambodia and then, after the Vietnamese invasion of 1978 drove the Khmer Rouge from power, to a Thai refugee camp.
Ms. Ung's book, "First They Killed My Father," describes a similar trajectory, beginning in Phnom Penh and winding to a place called Ro Leap in far western Cambodia; in 1978, the surviving members of the Ung family escaped to Vietnam, and then by boat to Thailand. Both Ms. Him and Ms. Ung, who now live in the United States, tell their stories straightforwardly, vividly, and without any strenuous effort to explicate their importance, allowing the stories themselves to create their own impact. Neither of these writers speculates on why the French-educated Khmer Rouge leaders, who seized power after a long guerrilla war, forged a regime in which cruelty and murder became revolutionary values. But they do tell, graphically enough so that it is sometimes difficult to keep on reading, what it meant to be in the way of those values in the years that they prevailed in Cambodia.
"I'm adjusting to my new environment, a world where formality and politeness are not a necessity - indeed are banned," Ms. Him writes of a stretch of several months when, at age 10, she worked in a labor camp. "Instead, cruelty is the law by which the people are ruled, a law designed to break our spirits. In the name of padewat (the revolution)." Both Ms. Him and Ms. Ung have written what might be seen as representative stories from the Cambodia of 1975 to 1978. They came from educated middle-class families, the kind of people who were anathema to the Khmer Rouge, who saw education as an obstacle to acceptance of the radical equality they espoused.
Ms. Him's father was a government bureaucrat; Ms. Ung's, a military policeman. Both were killed by the Khmer Rouge, and so, later, were their wives. Both authors also lost siblings and friends from starvation, overwork, exhaustion and disease. As children, Ms. Him and Ms. Ung knew hunger, forced labor camps, separation, the smell of corpses rotting in fields and the hatred of the tyrants who imposed this suffering on them in the name of a higher good. Ms. Him worked clearing land and planting rice in a children's work camp. Ms. Ung, at the age of 8, received military training in a military training camp for children. "You are the children of the Angkar," the 40 children in the camp were told. The Angkar, meaning organization, was the name given to the Khmer Rouge leadership. "You are here because you are the brightest and fastest. You are fearless and are not afraid to fight. The Angkar needs you to be our future."
Both women begin their books with brief accounts of life in Cambodia just before the American defeat in neighboring South Vietnam enabled the Khmer Rouge to overthrow the pro-American Lon Nol regime and to seize power. Ms. Ung describes herself as a 5-year-old tomboy frequently scolded by her mother for her lack of manners, quarreling with her brothers and sisters and protected by her revered father. In April 1975, Khmer Rouge soldiers appeared in Pnom Penh and told people to leave the city immediately, shooting those who refused on their doorsteps.
"Why are they doing this, Pa?" one of Ms. Ung's brothers asked. "Because they are destroyers of things," he replied. Ms. Ung's father, saying he was an ordinary worker, survived for two years, until one day two soldiers came to the rural work camp where the Ung family was living and told him they needed his help with an ox wagon broken down outside the village. Ms. Ung's father knew it was the end." 'My beautiful girl,' he says to me as his lips quiver into a small smile. 'I have to go away with these two men for a while,' " Ms. Ung writes of that crushing moment.
For Ms. Him, the losses came more quickly. Two weeks after the family arrived in her grandfather's village, her father and her two uncles were taken away in oxcarts for what was called orientation but what was really execution. She remembers the men of her family sitting around a table for breakfast the morning of their departure. "Though together, they seem alone, like strangers who have never met," she writes. "Their stillness sends a strange air through the house, a sadness so heavy that it radiates like thick smoke, choking me. Suddenly I feel lonely."
Other losses followed, most painfully the unnatural deaths of their mothers. Ms. Him was told that her sick mother had been thrown down a well while still alive; Ms. Ung's mother and younger sister were shot in a field by Khmer Rouge soldiers. The authors tread lightly where their own emotions are concerned, concentrating instead on describing the grim task of survival, especially the task of finding food in a starving country. Ms. Him describes the taste of roasted mice. Ms. Ung (pictured right) tells how her mother was beaten when she tried to buy a black market chicken to give to a sick child. Once, she remembers, a poor man in the village killed and ate a stray dog. He was executed by the Khmer Rouge for his failure to share the dog meat with the rest of the community.
Ms. Him and Ms. Ung describe the general joy that greeted the Vietnamese soldiers who invaded Cambodia in 1978 and dislodged the Khmer Rouge from power. Eventually each made her own way to refugee camps in Thailand and to the United States. Ms. Him has worked in a clinic that studies traumatic stress disorders among Cambodian survivors; Ms. Ung is national spokeswoman for the human rights group Campaign for a Land Mine-Free World.
Neither of these books provides an overall history of the horror inflicted by the Khmer Rouge, part of a wider horror brought on by that peculiar 20th-century urge to remake human societies in a new image. The historians will one day write of the overall nature of that effort, the way it linked societies otherwise as different as Ethiopia under Mengistu Haile Mariam, North Korea under Kim Il Sung and Cambodia under the secretive chieftain Pol Pot. For now, these books by two intelligent and morally aware young women tell us what it was like to struggle to survive while others played out utopian dreams above them. (Review by Richard Bernstein. Copyright of The New York Times April 2000). Visit my Loung Ung webpage here.
---
RED LIGHTS and Green Lizards - an insight from the author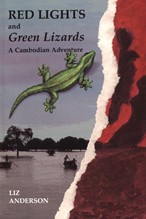 Red Lights and Green Lizards is a book by Liz Anderson, based on her experiences as a medical volunteer in Cambodia from 1991 to 1993. It's both a moving and entertaining picture of life in a country in turmoil and undergoing historic changes. As the author explained to HOTP; "For some of us, the lucky ones, just once in a lifetime combined events combust to give us a singular opportunity. Though its full significance may not be obvious at once, hesitation may be fatal, for such chances do not come again. For my husband and myself, both of us doctors, the chance came only just in time. In 1991 and recently retired from Britain's National Health Service, we answered an advertisement placed by Voluntary Services Overseas for medical posts in Cambodia. That both of us were over sixty and neither had had overseas experience was seemingly no bar (in both these respects VSO has more vision than most) and within a remarkably short space of time we found ourselves whisked away into a very different world.
Tim worked with the medical staff in the run-down National Referral Hospital for Women, teaching modern theory and demonstrating new surgical techniques. And vitally he set to work to investigate the appalling death-rate of mothers in childbirth across the country. From his research has arisen a new manual on the treatment of obstetric emergencies throughout Cambodia, written by Tim and his Cambodian colleagues. My work was rather more colourful. How a brothel in the biggest red-light district in Cambodia came to be the very first full-time clinic for the prostitutes of Phnom Penh is too long a story to relate here. The reasons behind these young girls' degrading struggle to keep body and soul together, behind Cambodia's collapse into dereliction and bankruptcy, is the wider focus of this book. The magnificence of ancient Angkor and the madness of Pol Pot; the aggressiveness of modern-day politics and the ruthless antics of the Khmer Rouge; the beauty of the country and the hearts of its people; all this and much else besides I have attempted to outline in my book Red Lights and Green Lizards. They say it is a good read. I hope you will think so too." Liz Anderson's book is available from Wayfarer Publishing at PO Box 1627, Maidenhead, SL6 0RJ, England. Originally published in 1998, it was reprinted for a third time in 2004.
---
Home : Hot off the Press : Cambodia Tales : Biblio : E-Mail
The contents of this website cannot be reproduced or copied without permission of the site author. © Andy Brouwer 2008
All book reviews by Andy Brouwer, unless otherwise stated. Click to enlarge all photos.