ANDYBROUWER.CO.UK
---
INTERVIEWS WITH STEEL PULSE
former band members
---
CONRAD KELLY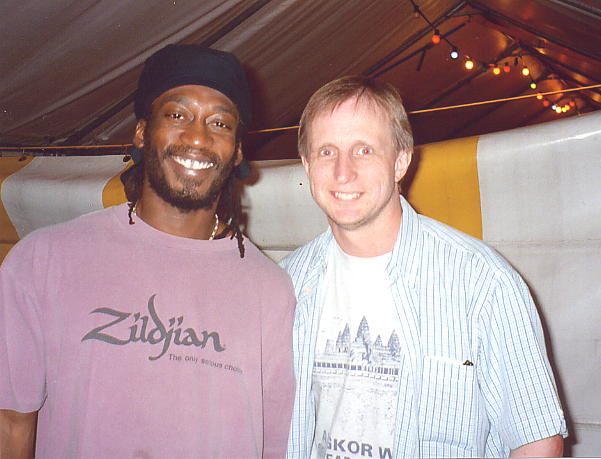 Conrad Kelly (left) with Andy Brouwer at Reggae Sundance, Aug 2003.
Q: Conrad, what is your background?
A: First of all, I was born in Alman Town, Kingston, Jamaica in 1960. I came to England at the age of six and went into primary education in Birmingham. At the age of eleven, I went to Handsworth Wood Boys School, where most of the original members of Steel Pulse attended, and were all pretty much about school leaving age. They were around fifteen at the time and I think they had all left by the time I got into my second year. After leaving school I went onto study English and Literature to A-level before doing a two-year bespoke tailoring diploma - don't ask me why?
Q: What was your musical CV before joining Steel Pulse?
A: The first instrument I learnt to play was guitar and I have always had guitars around the house. After leaving school I managed to obtain a small four shell premier drumkit - that was my first love. And with a couple of guys I was going to college with, we managed to put a little band together playing around the local pubs and Working Men's clubs. That band went onto become Cornerstone in 1979. Cornerstone grew out of the basement of number 37 Linwood Road. We practised there literally every day as a band, and when we didn't, I would be down on my own sometimes up to twelve hours a day. Steel Pulse were (at that time) in the basement of number 16 Linwood Road, which was where David lived so we were literally facing each other. Even from back in that time we were all aware of each other within our community. David and I grew up on the same block so we were never strangers. Sometimes they would pop in and give us some tips, tell us how we were progressing, and lend us an amplifier, or a keyboard, and sometimes Grizzly would come down and show me a few of his funky drum breaks - he's such a brilliant drummer. Funnily enough, he would always talk about us playing in the same band with two drumkits going at the same time, like a Genesis kind of gig. So even though we haven't yet managed to fulfil that dream, being on stage with Grizz has always been an honour. Cornerstone finally broke up in 1990. I also worked with Ben Okafor [a Christian reggae artist from Birmingham], as well as Ijahman Levi, Culture and Freddie McGregor up until 1994 when I joined Pulse.
Q: How did you join the band?
A: My first gig with the band was in November 1994 in Conneticutt. Earlier that year during the Summer (July) I was in Chicago on tour with Ben Okafor and I got a call from Grizz who was in California on the Reggae Sunsplash Tour and he basically said 'I want you to come in and play some of these drums with me.' So we agreed that when our respective tours had ended, we would make the connection and try to work it out. As luck would have it, I came back to England a week before Steel Pulse and went straight off into a six-week European tour with Freddie McGregor. By the time I had finished that tour, Steel Pulse had gone off to New York to start rehearsing for the first VEX album tour and had made arrangements for me to meet them there. We rehearsed for ten days, sometimes up to twelve hours a day, going through the new songs and trying to figure out which songs more suited Grizzly's style and which ones sounded more like Kelly. Eventually it panned out that Grizz would play more of the older songs, which required more vibe (rather than precision) and I would work with the new songs that were more than likely programmed, and therefore required another kind of energy! The funniest thing is that on the day of the first show we were all getting on the bus and David was the last man (not an unusual phenomena), so I went down the road to get a paper, and when I got back, the bus had gone.....so I was left standing on the streets of New York, in the middle of November, wearing nothing but a t-shirt, while the band is on the way to Conneticutt. Guess that's the price you pay for being the new guy. I learned how to get around by rail, that same day.
Q: How does the relationship with Grizzly work?
A: Initially Steve and I would share various songs on drums and percussion (respectively) but after ill health forced him to pull out of the first African tour [in 1998], he decided that he felt more comfortable working strictly with percussions.
Q: What equipment do you use?
A: I play the Yamaha 9000 series R (seven shells) plus timbalee - which is primarily a studio drumkit, but from time to time I do tours with it reluctantly, otherwise I do use the pearl export series. Grizzly has always had a relationship with the pearl drum company and I have an arrangement with SABIAN cymbals corporation.
Q: Where do you feel at 'home' nowadays and how often do you return?
A: I was born out of Kingston, Jamaica, but I grew up in the United Kingdom. My family have always lived in Birmingham, so its fair to say this is where we're at, and I've got people out in Santa Barbara on the west coast of the United States. I spend quite a lot of time in Birmingham but it usually depends on the touring schedules. Sometimes we could be on the road for up to eight months in a year but its always nice to come back and check out what's going on in the community.
Q: How do you relax?
A: I ride bike (when I'm in California) on mountain trails. Otherwise there's not much getting away from this music. Sometimes we might get a day free when we can maybe go and see some historical sight, or maybe we might spend the afternoon in a local school, otherwise being on the road is just that!
Q: What's the highs and lows of touring, and what keeps Steel Pulse going?
A: One of the highlights of playing in the band was going back to Africa again and seeing places that I hadn't seen previously like Gore Island [off the Senegal coast, it was the departure point for millions of black slaves being shipped to America and the Caribbean]. One of the lows is how little rest we get on the road sometimes. The only way I can account for the band's longevity is...GOOD MUSIC. The Steel Pulse message has always been politically motivated, and spoken to people of all colours. So I guess the live audience will most times reflect that.
Q: Who were your own musical influences and which artists do you most admire?
A: Carlton Barrett (Wailers), Bernard Perdy and Steve Nisbett: Beres Hammond, Dr Dre.
Q: Are you involved with other bands?
A: I'm working on a dub album [Dub Plates from the Elephant House Vol 2 - released Nov 2002] with the Groove Corporation in Birmingham, we've had Selwyn come in and slam his vocal on a couple of tracks and its sounding interesting. I worked on percussion and mixing with Angus Cooke for two weeks over in California on the Shilo Pa [Hawaiian artist] debut album, 'Leave Some Land'. That was a lot of fun.
To read a longer interview with Conrad Kelly, conducted by Matte Dread in July 2004, click here
Born in Jamaica, Conrad moved to Birmingham as a youngster and attended Handsworth Wood school, joining a group called Cornerstone in 1979 as their drummer. It was at this time that he was in touch with the members of Steel Pulse and remained so until he finally joined the band in 1994. In between times, he remained with Cornerstone until 1990 and also worked with Ben Okafor, Ijahman Levi, Culture and Freddie McGregor. Initially he played percussion but he swopped with Grizzly Nisbett and took over as the band's drummer. His first album credit for Steel Pulse came with Rage & Fury in 1997. When Conrad was not touring, gigging or rehearsing with Steel Pulse, he worked on albums with the Groove Corporation from Birmingham, Handsworth band Connecting Routes and played percussion on an album by Hawaiian artist, Shilo Pa, before his departure from Steel Pulse in April 2005. Since leaving the band, Conrad has performed with Ben Okafor, Ijahman Levi and will be on percussion for UB40's European tour in July and August.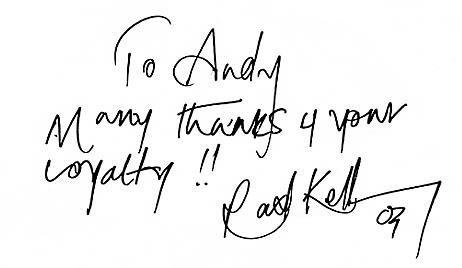 ---
ALVIN EWEN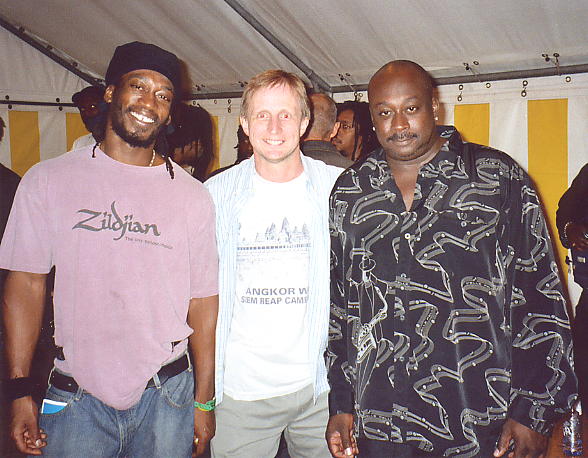 Alvin Ewen (right) with author (middle) and Conrad Kelly at Reggae Sundance, Aug 2003.
Birmingham-born, Alvin 'Rub A Dub' Ewen joined the band in 1983 following the departure of founder member Ronnie McQueen. His first involvement was as bassist for two Earth Crisis album tracks (Earth Crisis and Tightrope) and percussion on Rollerskates. Since then, he's become one of the best known and respected bass players on the reggae scene today. His musical prowess and versatility has seen him provide the basslines for the likes of Edwin Starr, Ziggy Marley (on his 1996 Time Has Come album), Pato Banton (on the albums Never Give In and Wize Up!), Palma International and the 2003 solo album from Donna Gardier, not to mention countless concerts, festivals and tours in his twenty-two years with Steel Pulse. His tenure on the bass with Steel Pulse straddled nine albums until his departure from the band in April 2005.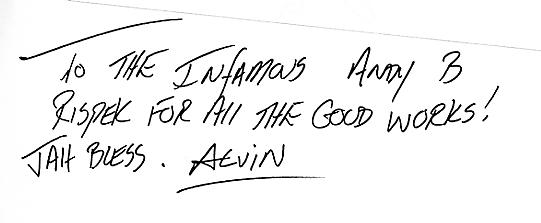 05.
---
DONNA STERLING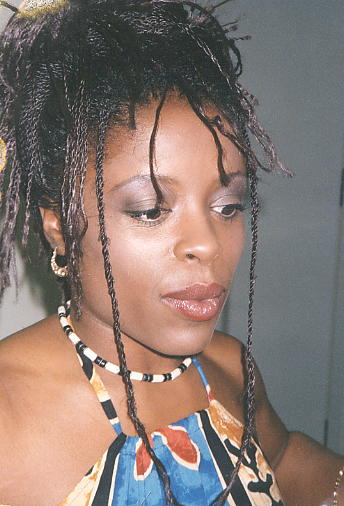 Go to Donna Sterling to read about Donna's career in music and her time with the band.
---
BASIL GABBIDON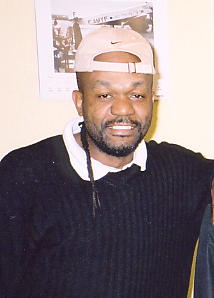 Go to The Basil Gabbidon story to read about Basil's fundamental role in the formation of Steel Pulse and the rest of his intriguing life story.
---
COLIN GABBIDON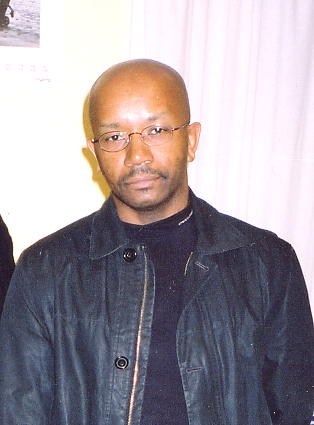 Go to Colin Gabbidon to read the Colin Gabbidon story, Steel Pulse's original drummer and younger brother of lead guitarist Basil Gabbidon. Colin left the band before the release of their second single Nyah Luv in 1977. He's stilll playing regularly and is a very talented artist and painter.
---
MICAH ROBINSON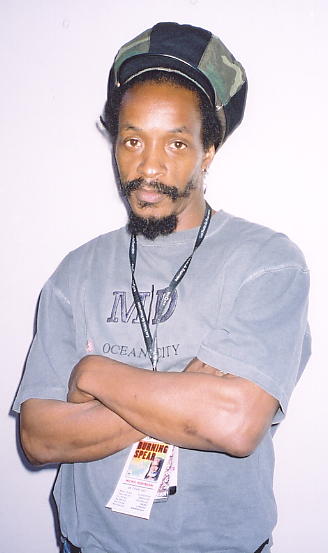 Micah Robinson played trombone on the Steel Pulse album Vex, released in 1994. I caught up with him in 2002 when Burning Spear played in Gloucester, England and he was happy to chat for half an hour before the band took to the stage.
Q. How did your association with Steel Pulse occur?
I lived in New York for fourteen years, I now live in New Jersey, and always played in two or three local bands at once, as well as having a day job. I was involved in jazz jams with be-bop players and began reading music for the first time, taking my musicianship to a new level. People told me I could do a lot better and I began to believe them. I met and played with Kevin Batchelor and Jerry Johnson, as well as Clark Gayton, who's an incredibly talented guy and fellow trombone player. Around this time I also got to know Sid Mills and Moonie Pusey, who were well known on the New York music scene. It was Clark who put my name forward for the Vex album. It was 1994 and Clark had to give up his place after touring with the band as he had other commitments. Kevin also vouched for me and I got the job. We spent about a week in the Grove Studios in Jamaica. The brass on the album was separate from the rest. Myself, Kevin and Jerry did our work in the studio, with David, Selwyn and Grizzly providing their input throughout. I never did tour with Steel Pulse but appearing on Vex helped me get a lot more work. [Vex was released in Sep 1994 and Micah's trombone can be heard on Bootstraps, Back To My Roots, Islands Unite, In My Life, Endangered Species and New World Order.]
Q. Can you tell me the rest of the Micah Robinson story?
Okay. I was born in Oakland, California in 1960. From the age of two until I was twelve I lived in St Catherine's parish in Jamaica before moving back to California, until 1984 when I moved to New York. After fourteen years in New York, I now live in New Jersey. My earliest musical influences were Fred Westley, trombone player with James Brown, Wayne Henderson from the Crusaders and the late JJ Johnson, a jazz legend. I'm a self-taught player and joined my first band at sixteen. I always played with two or three bands, both reggae and jazz whilst in New York as I improved and got more work. However, I made sure I had a day job, I was a pre-law major and have been interested in law and politics since I was young.
After the Steel Pulse job I met James Smith, the trumpet player with Burning Spear and we became close friends. When Nambo Robinson left the Burning Band in 1998 I joined and have since toured the US, Europe, the Caribbean and even South Africa, which was an experience. I played on the Calling Rastafari album that won the 2000 Grammy award. Winston Rodney gave me the nickname 'Prof' - it's short for professional. I split my time touring full-time for six months each year and working in the legal and political field for the rest. When I'm not touring, I play with three other reggae bands, Restless Natives, Cornerstone and Outro and also do jazz work in the studio when asked. I use a larger horn for my jazz work and for my reggae work I use a 'King' trombone which has perfect balance.
---
CLARK GAYTON
Trombone player Clark Gayton toured with Steel Pulse in 1991 and was part of the Pulse posse that produced the 'live' Rastafari Centennial album, recorded in January 1992 in Paris. I contacted Clark by e-mail and asked him a few questions about his time with Steel Pulse.
Q: Can you fill me in on your association with Steel Pulse?
I met Kevin Batchelor in 1981 at the Berklee School of Music in Boston. We hit it off immediately and worked together frequently in Boston. When I moved to New York in 1987, of course we linked up, and found ourselves in the studio scene in New York. The first session we did together in New York was on the Def Jam label, for producer Ron Miller. I don't recall the artist right now, but it was in 1988. Alvin Flythe put the horn session together. By the time I got to New York, Kevin and Jerry Johnson were already working together on scores of recordings and live dates.
I started working with the Skatalites after I left Lionel Hampton in 1989. Tommy McCook called me, and said I was referred to him by E. J. Allen, a trumpet player in NYC. It was during this time that Kevin put me on a record date that was being produced by Sidney Mills. It was with the group "Unity 2", a funky reggae project that was way ahead of it's time, I think. Sid asked me to do a record date with "Israel Vibrations" This must have been in late '89 or early '90, and it was on this date that I met Jerry Johnson for the first time. We had a great blend together immediately, and it was the first of hundreds, if not thousands of recordings that we did together as a horn section.
After the Israel Vibrations date, Sid asked us if we were interested in going on the road with Steel Pulse. We all thought it was a great opportunity, and agreed to do the job. Our first gig was at the Greek Theater in Los Angeles. I hadn't met the guys in the band, but we did the show without a rehearsal (we did rehearse as a section) and without an introduction. They liked it, and put us on board.
Q: Did you tour with the band as well as appear live on the Rastafari Centennial album?
I did tour with the band for a while. It was right after the "Victims" album was released in early 1991. Alphonso Martin was still in the group at that time. We did the States, Europe, the Caribbean, and Japan. The Centennial album was recorded [Jan 1992] around the end of my stint with the band.
Q: Are there any interesting insights about your time with the band that you can recall?
We had a lot of fun on that tour, I thought. Great crowds, lots of sunny places, and good music everywhere. I really started digging the Dancehall and Lover's Rock style around this time. I remember going to Martinique with the band once. I told some of the fellows in the band that I had some friends (I had been to Martinique many times with the Haitian bands Skah Shah and Tabou Combo) that had a restaurant in the hills. Strictly ital. We finally reached the spot after a twenty minute uphill walk. When we walked in the door, the place went silent. Everyone there was in shock that Steel Pulse had just walked in the door. After everyone had settled down, we found that everyone in the place wanted us to try some of their smoke. They handed us weed 1/4 ounce at a time. This went on for hours. Since we don't smoke weed we had to carry shopping bags of it back to the hotel. We tried giving it away, but ended up leaving most of it in back of the hotel.
Q: With your classical/orchestral background, how did you get involved in reggae? Was your involvement with Pulse your first exposure to reggae?
I had been exposed to reggae when I worked with a west coast World Beat band called The Ryth-o-matics. We opened for groups such as Madness, Fishbone, and the Bosstones. This must have been in 1985 and '86. I was just trying to make a living in the Bay Area and took any job I was able, or not able to do. I played Meringue, salsa, classical, jazz, and produced recordings. Anything to make a buck.
Q: What's been your association with Kevin Batchelor and Jerry Johnson [the other horn section members on the Centennial album] over the years?
Like I'd mentioned before, we have made many recordings as a section after I left Steel Pulse. Derrick Bourne started a very good band called Crisis in the early 90's. This band was pretty much the only reggae playing live in NYC on a regular basis. We played at a spot called the New Music Cafe, which is now called Shine. We have remained very close over the years, and still get together regularly at my gig at the SoHo club Void, coincidentally three blocks away from the old New Music Cafe. My new project is called "Explorations in Dub", which features Earl Appleton, Rick Sabo, Noel Alphonso, and myself on sousaphone instead of trombone. Jerry and Kevin are regular fixtures down there, showing up when their busy schedules allow it. Kevin and Jerry are featured on my next CD release, due out this Fall.
Q: Was the Steel Pulse period a good one for you?
All in all, the Steel Pulse experience was a great learning time for me, and it was really fun. I left the band to pursue situations that would allow me to work on my improvisational technique. I needed to start up my label also. I really look back on the period as very important in my development as a trombonist and artist. Steel Pulse is a very important band, and I am privileged to have worked with them for the short time that I did.
Q: How do Steel Pulse compare to other top artists you've worked with?
Obviously, they are very different from other groups I've been involved with, but they are without a doubt, stellar. Great, strong artists that put them at the top of the list of the greatest that I have worked with.
Q: Have you worked with Steel Pulse since the Centennial album?
I have not worked with them since, but I have talked with David about doing work together at some point. Nothing slated, but I wouldn't rule it out. [Visit his website at ClarkGayton.com.]
---
Home :: Steel Pulse :: E-Mail
The contents of this website cannot be reproduced or copied without permission of the site author. (c) Andy Brouwer 2005