ANDYBROUWER.CO.UK
---
Magic of Cambodia 2003
- a celebration of Cambodia, its people and its culture
---
Update - The Magic of Cambodia event took place on Saturday 21 June 2003 and was a great success. Thank you to everyone that came to the event, whether you were a speaker, helper or a member of the audience. It was a very special day. A review of the event can be found here.
---
...NEWS UPDATE...
---
Programme of Events
Saturday 21 June 2003
10am Introduction by Andy Brouwer, followed by:
Denise Heywood - Celebrating Cambodia
Peter Carey - The Cambodia Trust: A Cambodian Success Story
David Channer - The Cross and The Bodhi Tree
Cambodian cookery demo & Introduction to Speaking Khmer
Cambodian Buffet Lunch between 1-2pm
Heng Phalla Sambath - Cambodian fruits and vegetables
James Maw - The Legacy of the Khmer Rouge & the West
The Cambodia Trust video
Tom Evans - Tapping the perfume trees: forest livelihoods in Mondulkiri
Ask the Experts question and answer session
Learn to dance the Ramvong and close
---
Admission to the event will cost £10 per person. We plan to begin the day at 10am (doors open at 9.30am) and finish at 5pm. Click here to view a map of Banbury and the location of The Horton General Hospial.
All profits from the event will go to two charities, The Cambodia Trust and The Cambodian Arts & Scholarship Foundation.
Our confirmed guest speakers are listed below. They will cover such diverse topics as the Temples of Angkor, Khmer dance, culture, religion, travel and the environment, and lots more besides.
Members of the Cambodian Society in the UK (CASUNIK) are providing a Cambodian buffet on the day. The cost of this will be £5 per person (to be paid with your admission fee) and will include Naem Trey (tuna salad), Nhorm salad (with or without chicken), Mee Bamporng (crispy rice noodle with pork) and Chek Ktiss (banana in coconut milk). We are aiming to provide a cookery demonstration, a Khmer language session and to dance the Ramvong as our grand finale.
Andy Brouwer & Caroline Nixon
---
Update - Click to read a review of the 2003 event
---
Guest Speakers
James Maw
Television and radio presenter James Maw has written and presented documentary programmes on his travels in Cambodia (Left on the Shelf in Cambodia and A Library for Cambodia) and Vietnam (Slow Train to Hanoi), and more recently a two-part series for BBC Radio 4 called Ireland's Neutral War. He's also a novelist and is currently finishing off his latest novel, Ghost Mischief, set in Cambodia. His other novels are Jack & Sarah, Nothing But Trouble, Year of the Jaguar and Hard Luck. Visit his website at: Jamesmaw.co.uk. At MOC, James will talk about his adventures in Cambodia.
Denise Heywood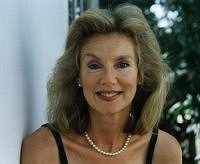 Denise Heywood is a freelance lecturer, journalist and photographer. A former fashion model, she has lived in Paris, New York and, most recently, Cambodia, where she worked as a journalist for three years. Denise arrived in Cambodia for a week, when the United Nations were organising elections, and stayed for two and a half years. She had her own column in the Phnom Penh Post, and wrote for many publications in Asia and Britain. She also wrote the 48-page official handbook, Cambodia: Discover the Hidden Kingdom, for the Ministry of Tourism.
Now living back in Britain, Denise writes for many travel, art and literary publications and lectures widely on Cambodia, Laos and Vietnam. She is also a lecturer for NADFAS (National Association of Decorative and Fine Art Societies) and for the British Museum on their Asian Art Course. In addition, she has taught courses on the Art of Indochina at the Universities of Cambridge, Southampton and Nottingham, and has made radio programmes for the BBC. She takes study tours to Cambodia, Laos, Vietnam and Europe, and lectures on cruise ships sailing throughout Southeast Asia. She is a Fellow of the Royal Geographical Society. Visit her website at: http://www.deniseheywood.co.uk. The title of her talk and slideshow at MOC will be - 'Celebrating Cambodia.'
Listen to James Maw and Denise Heywood on BBC Radio 4's Excess Baggage on Cambodia
Peter Carey
Peter Carey is a Laithwaite Fellow and Tutor in Modern History at Trinity College, Oxford, specialising in the modern history and politics of Southeast Asia and in particular Indonesia, East Timor, Burma and Cambodia. Born in Rangoon, Burma, he graduated from Trinity College, Oxford with a First Class Honours degree in Modern History, spent a year at Cornell University and a further three years conducting historical research in Holland and Indonesia. He won a Prize Fellowship at Magdalen College, Oxford (1974-79) and in 1979 secured a tutorial Fellowship at his undergraduate college, Trinity. Since that time he has taught history at Oxford, as well as serving as a member of the Asia Committee of Oxfam (1986-91) and as founder chairman of The Cambodia Trust (1989-96). Since 1996 he has also taught a seminar on an International Studies course at Limerick University in the Republic of Ireland where he has a home. He is senior consultatnt for Oxford Analytica and heads their Asia-Pacific team at their annual conference. He broadcasts regularly for the BBC World Service on Southeast Asia and is author of a number of books, including, East Timor at the Crossroads: The Forging of a Nation. The title of his talk at MOC will be - 'The Cambodia Trust: A Cambodian Success Story.'
David Channer
David Channer was born in Quetta, now in Pakistan, in 1925. As a stills photographer, he attended the Afro-Asian Conference [first summit of Non-Aligned Nations] at Bandung, Indonesia in 1955. His pictures of Asian and African heads of state have been published in newspapers and magazines worldwide. David began to make 16mm documentary films in India in the 1960s, and has since shot and produced films on three continents. His cinematography has been acclaimed at international film festivals in Europe and the United States. In 1995, he received an honour from the Deputy Prime Minister of Cambodia for services to peace in that country. Alongwith his son Alan and FLTfilms, they have developed a focus on ethics and spiritual traditions, sustainable development and cultural survival in Asia and Africa. Their three documentary films on Cambodia are The Serene Life, The Serene Smile and more recently, The Cross and the Bodhi Tree (which will be screened at the MOC event).
Tom Evans
Tom Evans has worked on biodiversity conservation in Indochina and East Africa since 1990. In recent years he has studied economically useful plants in several Asian countries, including four years of PhD research on the rattans on Laos. Recently he began to work in Cambodia, spending three months looking at the relationship between resin-tappers and conservation for the Wildlife Conservation Society (WCS). At the start of next year, 2004, Tom and his family will move out to Cambodia to follow up this study as part of a long term post with WCS. The title of his talk at MOC will be - 'Tapping the perfume trees - forest livelihoods in Mondulkiri.'
---
Magic of Cambodia 2003 is supporting the following charities:
The Cambodia Trust
Cambodia is one of the most heavily mined countries in the world. It's estimated that up to 10 million landmines are still to be found and cleared. Right now in Cambodia, there are around 40,000 landmine amputees, and that figure will continue to rise. The destruction of the healthcare system, during decades of conflict, also left an estimated 50,000 people disabled by polio and other crippling diseases. Without help, the future for these disabled people is bleak.
In poor and war-ravaged countries like Cambodia, life with disability usually means life without education, employment, dignity or hope for the future. Most disabled children can't go to school or play with their friends. Most disabled adults are unable to work and support their families. Seen as a burden, many disabled men, women and children live as outcasts, begging on the streets for survival.
The aim of The Cambodia Trust is to help people with disability regain their mobility, dignity and self-sufficiency, so they can lead full and productive lives as part of the community. Their work has already made a huge impact. But there's so much more still to be done. Step by step, with the public's help, they are making a real difference. Find out a lot more about their work at:
http://www.cambodiatrust.org.uk/
The Cambodia Trust was founded in 1989, by a small group of people in Oxford, UK, who decided to try and do something to help the huge numbers of landmine amputees in Cambodia. What began as a response to an emergency quickly developed into a long-term project. Their initial aim was to provide artificial limbs for the country's many landmine amputees. However, in response to the needs of the wider disabled population, which includes an estimated 50,000 polio victims, their clinics evolved into full rehabilitation centres providing services for all mobility-impaired disabled people. In 1994, together with the American Friends' Service Committee, the Trust founded the Cambodian School of Prosthetics and Orthotics, in order to train local people in the fitting of limbs and braces.
The Cambodian Arts & Scholarship Foundation
One of the strongest needs in modern Cambodian society is the education of girls. As you may know, boys receive preferential treatment in most families and often its the girls who miss out. This charity is small but growing steadily and is making a real difference for more than 200 youngsters in Phnom Penh, Kompong Chhnang and Mondulkiri provinces by providing genuine support for their education. If anybody wishes to contribute money to the foundation, it is tax-deductable in the United States (as a non-profit organization).
A donation of US$360 per year will cover program costs for one child to attend school, the cost of food for the student/family, a school uniform and paper and pencils. You can contribute or obtain more information by contacting:
Frederick Lipp in the US (fredericklipp@msn.com). Frederick Lipp is the author of the illustrated children's story book, 'The Caged Birds of Phnom Penh'. Address: P O Box 18186, Portland , Maine 04112, USA.
Peter & Veasna Leth in Cambodia (pleth@lycos.com)
Find out more about their work at:
http://andybrouwer.co.uk/casf.html
---
Messages of Support
I am commanded by His Majesty the King to respond to your kind e-mail message. His Majesty the King greatly appreciates your interest in Cambodia and your generous activities to help the people in Cambodia, in particular the less privileged of His Majesty's compatriots. Ambassador Julio A. Jeldres, Honorary Member of His Majesty's Cabinet with rank of Minister.
Click here to read a message of support from H E Veng Sereyvuth, Cambodia's Senior Minister of Tourism.
Dear Andy and all Friends at the Magic of Cambodia Day, Cambodia is truly "Magic", as many of you will already know and these events that you have to raise funds for worthwhile charities operating in the country are extremely worthwhile. I have just returned from trying to raise funds in the US and it is so difficult now for any charity that is not involved in Iraq to get any sympathy at the moment. I will be there in spirit on 21st June and wish you much success. Please pass on our website and invitation to everyone to visit Sunrise Children's Village should they be in Cambodia at any stage. Just on the chance that a big, kindly donor is there on your special day, do let him/her know that we are still trying to raise US$300,000 for stage two of our building program so that we can take many more children and open our Fine Arts School! You never know! Warm regards, Geraldine Cox and The Sunrise Children!
Dear Andy and all those involved with putting together the 'Magic of Cambodia in the UK' Day, congratulations on your efforts! I sincerely regret that I am unable to be in the UK this June as I would certainly have liked to participate in the joy and pleasure you will all have on 21 June. May it be a fine day in every way -- weather-wise, attendance and especially in bringing together like-minded people who share a common belief and faith in the future of Cambodia. Sending you my warmest wishes for a successful and fun-filled event. Sincerely, Dawn Rooney, author of 'Angkor - An introduction to the temples'.
---
A word of thanks to the following people who were unable to attend the event and sent donations:
Graham Cullen, Derek Bybee and Chantha Chum
---
Click to read more about last year's event
---
The contents of this website cannot be reproduced or copied without permission of the site author. © Andy Brouwer 2005