ANDYBROUWER.CO.UK
---
ON THE ROAD WITH STEEL PULSE
---
Steel Pulse, the internationally acclaimed reggae band who began life in the inner-city district of Handsworth, Birmingham in the early Seventies are still very much alive today, some thirty years later. The band are renowned for their commitment to their musical message of fighting injustice, educating the masses and creating positive forces. They take their music around the globe and have a worldwide following. Here's what they were up to in 2003 and 2002:
2003
[29 January 2003]: Steel Pulse have just announced a series of live dates in the United States for February 2003. They are as follows: Feb 8 Miami, FL Bayfront Park (at the 10th Bob Marley Festival with Bunny Wailer, the younger Marley's and Capleton); Feb 9 St. Petersburg, FL Jannus Landing; Feb 10 Gainesville, FL The Palace; Feb 11 Jacksonville, FL Freebird Cafe; Feb 12 New Orleans, LA House of Blues; Feb 14 Athens, GA Georgia Theatre; Feb 15 Long Beach, CA Long Beach Arena (as part of the 22nd Bob Marley celebrations with Buju Banton, Wailing Souls and lots more).
February 21st saw the airing on British television of a 30-minute documentary about Steel Pulse in the Rock Legends series for Central TV. Pulse returned to our screens on the Central TV programme Xposure on 26 September with two songs live in the studio and an interview with David Hinds.

An overhaul of the band's official website took place in May. Click here to visit the revamped site.

Following the release of the unofficial 'Live From The Archives' DVD, Steel Pulse are expected to release their first DVD, called 'Door of No Return' sometime in 2004. And it promises to be worth the wait. It will contain archive appearances of the band in concert, interviews and footage shot on their last visit to Africa, including their visit to Goree Island, off the Senegalese coast.

With the final recordings completed at the end of May, a Summer release of the band's first studio album since 1997 had been expected. However, it is more likely that a 2004 release is on the cards. Check back for more information.
[18 April 2003]: A revised series of tour dates in the United States will take place in June & July . They are: June: 19 - Reno, Sparks, NV John Ascuaga's Nugget; 20 - Ventura, CA Ventura Theatre; 21 - Del Mar, CA Del Mar Fair; 22 - Anaheim, CA The Grove; 26 - Milwaukee, WI Summerfest; 27 - Cincinnati, OH Bogarts; 28 - Chicago, IL House Of Blues; 30 - Bloomington, IN Bluebird.
July: 1 - Columbus, OH The Brickyard; 3 - Brooklyn, NY Metrotech; 4 - Portsmouth, VA Harbor Center; 5 - New York, Irving Plaza; 6 - Winooski, VT Higher Ground; 7 - Albany, NY Washington Park; 9 - Washington DC, 9.30 Club; 10 - New Haven, CT Toads Place; 11 - Atlantic City, NJ Trump Marina; 12 - Fairlea, WV West Virginia St. Fair; 14 - Uncasville, CT Mohegan Sun Casino; 15 - Edgartown, MA Hot Tin Roof; 16 - Providence, RI Lupo's; 18 - Keystone, CO River Run Pavillion; 19 - Denver, CO AT&T LoDo Music Festival; 20 - Albuquerque, NM Sunshine Theater; 21 - Phoenix, AZ Nita's Hideaway; 23 - Park City, UT Suede; 25 - Las Vegas, NV Skin Pool Lounge @ The Palms; 26 - Los Angeles, CA The Roxy; 27 - San Francisco, CA The Fillmore; 28 - Santa Cruz, CA The Catalyst.
August: 1 - Lima, Peru; 17 - Eindhoven, Holland, Reggae Sundance with Lucky Dube, Morgan Heritage and Sizzla.
[July 2003]: News from the Steel Pulse camp whilst on the road during the current tour comes courtesy of 'Tour Boss Eye,' who found time between gigs to provide the band's official website with a few 'real insider' snippets, which I reprint below, together with a rare response from David Hinds:
"I can tell you that the band rehearses daily while on tour and for several days before we start. David is generally responsible for the songs chosen. We use sound check time to go over old and new songs and obscure gems. Sometimes, they'll rehearse on the tour bus and in hotel rooms (particularly with newer material). Diligence is the key. The band take their responsibility to fans seriously. While you may not always hear the specific song you were thinking about, you will always hear the very best of Steel Pulse - musically speaking."

"Health issues within Steel Pulse are an old and out of date matter. All is well and we are kickin' butt and takin' names. Santa Cruz will be just another victim of the Steel Pulse riddim machine. It will sell out (it always does) and it will be sweaty in there. Now, it's your choice to be there or not. We will!"

"Griz has not toured with the band for nearly two years due to health concerns. He is doing just fine, but does not want to risk that with the rigors of touring. He is still one of our guiding spirits and always will be. Love and peace."....."One of the true joys of concert going in my youth was to hear my favorite bands play their favorite toons, regardless of whether it was the latest hit or even their own song or on any album at all. We are too conditioned to listen to the hits and avoid the challenges inherent in spending time inside an artist's musical vision. Go with the flow, appreciate what you got and trust that you are getting Steel Pulse's best. Always!!!"

"Patience is the best way to pay one's respects. We generally are willing to say hello to one and all, but it just takes time and patience. Allow the band to cool down and get back into their street clothes and we'll try to make it work."

"Sitting in a Chicago hotel between sound check and the gig. The four day break was anything but a holiday ... The time was spent on the tour bus driving 2050 miles to Milwaukee (it's not all glamorous). Generally, things run smoothly out here. All the band and crew work together well and travel as one. We are always on time, since we subscribe to the theory that where we are is where we are meant to be at this time. It's tough to quantify the vibes at a a show, though occasionally one does stand out. Of the first six shows, Anaheim was my personal fave...but I love the people in that venue. They take great care of us. Ventura had a great audience, but a negative experience afterwards may have tainted it (ask Sidney about it...and bring $37 per person). Build A Nation is a powerful plea for harmony and as such always gets a warm response. Global Warning is more pointed and one should really listen to Dread's lyrics. Other info I can share? No one on the crew has left anything major behind yet and we haven't left any band members at any truck stops lately...does that help? Peace."

"We generally travel by bus, city to city, although there are some distances too great to do on the ground. Flying, though good for long distances is both cost prohibitive and a real drag in these days of diminished personal freedoms (all in the name of freedom, natch). The bus is quite comfortable (not your average Greyhound), with a front and rear lounge, satellite tv, dvd, stereo (surround sound) a kitchen and 12 beds (which would be great, except that there are 13 of us on board not counting our bus driver, Mark). In fairness, both Sidney and I flew back home for the long trip and then out to Milwaukee. That helped make the bus less crowded on the long run and allowed us to do our own (outside) work more efficiently. Life does go on... even for a band on the road. Peace."

"The bus is quite a comfortable ride, even with all of us on board and the beds, while not up to one's home standard, are just fine. To help you picture it, remember that the bus is 45 feet long, and the beds are stacked floor to ceiling, 3 bunks per side and two stacks per side. The section of the bus that is our 'bedroom' is approximately 16 feet long and each bed is about 3 feet wide x 7 feet long. Not too shabby. We each have a tv in our bunks and can watch vhs videos, satellite tv from either the front or back lounge and/or dvd's from either lounge, too. It's a tough job but someone has to do it. The catch is that we are always too tired to do much beyond sleeping on the bus. For example, we left Columbus last night at 3 AM after the show and got to NYC at 2 PM... some day off, eh?! We did not sell merch at Del Mar and generally don't at the bigger shows as they take the highest % of sales and require the merch to be available for too long. Also, fairs are not usually big merch sellers for bands. We prefer to sell at our regular club and theater gigs -- while supplies last, of course."

"Actually, David's son (Baruch) is our drum tech and he is indeed a nice young man (and quite a rapper, too). Meanwhile, we were sold out of merchandise and are expecting to be restocked in time for Friday's show in Portsmouth, VA... NYC should have merch. The set list's do change, sometimes on a daily basis. Last night's show in Columbus added Brown Eyed Girl, which had been gone for a while. Sometimes it will change nightly and sometimes it stays the same for several shows... it's all according to what feels good to Mr. Hinds on any given day. Thanks for all the kind words. To explain briefly, we generally stay around the venue until the crew finishes the load out -- up to an hour after the show. Be patient, give the group a bit of time to catch their breath and put their street clothes back on and you will be rewarded. Make a scene and you will get the axe -- as one loud (and foul) mouthed, impatient person learned last night. Peace for now... see you all soon."

"Set lists are a funny part of the road give and take. David does the set list and, generally speaking, there are certain songs which are 'untouchable'. Then, he picks tunes based on several factors, not the least of which is how he felt the band performed the song the last time it was played and also how does it fit one to the next (right key, same or different tempo). He likes to mix it up, but also wants to make sure there is a real flow to the energy. Night to night, the sets change only a little, but over the course of a tour, it can be a complete turnaround. Sound checks, which we euphemistically refer to as 'the matinee' are long affairs at which many new and old songs are reviewed. Some surface immediately and some go through extensive reworkings for use somewhere down the road. Peace."

"It has been a brutal 48 hours and the band are, bravely, working their way through the encores here in Portsmouth. Poor Donna wrenched her back and she (accompanied by me) spent last night in a local hospital (after the TV appearance in the rain), the lunchtime concert and an eight hour drive.... oh what a day! She's out there on stage, but not exactly wigglin' and dancin'."

[commenting on the new album] "I don't know about an official statement, but the delays have been brutal on us as well. I know that there are many songs recorded (at least in part) and many songs nearing final stages. I have been encouraging David to put some samples of the new stuff up here [on the official website] for all of you to enjoy. We'll see if that request bears fruit."

"Just to throw in my two cents....The decision to do away with the horns was David's. Donna is a fantastic vocalist and she is not there as a replacement for anything. Conrad has been with the band for more than a decade now and few apparently realize that in the last half dozen years, or so, as Grizzly's health deteriorated, Conrad did virtually all the drumming. Griz, at the end, was just doing simple percussion and adding his presence to our lives -- Conrad was the drummer. Finally, this is quite possibly the best rehearsed band on the planet and the rhythms you hear are neither meant to duplicate someone else's parts or merely adequate for what David needs... they are precisely what David wants for this band at this time. For better or worse, nothing here is left to chance or to happenstance. Grizzly in his prime exuded absolute rhythm. Not even a bead of sweat fell from his brow off the beat. Conrad's task is different from Griz's and those differences should be listened to with new ears. Meanwhile, I have conveyed the gist of many of these comments to David and he has listened with an appreciation for the caring, the love and the thoughtfullness that went in to them. I hope to get him to comment directly at some point. Anyway, the above comments are my opinion and do not represent the voice of the band. Peace."

"Louis 'Give me a Brandy' Yesufu has been the band's 'Front of House' sound Engineer for about 12 years. He knows the band inside and out. He is a very talented mixer. He is as funny and easy-going as they come and we kid him a great deal. He love's brandy, but please don't feed the bears.... He finds plenty of it on board the bus... even when I -- in my Tour Boss mode -- would prefer he didn't. He's a big boy and can take care of himself. his counterpart on stage, Bob Carsten, is also the band's photo and videographer. Many of the images on the web are from Bob's side stage point of view. Bob is currently moonlighting (Providence was his last gig for this tour) as the Front Of House engineer for the revamped, Jim Morrison-less, (21st Century) Doors....Donna's back seems to be fully healed. Wish mine was!....What else can I tell you??? We're all still buzzing about the Providence gig. The band had so much fun and totally regretted having to leave. We were all ready to party and more importantly, needed to unwind. But, alas, they had a 7 AM flight to catch -- in Newark. Life out here really can suck sometimes when the job gets in the way of one's free time!!! nuff said on that... except, look for a return to Providence before next summer.....So here we are in the Rockies... always a good time! Meanwhile, Mark -- our celebrated bus driver -- is, as I write just crossing into Kansas on I-70. Steaming towards Colorado. He told me that he feels like we're cheating on him by doing a show without him around....No doubt, he will need lots of TLC when he gets here in time for tomorrow's show in Denver. hint hint hint...That's it from the front line... gotta go and wake the band for the 90 minute drive to Keystone, CO and our sound check. Peace.

"TBE here, with the Dread right along side"...."Greetings Matte, In all honesty, as a rule, I stay away from answering comments on the message board for all kinds of reasons, really. But your's was so constructive I had to reply. In reference to the horns, it is an integral part of the band's sound. However, #1: it became prohibitively costly and 2: there was no consistency in keeping the horns in tune night after night. #3: After weighing up the odds, we thought it was best to run with a different visual line-up, having female backing vocals. Take note, also, that the melody in the backing vocals is just as important in the band's style of music as the horns were. In a perfect world, it would be nice to have horn players who also did backing vocals well and brought the overall performance levels on par to my satisfaction. Believe me, I am a very hard man to please when it comes to that! You are not alone in your viewpoint. Other fans have shared that sentiment. As a result, I will be scrutinizing this issue when I return to England....We do intend to release a dub album, either as a limited edition or via the website and our concerts....The percussion issue.... I had hoped that we had covered that region with the way we arranged the latest tracks we are performing in the repertoire; i.e. tracks like Heart Of Stone and certain segues in Wild Goose Chase....Matte... feel free to offer up any designs you think would be cool, merch-wise. Tour items, titles and the like....Thanks for your dedication, your constructive criticism and the absence of prejudice or malice." David Hinds.

"Hey there Andy... Lotsa questions for a Sunday morning... our schedule vis a vis Peru will give us a bit of time in Lima, but no real sightseeing opportunities. Most of the band and crew will arrive on July 30. Sid, Moonie and myself (all NuYawkers) will get there on the 31st. Show is on the 1st and our departure will be after midnight on the 2nd (morning of the 3rd). Not much free time, but a surprisingly relaxed visit nonetheless...I haven't yet finished with the crew... As Bob has left for the time being, Craig Underwood has returned to a role he filled for us from 1996 to 1998. By his own admission, he is 'a neat guy' whether that refers to his personal hygiene or his personality... well, I just don't know! Craig is handling both Monitors and Keyboards. Travis Doering rounds out the crew and he is always visible on Stage Right (house left). He spends almost as much time on stage as the band members -- handing off guitars to David. Beyond that Travis excels at loading his pipe, going to sleep in his bunk amid the din of a party and generally tracking down pretty women. We have another hidden asset in the roots man, who is principally here to assist David and keep him healthy. As to myself, I am generally the easiest person to track down at a venue and am a fairly conspicuous part of the entourage. Beyond that I am thoroughly enjoying the mystery and anonymity of this board and will leave it to others to spill the beans on me...The reality of touring? First, let me quote Peter Wolf (J. Geils Band) on the 'politics' of being on the road... "You got the left side of the stage, the right side of the stage, the fiddle in the iddle and that's all there is to it!" Tours and the memories they bring are different for all of us. I can recall minutia from shows I did 25 years ago and have already forgotten some I did last month. Some remember faces and names, some of us remember venues and some the road we took to get there. Everyone experiences it differently and it is the collective recollection that defines the touring experience. Perhaps there is a very limited interest coffee table book to be made from this. That's it from me for now..."

"Thanks for the feedback. Louis, our sound man, did indeed mix both shows at Lupo's. So, there is no excuse other than to say he did a better job at last year's show. Mixing live, like performing, is a one shot deal... unlike the record making process, you don't get to go back and try again. I would not try to make excuses or to blame the venue, though it is one we consider to be a 'tough' room. Some days you bite the dog and some days the dog bites you. Meanwhile, fear not for David's voice. There are two entirely different sound systems at work during a concert. The one an audience hears and the one the band hears. There are no fewer than 5 separate speaker cabinets providing David his special mix of onstage sounds. Even if Louis is having an off night, Bob and/or Craig are taking care of the on stage sound. To speak briefly about problems... venues differ radically and some start with lousy sounding rooms and have great PA's. Some have a good room sound and a mediocre PA and there are plenty of variants inbetween. The same room can sound completely different on a consecutive nights. Mixing sound is an art as much as it is a science. Louis generally nails it."

"Several interesting points here.... First of all, the decision about what songs to play and when rests with David and the criteria is primarily performance related -- what songs he feels the band are playing well. Secondarily, he thinks about what songs fit well together -- are the tempos varied, are too many songs in the same key. I don't think the audience response enters into this equation. However, audience response is critical in the development of a song. If I may wax philosophical for a moment, songs are written (and often recorded) in a vacuum. Like characters in a play, they do not come to life until they are performed before an audience. It is in that environment that songs evolve from the studied and honest artist concept into a piece of music that lives and breathes. Don't get me wrong; there are many great songs that were never played live until after an album was released, but virtually all of those underwent some form of transformation once they were performed live. So, while I have mentioned the interest in hearing Global Warning, David has reacted with a feeling that the band just aren't playing it well enough. My view and his differ in that I think a song comes alive in performance and he thinks it's only alive when it is performed to perfection. Touché."

"The LA show [26/7/03] was indeed memorable and I got soooo close to getting Global Warning played for you all. It was in the set list between Find It... Quick and Roller Skates, but David felt that the flow between the two should stand and then decided to do it after Emotional Prisoner, but alas the heat took its toll and they were drenched and tired. I stood on the stage as they were walking off and asked if they had enough left for one more song... but I could tell they'd given all. It was especially nice to see Papa D and Maka and I apologize for not getting to visit with them directly, but an incident in front of the club involving our bus and driver (yes, Mark was there too), took me away just as we started letting our friends upstairs to the tiny dressing room. Anyway, the Roxy was packed and a portion of the show was filmed for the Fox Sports show, 54321. I don't know when it will air, but we did an interview at sound check and some performance footage... so keep an eye out and look for yourselves on tv. It's 3:26 AM and I am waiting for the band to bring their bags down for the drive to SF. Such a glamorous life we lead....Peace y'all."

"Thanks for all the kind words. To spill some of the mystery, I have been a part of the Pulse team for 6 years now and so, yes, I will be there the next time, too. This tour, like all Pulse tours, was gruelling. It always takes a toll, but there is an absolute family love that exists in our little corner of the globe and we take good care of each other. We don't take days off, except when we get to be in the same city for an extra day. Any "days off" are used for geographic shifts and are tough in and of themselves, but somehow we persevere. I have enjoyed my time on the board and appreciated that my humor was taken to heart by so many of you. This tour was a success in every way. David's health is 100%... I was spotted by Maka and Papa D in LA, but owing to some trouble out front, had to run before I could give them a proper greeting. All kidding aside, I love what I do and have been at it for nearly 30 years. I'm fortunate to have a band like Steel Pulse to work for and to work with. I am their Tour Manager and it is a privilege to serve them in that capacity. Of course, I'll keep writing, but I need to get backstage before the encore ends. By the way, for those of you who asked for Global Warning in LA... they rehearsed it all day and skipped it, but it made an appearance in SF and here tonight in Santa Cruz. Sorry about that dear LA pals."

"I'm of two minds about the medleys -- gee, how predictable. I can appreciate their intent - to provide glimpses and tastes of as many songs as possible -- but I worry that they don't do any of the songs justice. Personally, for example, I'd rather hear all of Taxi Driver (which is a personal fave) and sometimes I feel cheated when the song cuts in to Ravers (not that Ravers isn't a great song, too). But there you go... I'd like to hear all of them. Sometimes, you just can't win. That said, I think David and the band have done a fine job of creating medleys that are smooth and flow like a real song unto themselves. There is also one called the Soldiers Medley which includes Sound System and Handsworth Revolution, among others. They haven't done that one in some time, though. Peace. TBE"

[Message from Sidney Mills] "Greetings to all fans who came out to see us or who had intentions....On behalf of the Band, ie: David, Selwyn, Alvin, Donna, Conrad, Moonie, Rich (tour Boss), the crew: Louis, Travis, Baruch, Bob, Craig, Mark (bus driver), Rootsman Kelly and myself - We all wanted to send our blessings for all the love shown as there so many folks to thank, just for being there not only at the shows but tending our needs - anywhere from offering vitamins to food when we were in not so familiar places. We are aware that from time to time your favorite song was not performed but we had to change a few tracks here and there to keep us pumped up too.....Re: Peru's setlist - It was an exciting show for the band as well... all members now want a copy ... It was crazie wild out there. OK with 18 hours of flight time ahead of us I should go get a meal for the flight. From airport in Peru.....To our close families -- Thanks for hanging in there while we all were away for such a long time .....Respect, Sidney."
The set-list for the first few concerts of their current USA tour reads as follows; Intro Medley (Prodigal Son/Blues Dance Raid/Bad Man/Macka Splaff/Nyahbinghi Voyage/Don't Give In) - Rally Round - Tightrope - Not King James Version - Sound System - Earth Crisis - Blessed Is The Man - State of Emergency - Build A Nation - Wild Goose Chase - Chant A Psalm - Global Warning - Find It...Quick! - Back To My Roots - Harassment - Caught You Dancing. They also substituted in Rollerskates, Bodyguard, Brown Eyed Girl, Heart of Stone and Uncle George depending on the gig. The set-list from the gig in Lima, Peru on 1 August was: Intro Medley (as above) - Rally Round - Sound System - Blessed Is The Man - Tightrope - Taxi Medley (Ravers, Blues Dance Raid, Reggae Fever) - State of Emergency - Build A Nation - Wild Goose Chase - Find It...Quick! - Rollerskates - Not King James Version - Earth Crisis - Chant A Psalm. Encores: Steppin' Out - Bodyguard - Harassment - Heart of Stone - Caught You Dancing - Emotional Prisoner.
A selection of excellent photos of Steel Pulse on-stage taken at the New Haven gig on 10 July can be found on Him's Reggae Concert Photos website, here. Other historical Steel Pulse photos can be found here.
[August 2003]: The Reggae Sundance Festival in Eindhoven, Holland was my first opportunity to see Steel Pulse live and direct for many years and they matched all my expectations. A full report of the festival, the Pulse show, my back-stage experience and my photos from the occasion are on-line. Click here.
[September 2003]: Steel Pulse announced a small tour of the States in early October. The dates are; October: 1 - Santa Ana, CA, Galaxy Theatre; 2 - Solana Beach, CA, Belly Up Tavern; 3 - Malibu Cyn, CA, Malibu Inn; 4 - San Francisco, CA, Reggae In The Park (Golden Gate Park); 6 - Boulder, CO, Fox Theatre; 8 - Winston-Salem, NC, Ziggy's; 9 - Charleston, SC, Music Farm; 10 - Atlanta, GA, Earthlink Live; 11 - Live Oak, FL (Gainesville), Harvest Music Festival. The band intended to fit a visit to Africa in before the end of the year but the trip never took place.
The set-list from the 1 October gig at the Galaxy Theatre reads as follows; Intro Medley (Prodigal Son/Chant A Psalm/Bad Man/Macka Splaff/Nyahbinghi Voyage/Don't Give In) - Rally Round - Sound System - Blessed Is The Man - Tightrope - State of Emergency - Build A Nation - Wild Goose Chase - Find It...Quick! - Rollerskates - Back To My Roots - Chant A Psalm. Encores: Bodyguard - Global Warning - Brown Eyed Girl - Harassment - Caught You Dancing.
---
2002
[22 June 2002]: Steel Pulse have just returned from two sell-out dates in Abidjan, the musical hub of the Ivory Coast in Western Africa. Today, they begin a Summer-long string of concerts across America and then move onto a series of festivals in Europe. At the end of the year or early in 2003, a long-awaited new studio album and DVD (with footage from their recent trip to Africa) are expected to be released and the band have also indicated they will play a couple of live dates in the UK for the first time in a decade.
The Summer concerts kick-off near San Diego, California with the Del Mar Fair on Saturday 22 June (with Third World & Common Sense) and continue the following evening with an appearance at the Sierra Nevada World Music Festival at Angel's Camp, also in California. Steel Pulse will headline the festival alongside fellow reggae greats Culture, Toots & The Maytals and Sugar Minott. The rest of the Summer will see the band visiting both the east and west coast of America and points in between. One face missing from the Steel Pulse line-up for the current tour is long-time drummer and percussionist Steve 'Grizzly' Nisbett, for health reasons. Here's their schedule:
June: 22 - Del Mar Fair, San Diego, California; 23 - Sierra Nevada Festival, Angel's Camp, California; 30 - Stephen Talkhouse, Amagansett, New York.
July: 1 - Lupo's, Providence, Conneticutt; 2 - BB Kings, New York; 3 - South Shore Circus, Cohasset, Mass; 4 - Higher Ground, Winooski, VT - cancelled; 5 - Hampton Beach, NH - Steel Pulse didn't appear due to David Hinds suffering from severe dehydration; 6 - Cape Cod, Hyannis with Inner Circle; 18 - The Nation, Washington DC - cancelled; 19 - South Park, Pittsburgh - cancelled; 20 - Atlanta Motor Speedway, Atlanta - cancelled; 27 - Harbor Center, Portsmouth, Virginia - cancelled; 28 - Artscape, Baltimore Festival - cancelled; 29 - Brick Yard, Columbus, Ohio - cancelled; 30 - House of Blues, Chicago - cancelled; 31 - Majestic Theater, Detroit - cancelled.
August: 2 - Reggae on the River Festival, French's Camp, Piercy, California - cancelled; 8 - Cajun House, Phoenix; 9 - Palms Hotel, Las Vegas; 10 - Fairgrounds, Indio, California; 11 - Hollywood Bowl, Los Angeles with Burning Spear & Lucky Dube; 12 - Ventura Theater, Ventura, California; 13 - Belly Up Tavern, Solana Beach; 15 - Rialto Theater, Tucson, Arizona; 16 - Sunshine Theater, Alburquerque; 17 - Fiddlers Green, Englewood, California.
Following their US tour dates, Steel Pulse will cross to Europe to play at least two festivals. Keep your eyes peeled for further dates later in the year, especially their long-overdue return to the UK: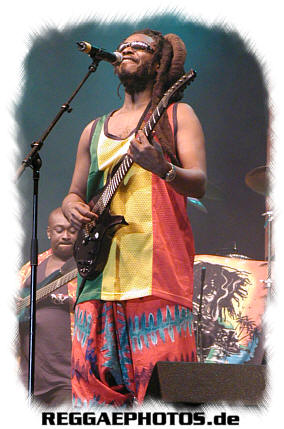 Friday 23 August - Wiesen Bicardi Sunsplash, Burgenland, Austria with Alpha Blondy, Eek A Mouse & Luciano; Saturday 24 August - Chiemsee Reggae Festival, Germany with UB40, Black Uhuru, Alpha Blondy, Eek A Mouse & Luciano.
September: 6 - University of the Virgin Islands, St Thomas, VI, with support band P'Your Passion; 7 - Paul E Joseph Center, St Croix, VI with support Midnite; 15 - Doheny Days Music Festival, Dana Point, Orange County, USA with Michael Rose, Inner Circle, Shinehead and Half Pint.
October: 2 - Bahamas.
November: 14 - Costa Rica; 16 & 17 - Mexico.
At one of the band's concerts in July, their 'live' set-list read as follows; Rollerskates - Black & Proud - Islands Unite - Build A Nation (new track) - Rally Round - Global Warning (new track) - Ravers - Blues Dance Raid - Reggae Fever - Back To My Roots - Steppin' Out - Chant A Psalm - Bodyguard - Don't Give In.

On 4 July, David Hinds collapsed with heatstroke & severe dehydration, forcing Steel Pulse to cancel three of their scheduled gigs at Hampton Beach, The Nation and South Park. A press statement on 26 July announced that the band would cancel an additional six concerts including their scheduled Reggae On The River appearance on 2 August.

On-stage photographs of Steel Pulse at the Chiemsee Festival in Germany on 24 August 2002 are available here. David Hinds, photographed at the Festival (right), courtesy of http://www.REGGAEPHOTOS.de.
To see what Steel Pulse were doing 'On The Road' in 2005 and 2004,
---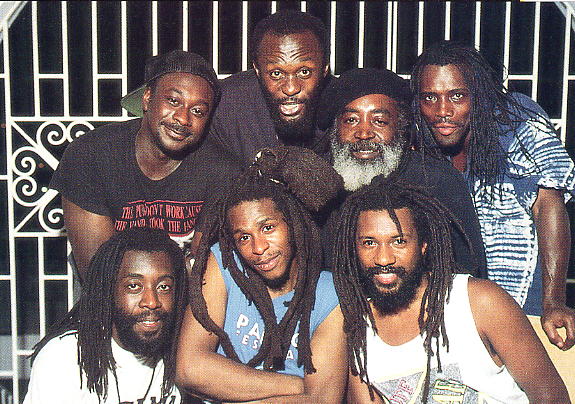 The Steel Pulse line-up in 1991 (photo: Jan Salzman). Alvin Ewen, Selwyn Brown, Grizzly Nisbett, Jimmy Haynes; Sidney Mills, David Hinds and Phonso Martin.
---
Home :: Steel Pulse :: E-mail
The contents of this website cannot be reproduced or copied without permission of the site author. © Andy Brouwer 2005