ANDYBROUWER.CO.UK
---
ANDYBON THE ROAD WITH STEEL PULSE
Steel Pulse, the internationally acclaimed reggae pioneers who began life in the inner-city district of Handsworth, Birmingham in the early Seventies are still very much alive today, some thirty years later. The band are renowned for their commitment to their musical message of fighting injustice, educating the masses and creating positive forces. They take their music around the globe and have a worldwide following. Here's what they've been up to in 2008, 2007, 2006, 2005 and 2004:
2008
South America was the target audience to begin 2008. Concerts in Argentina, five shows in Brazil, then onto Venezuela, Costa Rica, Anguilla and Tobago took the band through to the end of April. Two shows in the United States before Guadaloupe and French Guyana preceded a dozen dates back in the States followed by trips to Canada, Belgium and Switzerland in July. Keep your eyes peeled for a Steel Pulse show coming to your neck of the woods soon enough!
2007
Steel Pulse began their 2007 travels in February in the United States and Hawaii before visiting Barbados for Reggae On The Hill and a visit to Mexico on 6 May. June saw visits to Puerto Rico, Antigua, Trinidad and St Kitts whilst four gigs in France beckoned at the beginning of July. back to America in mid-July with 13 concerts prior to a brief and rare return to England for the WOMAD Festival (on 29 July) and a concert in Portugal. It was back to the USA two days later for another twenty shows with a brief visit to New Caledonia in between. In October they took off to West Africa for a few days with concerts in Abidjan and Bouake (Cote d'Ivoire).
2006
[March 2006]: Steel Pulse kicked off 2006 with two shows in Ghana as part of the Africa Unite celebrations, and marking the birth of Bob Marley, on 3 and 5 February. Also appearing were Culture, Morgan Heritage and Bob Marley's sons. A 32-date tour of the US was due to begin on 20 February but unexpected hiccups with visas necessitated the postponement of a good portion of the tour. However, they will play the final eight dates of the tour and rearrange the cancelled shows in late May.
[October 2006]: In May, the band played five concerts on an Indian Ocean tour, playing on Mauritius, Mayotte, Reunion and Seychelles, and followed that with a US tour in June and July. Following on from their US adventures, they played a series of 8 gigs in France, Belgium and Italy. In August they visited Turks & Caicos, the Sunsplash in Jamaica and Canada, before another series of European concerts in Northern Ireland, France, Holland, Poland, a one-off festival appearance in England, and Germany. September kicked off in Trinidad and eight shows in the US. In the middle of the year, the band released their long-awaited DVD, Introspective containing interview and live footage of the group over the years. Whilst a dub album has been promised sometime in the future, October heralded the release of their self-produced Rastanthology II - The Sequel CD. Also in October, original band member Grizzly Nisbett went to hospital for a heart-bypass operation.
2005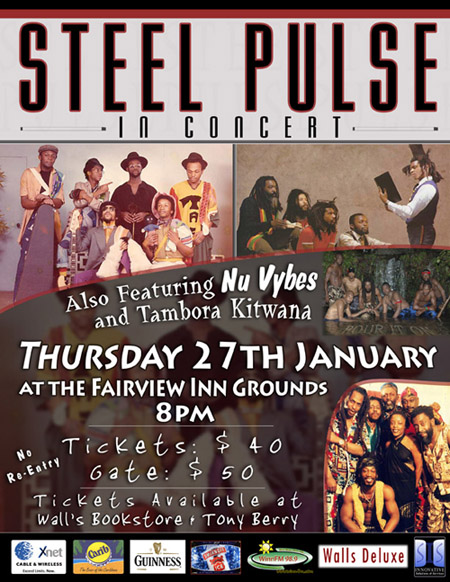 [1 February 2005]: Steel Pulse closed January with three Caribbean concerts on St Kitts, St Maarten and St Vincent, before a US tour of 20 dates throughout February to coincide with Black History Month. Their gig-list will include appearances in Honolulu and at the 24th RaggaMuffins Festival at Long Beach and the Bob Marley Day in San Diego. David Hinds revealed in an interview that there's a distinct possibility of a dub album being released sometime this year (likely to be a dub version of their latest album, called 'African Dub-ocaust') and will precede a DVD and a compilation album of the band's back catalogue. Read two interviews here and here.
[13 February 2005]: The Reggae Grammy went to Toots & The Maytals (with their CD True Love) and not Steel Pulse and African Holocaust at the 2004 Grammy Awards ceremony. Those in the 'know' felt it wasn't unexpected that the strong messages on African Holocaust wouldn't find favour with the judges.
[26 February 2005]: Steel Pulse have announced plans to travel to South America in May (though the trip was subsequently cancelled) and to Tokyo, Japan in July, as well as intermittent dates in the States in between. Later in the year they'll be in Europe and hope to return to Africa. An interesting interview by Tai Adelaja with David Hinds can be read here.
[8 April 2005]: Steel Pulse announce two festival appearances in France later this month. They will appear at the Printemps de Bourges festival on 22 April and then at the Yakayale festival in Morlaix the following day. A recent interview with Selwyn Brown by Maka Iki can be read here. In answer to a question on the Pulse website forum, 'Moonie' Pusey gave this reply regarding his and David Hinds' guitars: "The Dunlop Cry Baby wah does rock and is what I have been using it since the 60's. Great tone & very road worthy. Dave and myself use BOSS effects from Roland. Again they hold up very well on the road and they sound great. We use their delays, choruses, flanges, verbs, phasers & overdrives. Amps; I use Peavey 5150 for leads. I don't rely on pedals for that. Dave uses Roland JC120's. Great amps for reggae. Settings on these effects and amps are always changing per song, per venue, per night. So I could not even give you general settings."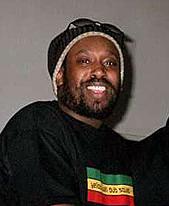 [30 April 2005]: In a surprise move, long-time band members, drummer Conrad Kelly and bassist Alvin Ewen have left the group. Pulse, who celebrate their 30th anniversary this year, made two festival appearances in France recently (22 & 23 April) with a new drum and bass section. Conrad joined the band eleven years ago on percussion before swapping roles with his mentor and friend Grizzly Nisbett on drums, whilst Alvin has been a mainstay of their studio and live work for the last twenty-two years. Their replacements in France were Wayne 'C-Sharp' Clarke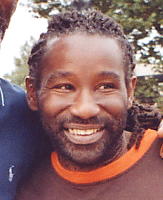 on drums and Amlak Tafari on bass. Kingston-born, C-Sharp has worked with Chalice, Jimmy Cliff and Alpha Blondy and appeared on Pulse's Grammy nominated album African Holocaust last year, whilst AT is a well known producer, show-host and performer with Pato Banton, Wailing Souls, Musical Youth, Culture, Luciano and his own Yellow Wall Dub band. Both Conrad and Alvin will be greatly missed by the Steel Pulse faithful. [30 May 2005]: At the 1st Rastafari Diaspora Summit in Hispanic America, held in Panama, David Hinds presented a proposal for a project called SEED (Self Empowerment & Economic Development) For Africa, which would organise fund-raising concert tours and private investments to provide funding for Aids projects in Africa.
[7 June 2005]: Steel Pulse begin a 25-date tour of the United Sates tomorrow with an opening concert in Washington. The tour runs through til 8 July. Visit the official website for tour dates. The band's line-up will include Amlak on bass and C-Sharp on drums alongwith new backing vocalist Keysha McTaggart, who'll team up with Melanie Lynch. Jamaican-born Keysha was previously with the Star Trail Family Band, Benjy Myaz and has recorded and toured with Anthony B. [7 June 2005]: Rhino/Elektra have today re-issued two of Steel Pulse's older albums, True Democracy and Earth Crisis with 4 bonus tracks on each CD. The remastered releases include 12" versions of Ravers and Leggo Beast and dub versions of Your House and A Who Responsible? on True Democracy, whilst Steppin' Out and Roller Skates both get the dub and re-mix treatment on Earth Crisis. The CDs also include full song lyrics and liner notes from renowned reggae writer Roger Steffens. No definite news yet for Steel Pulse's Summer tour dates in Europe though the band have been pencilled in for a number of festivals in France, Sweden, Holland, Norway and Morrocco. Conrad Kelly update - he's been on tour with Ijahman Levi in New Caledonia, Switzerland and Sweden recently and will be at the G8 Summit in Edinburgh with the Ben Okafor Band in early July.
[12 June 2005]: A concert report from Steel Pulse's Mohegan Sun Casino gig on 10 June has been posted here by Matte Dread. Thanks Matte. [28 June 2005]: Amongst a handful of dates confirmed for Steel Pulse this Summer, will be two appearances in the UK, in their hometown of Birmingham. On 9 September they'll take part in the Reggae Rockz festival, playing a free open-air concert in the city centre. They're also booked into a 15 October date at The Drum in Aston, Birmingham. [10 July 2005]: Just received news that Conrad Kelly will be joining UB40 on percussion for their forthcoming European tour. [17 July 2005]: Snippets from an e-mail from 'Moonie' Pusey on the road..."The gigs are going great. I love my job :-) For those civilians out there that think touring is a vacation, let me introduce them to my world. Defiantly it's a lot of hard work that demands a certain type if discipline for surviving outside one's comfort zone and having enough energy to play your instrument in front 1000's. But most defiantly the people make it worth it. Immediately after the US dates we were propelled straight to Europe, where we commenced on the Euro, Africa and Japan dates. All of this will last until August 15th. Where we get 10 days off and go back out again. Phew!!! I hope I have a wife and home to come back to when we are done :-O I'm leaving Casablanca today (play it again Sam) as I write this e-mail. [The tour] It's turning out better than we expected. I can't believe it. More and more young people are coming out to see Pulse besides our main hardcore Pulse fans and they really love the song 'No More Weapons' which reflects on the state of affairs that's happening these days. I do appreciate that Pulse can write in their songs about current affairs."
[5 September 2005]: A re-mastered version of African Holocaust is released by Voiceprint in the UK on the Wise Man Doctrine label (WMDMCD9) after its success across the States and in Europe. David Hinds, on the eve of two concerts in the band's home city of Birmingham, told The Voice newspaper, "I don't feel we have done as much in England as we would like to have done. We had to leave [and play overseas] for the betterment and longevity of the band. Reggae music was not getting any opportunities here until the pirate radio stations took up the case. The UK reggae acts that stayed and tried to make it here are not around today. We hope the Birmingham people respect us for what we have done over the years and we want to give them something a little different. We are looking to give them love and get a little appreciation. They may not have seen or heard us for a while. I know many stopped following us, feeling we had split up. We are back to re-invent ourselves in England, with fresh material and to celebrate our 30th year. Steel Pulse has always been experimental musically and on African Holocaust we are still a voice for the black community. Still, all cultures and races of the world can associate themselves with the experiences discussed in our lyrics and everybody can see what's going on – all the cards are on the table and people need to pluck up courage and make changes." [9 September 2005]: Steel Pulse make a long-awaited return to play live in their home city of Birmingham as the headline act at Reggae Rockz 2005, a free concert in Centenary Square. Read all about it here alongwith their other UK shows. [30 September 2005]: Steel Pulse announce shows in California, England (Shrewsbury, Birmingham & London), Holland and close October in Trindad and Venezuela. They kick-off November with four concerts in Brazil, followed by appearances in Argentina, Chile and Peru.
---
2004
[21 January 2004]: Steel Pulse are to undertake a very short US tour in early February. With a May/June release of their new album on the cards, the band will take things easy until then. They've confirmed a date at the Garance Festival in Paris on June 26, which may herald the start of a European tour. The dates in February are: Feb 6 Jacksonville, FL, Freebird Cafe; Feb 7 at the 11th Annual Bob Marley Caribbean Festival, Miami, FL, Bayfront Park; Feb 8 Gainesville, FL, the Palace; Feb 9 & 10 New Orleans, LA House of Blues.
[7 February 2004]: News from the Steel Pulse camp as their short tour begins - Donna Sterling is unable to join the rest of the band on tour on doctor's advice - she's expecting a baby later in the year. Congratulations Donna. The band kicked off their 2004 gigs at Jacksonville in Florida. Another snippet of news is that they've pencilled in a second European date and look set to appear at the 19th SummerJam Festival in Cologne, Germany on 2-4 July. It'll be their third appearance at this annual festival.
The set-list from the 6 February gig in Jacksonville was; Intro Medley (Prodigal Son/Chant A Psalm/Bad Man/Macka Splaff/Nyahbinghi Voyage/Don't Give In) - Rally Round - Bodyguard - Tightrope - Prodigal Son - Make (Us) A Nation - Wild Goose Chase - Find It...Quick! - Rollerskates - Back To My Roots - Chant A Psalm. Encores: State of Emergency - Uncle George - Global Warning - Caught You Dancing.
[6 March 2004]: June 8th has been classified D-Day for Steel Pulse, as that's the date that's been pencilled in to release their new studio album in Europe. A delayed release date is expected for the States. A few finishing touches were made in Jamaica recently. The title of the album is as yet unknown, though 'African Holocaust' was mentioned as a possible title last year. Touring will kick-off with a short European tour (Paris and Cologne look very likely) beginning in the last two weeks of June. The touring party then moves across to the US in mid-July, starting out on the eastern seaboard. Watch out for an extensive touring schedule when the band hit the States. Already confirmed is a visit to the Reggae On The River Festival on 6-8 August in Piercy, California.
[8 April 2004]: Steel Pulse will return to play their first UK gig on home soil for many years, at The Ocean in Hackney, London on Monday 28 June, as part of their mini European tour. Tickets are £15 each and its an opportunity not to be missed. Other snippets of news; the band are auditioning for Donna Sterling's replacement whilst Donna puts her feet up at home, awaiting the arrival of her second child; Pulse visited Jamaica in mid-March to perform at a wedding and took the opportunity to record a couple of songs for their forthcoming album (expected to be 12 tracks in length). Capleton guested on one track and they also collaborated with producer 'Computer Paul' Henton.
[30 April 2004]: Some more US dates have been announced, with the rest expected very soon. Visit the official website for the full tour schedule. The band will initially tour Europe from 22 June til 12 July and then will begin their Stateside tour on 14 July, ending at The Roxy on 16 August. They'll return to the US in late September, with another extensive European tour in the late fall. A couple of extra mainland British dates have been added, at the Manchester University - Academy 2 on Wednesday 30 June, the night before they play at the Ambassador Theatre in Dublin. They then play Bristol Carling Academy on Thursday 1 July.
[12 May 2004]: Just announced... African Holocaust will be the title of the forthcoming Steel Pulse studio album, due for release in June. It's their first studio release since Rage & Fury in 1997. The title of African Holocaust was dropped into an interview well over a year ago though hasn't been mentioned again since. The group have been to Africa on a couple of occasions in recent years and those visits have had a profound effect on the band, enough it seems to warrant this dedication. Additional tour dates in Europe and the US can be found on the band's official website, here.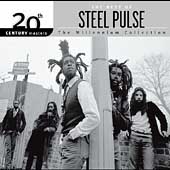 [31 May 2004]: This month saw the release of a new compilation CD from Hip-O-Records called the Best of Steel Pulse - 20th Century Masters : the Millennium Collection. The tracks are: Handsworth Revolution, Soldiers, KKK, Sound System, Babylon Makes The Rules, Drug Squad, Heart of Stone, Reggae Fever, Ravers, State of Emergency, Can't Stand It, Taxi Driver. It's the first time Can't Stand It (from the film soundtrack to Do The Right Thing) has been released on a Steel Pulse compilation.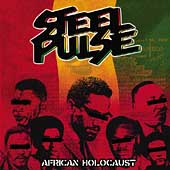 [6 June 2004]: Just got my first glimpse of the cover art for the new Steel Pulse album, African Holocaust [left]. The album is due for release in Europe in June and in the USA a month later, to coincide with the band's tour of each continent. The album is expected to be a dozen songs in length and to include tracks like Build A Nation, Global Warning, African Holocaust and a song inspired by their visit to Goree Island. The album will be released by different labels, RAS in the USA, Sanctuary in Britain and Nocturne in Europe. Their European tour, which kicks off in Greece on 16 June, will include 3 English gigs, the band's first for half a dozen years, as well as a return to Dublin. They close their European trek in Bruges on 10 July and then take off for a month-long tour of the United States.
[10 June 2004]: Steel Pulse have two additions to the band's line-up for the forthcoming European and USA tours, two backing vocalists from New York, Traciana Graves and Melanie Lynch. The two girls will replace Donna Sterling for the tours whilst Donna takes a break to have a baby. Rehearsals for the tours begin in Birmingham to prepare the band for their opening gig in Athens on 16 June. Click here to see a photo of the girls arriving in the UK on the official website.
[17 June 2004]: Release dates for the new album, African Holocaust, are still to be announced. However, the 13 tracks from the album have been announced and they are: Global Warning; Blazing Fire; Must Be A Way; Make Us A Nation; Dem A Wolf; No More Weapons; Tyrant; Door Of No Return; Born Fi Rebel; Darker Than Blue; George Jackson*; African Holocaust; Uncle George [* this track was written by Bob Dylan]. The band kicked-off their European tour in Athens last night, where Melanie Lynch made her first appearance as a backing vocalist (Traciana Graves was unwell) and the band played a handful of tracks from their latest album. Read more about the new album here.
[22 June 2004]: News from the Steel Pulse camp from their European tour again comes courtesy of Tour Boss Eye, who finds a few spare moments to keep the band's official website updated with some 'insider' snippets, which I reprint below. Photos from their concert in Paris can be found here:
"If you figure day one began on Sunday and here it is just winding down on Tuesday night. Everyone except Sid arrived in Holland last night and the vibe was totally irie. Sid, who had gone to Jamaica for his mum's 90th birthday, was getting in this afternoon. So, by dinner time tonight, with sound check number one behind us and both girls on board, Steel Pulse was kickin' it to the curb. There are no major surprises to set list number one, but the show seems to be going smoothly indeed and there are several hundred happy, bobbing faces in the Dutch sea. The set-list is: Intro Medley (Chant A Psalm/Bad Man/Macka Splaff/Nyahbinghi Voyage/Don't Give In) - Rally Round - Prodigal Son - Tightrope - Bodyguard - Make Us A Nation - Back To My Roots - Taxi Medley (Taxi Driver/Soldiers/Ravers/Blues Dance Raid/Reggae Fever) - Uncle George - Steppin' Out. Encores: Chant A Psalm - Harassment - Caught You Dancing - Global Warning - Emotional Prisoner. A small celebration will follow, as it's one of the few nights we will spend in a hotel, and not traveling to another city. Tracy and Melanie are great, energetic and beautiful. We will hear more from them later on. Peace."

"Apologies to one and all for the lack of commentary, though Andy has been filling in admirably.... Meanwhile, the first 10 days have been a blur, and without revealing state secrets, I will say that the first week was tough. The shows are beginning to gel and everyone's vibe is improving. Set lists will be sent to Ron in the next day or so for posting, formally. BTW, Andy, the Taxi Medley is actually called Medley Medley Medley....I'm quite tired and it's almost time to board the flight, so I have to go count dreads, er I mean, heads...."
[2 July 2004]: Steel Pulse are back on the European mainland after their brief sojourn in England, where they played concerts in London, Manchester and Bristol, as well as Dublin. You can read all about their English gigs, together with set-lists and photos, here. A welcome visitor to the Manchester show was former Pulse drummer Steve 'Grizzly' Nisbett. The latest on Donna Sterling is that she's in good health and is expecting her baby to arrive a little early, sometime in late August.
[July 2004]: Tour Boss Eye's insider snippets from the European and American tours continued:
"The band are on stage [Miramas, France], as I write. They have already checked out of their hotel and their bags are on the bus. We are in the South of France, ordinarily a place you should all envy us for being at, but tonight is different. Different because as soon as the show ends, the crew will tear it all down at lightning speed and the band will towel off and race for their street clothes. Different because we will have very little time to hang out and be our usual gracious selves, but not so different in that we have many miles to cover tonight and nowhere but the highway to call home. We will get off the stage at 12:45 AM and by 1:30 AM (hopefully) be starting a 700 mile journey to Cologne, Germany. The drive will take 12-13 hours with two drivers and that puts us at the next show around 2:30 tomorrow afternoon. We are on stage shortly after 4 PM, which is barely enough time for the crew to get ready - and no time for the band to go to a hotel or relax or do more than take showers. Yikes, but it often makes for the very best of performances and I am ever the optimist that this time tomorrow night (after we watch the match between Portugal and Greece), I'll be writing to tell you how wiped out we all are and how great the two shows were...."

"Okay already.... sorry but I've been a wee bit busy.... The last several shows went spectacularly well. The crowd in Antibes was absolutely inspiring. Today, we went on early as an earlier act forgot to plan for flight delays. The crowd here in Belgium was warm and welcoming and before it was over barely let the band leave the stage. We head for the US tomorrow. One bit of a teaser... I overheard Selwyn, David, Traciana and Melanie working on vocal timing for Door Of No Return -- perhaps we will see that one soon in upcoming set lists. Speaking of set lists, I am sending the whole European tour to Ron to be posted on the main website. Peace."

"Here we all are on the edge of a new tour [in the United States]. In Providence, with load-in a mere 30 minutes away. Everyone is in good spirits and rested, surprisingly, from the European tour. I expect tonight's sound check to work on some brand new material from the African Holocaust CD, but can't say just when those songs will make their tour debut. Hopefully tonight, but it is up to David. David used his night off, last night, to go to the movies and others among us walked into the park across from our hotel to hear the brothers Hanson perform. They were, er... umm, pleasantly amusing. Anyway, tour time is here and we are off to meet and greet and overwhelm all with the Steel Pulse, African Holocaust experience... skin flesh bones dreadlocks and long blond hair.... see you all soon..."

"Sorry you were disappointed by the absence of two songs out of some twenty played. Stepping Out has been in many shows lately, but David felt it needed a rest for the night. Handsworth, on the other hand has been gone for a while, but may yet return at some point. Right now, they are working on breaking in newer material. They did rehearse No More Weapons yesterday, so we will see what happens today in New Haven."

"Grizzly retired from performing with Steel Pulse in August 2001 due to health problems that made it risky for him to fly and to exert himself the way a live show demands. For several years prior to his retirement, he had reduced his playing primarily to percussion. On the road, he is missed by all, as his presence and spirit are indomitable. We all saw him in the UK a few weeks ago and he looks great. He sends his love to all fans who miss him the way we still do. Peace."

"Door Of No Return - First of the new album tunes to make its world premiere on this tour... tonight in Indianapolis. Full set list will come later. Don't forget to tune in to WDET-FM online to hear Steel Pulse live tomorrow morning at 11 AM EDT (that's 5 PM to you, Andy B). Peace." (Left) Steel Pulse in the Detroit radio WDET studio with presenter Judy Adams on 21 July.

"No More Weapons had its premiere in Detroit tonight and Door Of No Return had its second appearance. Also, Alvin asked me to say thank you to all those who have commented favorably on his bass playing on African Holocaust. He is genuinely touched that several people here (especially) have singled him out. I then asked if he wanted to compliment them all on their good taste and he just laughed. Peace."

Chicago - "Hard Hitting precision riddim marked the hottest performance of the tour so far. An absolutely crisp tight stage sound. It is a kickin' show tonight. Moonie is absolutely on fire. Meanwhile, the buses are waiting to leave for Atlanta and a very long weekend is in progress. It will take us half way across the country and end up in Colorado on Monday morning... whew....We're all in pretty good shape... only minimal colds running around. Derrick had it worst, but seems to be over it. Anyway, we fly to Atlanta, do a show and hop on the bus (after the driver rests) and drive back north to St. Louis -- feels like we're livin' a Chuck Berry song."
George Jackson - "I first brought the song to David's attention when they began performing the re-vamped Uncle George back in 2001. He told me then that George Jackson's murder was a seminal event in his youth and helped to point him in the direction of musical confrontation - telling it like it is. At the time, he wanted the songs to be center pieces to the album and subsequent tour. Time has a way of altering one's perspective and the album as we know it now has a broader theme. But both songs are fabulous and they do fit well musically."
"We are usually watching action flicks (not my choice) or Sopranos episodes on the long drives. Not much music on the DVD player... we hear enough all day long. My personal music tastes are eclectic, but lean well towards good old rock and roll. Always interested in Springsteen, Dylan, etc... but very little time to enjoy. I listen to my iPod most of the time. The band have begun to study Tyrant and I expect them to try rehearsing it next week in Colorado. That said, it remains to be seen what Dread will ultimately decide to do next. Right now, we are just burning up the miles and trying not to burn ourselves and our crew out in the process."
"Our opening act is a young singer songwriter named Trevor Hall. Trevor is fantastic, though not what one might expect at a Steel Pulse show. His songs are powerful and beautifully written. He is a very special talent and we are happy to be giving him this opportunity. Check him out at http://www.trevorhallmusic.com/ "
"There are generally 5 new songs in each show. On some nights, there are fewer, but that has to do with the album being new and Steel Pulse not having played that specific market for a while. St. Louis is a perfect example. We had not performed there for many years and we had to be off stage at a specific time because of curfews and fireworks - therefore, the addition of Stepping Out and the deletion of Global Warning. As to more new songs, it has only to do with rehearsal time. Breaking in new material isn't as simple as just get up there and do it. For one, not every band member played on every song, so not all of them know the inner workings and parts of each song. For another, live arrangements invariably differ from studio arrangements - some things just don't work in one format vs another. Still another issue is exactly how to begin and end each song. I realize these things - on the surface - would seem obvious, but trust me, it is all in the details. Your rave reviews and generous acceptance of these new songs are due in large part to David & Co. paying excrutiatingly close attention to the details. Now for those who wonder how we got this far without more rehearsals, I ask you to look back a few weeks on this very forum when it was revealed that the band only finished the album on the 10th of June and were performing in Greece 6 days later to kick off the new tour. Give us time and more songs will work there way into our set lists. And for my final comment... if one looks at a Rolling Stones or Bob Dylan set list there are rarely more than 3-4 songs from any new album they release. Peace."
"Hi there... me, again.... I'm actually trying to listen to the band performing No More Weapons here in Boulder, while I'm supposed to be finishing off the newest edition of our private travelogue - the tour itinerary. Talk about details!!! And if you think I'm funny here, you should read one of those sometime....Meanwhile, as I play hooky from work, I want to say that we are just about at 100% health (Alvin's still dragging a bit) and adjusting to the altitude. Everyone is enjoying the few days in one place and the show tonight is stronger for it. Anyway, I am really a bit puzzled by all this praise (and, I guess, a bit uncomfortable, too). I do what I do for the band because A) they pay me to and B) because I love them like blood relatives - which they may as well be. I have an immense amount of respect for fans of any band, because it is you who keep people like me employed. In short, I am happy to participate in this forum not as the voice of Steel Pulse, but as one of you. If in so doing I can share what I've learned and what I know, and find that you all enjoy it, then we are all better for it. It's the perfect win-win situation. Anyway, I'd better get back to finishing my work or I could be out on the street, too soon. And finally, for those of you who have met me and realized that I'm fairly no-nonsense and sometimes humorless on the job - or worse, downright ornery - well, it is always in pursuit of doing the best I can for my band. I am ferocious in my support and defense of the best **** band I know....Peace, TBE." The set-list for the Fox Theare, Boulder, Colorado concert on 28 July was: Intro Medley (Chant A Psalm/Bad Man/Macka Splaff/Nyahbinghi Voyage/Prodigal Son) - Rally Round - Make Us A Nation - Tightrope - No More Weapons - Find It Quick! - Medley Medley Medley (Soldiers/Taxi Driver/ Ravers/Blues Dance Raid/Reggae Fever) - Door Of No Return - Bodyguard - Uncle George - Steppin' Out. Encores: Chant A Psalm - Global Warning - Don't Give In - Emotional Prisoner.
"Latest news from this altitude is that the band finally has begun rehearsing Tyrant. Hopefully, it will see its debut by Reggae on the River. By the way, it sounds great already!!!! I can't wait for the band to figure out the fine points of the arrangement and be ready to show it off."
"We are in the midst of 12 shows in 13 days and this day has not been easy. One set of springs on the crew bus' equipment trailer snapped, stranding us for about 4 hours and costing us today's much needed sound check / rehearsal of Tyrant. Nevertheless, sink or swim, Tyrant makes its debut tonight (in about 2 songs from right now). That means there could be as many as six new songs in the shows later this week.... We shall see. I'm excited to hear it live with an audience. Other titles being bandied about for rehearsals include Blazing Fire, African Holocaust and Unseen Guest, but I have my doubts about how soon we might get to any of those three titles. Anyway, we are currently about two hours from hitting the road and another five hours from the state line to the golden state, Governator-ville.... so, by sunrise tomorrow, we are in California and that much closer to so many of you. See you in a matter of days, now...."
"I know I was whining a bit last night, but alas, here we are in Sacto, resting up a short while, before continuing our journey to Truckee. Logistically speaking, we are staying here, near the intersection of I-5 & I-80 to facilitate both rest and getting to Reggae On The River tomorrow....Our crew, on the other hand, have it truly rough. They are just now arriving in their beat up jalopy of a bus at Truckee, a mere two hours late, yet with plenty of time to get the job done. The only thing missing from their itineraries is rest!!!!. They don't get any, so before you break out the violins and hankies and marvel at just how hard I'm working (not that I don't love sympathy)... let's all give it up for Baruch, Derrick, Louis, Chris, Andy and (their driver) Marcus B. We have a great crew and they deserve all the kudos."
"Looks like we're doing the Late Late Show with Craig Kilborn on this Monday (16 Aug on CBS). That just happened today and we don't even know for sure what song we'll be doing."
[The 33-date US tour ended on Saturday 21 August with a show at the Stephen Talkhouse in Amagansett, New York. By the end of the tour the band were regularly including six tracks from the new album, African Holocaust, in their set-list.]
[8 September 2004]: Steel Pulse are currently resting, though have announced another set of touring dates beginning on 30 September in French Guyana, Guadeloupe, Martinique as well as Montreal and Toronto in Canada before a 25-date tour of the States, finishing on 7 November. Another European tour is expected to begin in mid-November. All tour dates are available on the official Steel Pulse website. A further piece of news is that vocalist Donna Sterling gave birth to a healthy baby boy, Kaireece, on 3 September, weighing in at 6 pounds 5 ounces. Congratulations to Donna and her family.
[12 September 2004]: As part of the open-air Birmingham ArtsFest 2004, David Hinds and Selwyn Brown joined in the festivities, on-stage with former Pulse guitarist Basil Gabbidon and his band. Earlier in the day, Selwyn took part in a reggae workshop for families and then teamed-up with David and Gabbidon on stage for the finale of the weekend's events. In a rare live appearance in their hometown, the impromptu line-up belted out Prodigal Son, Bad Man, Ravers, Rally Round and Taxi Driver. A memorable occasion, enjoyed by all despite the pouring rain. A few days later, Steve Grizzly Nisbett suffered a mild stroke. Our best wishes go to Grizzly for a speedy recovery.
[1 October 2004]: The first gig of the band's current tour, in French Guyana, has been cancelled due to the aftermath of recent hurricane activity in the area. A change in the band's line-up for the tour is the arrival of Marea Wilson, to replace Traciana Graves, as one of the two backing vocalists. Traciana has departed to pursue her solo career, whilst Marea joins after experience with Maxi Priest and Diana King. The tour will continue with concerts in Guadeloupe, Martinique, two in Canada, 25 dates in the US and one in Puerto Rico. The tour will end on 7 November.
[17 November 2004]: Steel Pulse today begin a series of sixteen concerts in France, one in Switzerland and two in Spain as they bring their African Holocaust tour to the European continent. [21 November 2004]: I attended both Steel Pulse shows at the Elysee Montmartre in Paris as part of their French tour. Read all about it and see my photos here. Two fantastic gigs, with amazing support from the sell-out French crowds and great to meet the band again. Marea Wilson wasn't with the band but expects to join up with them soon.
The set-list for the Paris concert on 21 November was: Intro Medley (Chant A Psalm/Bad Man/Macka Splaff/Nyahbinghi Voyage/Prodigal Son) - Rally Round - Rollerskates - Tightrope - No More Weapons - Make Us A Nation - Find It Quick! - Tyrant - Medley Medley Medley (Soldiers/Taxi Driver/ Ravers/Blues Dance Raid/Reggae Fever) - Wild Goose Chase - Uncle George - Don't Give In. Encores: Chant A Psalm - Global Warning - Emotional Prisoner - Steppin' Out - Door Of No Return.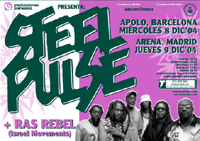 [7 December 2004]: Steel Pulse and their album African Holocaust are announced as one of the 5 nominations in the Best Reggae Album category of the 47th Grammy Awards to be made on 13 February 2005. They're up against Jimmy Cliff (Black Magic), Sly & Robbie (The Dub Revolutionaires), Toots & The Maytals (True Love) and the Def Jamaica album by various artists. Tonight sees the final concert of their French tour in Ramonville, near Toulouse. Two dates in Barcelona and Madrid and a hastily-arranged gig in Lisbon will close their European tour on 10 December.
[1 January 2005]: Steel Pulse ended 2004 with a Christmas Day Caribbean appearance at the East Fest in St Thomas. They also held their first-ever press launch for their African Holocaust album in Kingston, Jamaica where members of the band and friends from the reggae industry spoke about the band and the album. Early in 2005, the band will play more dates in the Caribbean and return to the USA for a series of dates in February. and creating positive forces. They
To read what Steel Pulse did 'On The Road' in 2002 and 2003,
---
Home :: Steel Pulse :: E-mail
The contents of this website cannot be reproduced or copied without permission of the site author. (c) Andy Brouwer 2008